"Rim protector" seems like a fairly recent entry into the NBA lexicon, though it's certainly made up for lost time, particularly in these parts.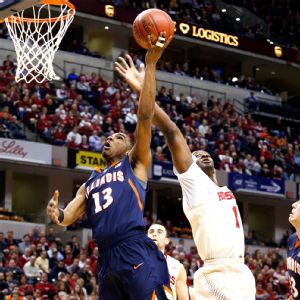 Brian Spurlock/USA TODAY Sports
Indiana's Noah Vonleh tries to swat a shot during the Big Ten tournament.Rim protector has become the buzzword associated with the Boston Celtics' glaring need to find someone who can replace what Kevin Garnett provided during six seasons navigating the team's back line. After Boston endured a 57-loss season without an established veteran capable of consistently deterring shots near the basket, rim protector has become the most popular answer when someone asks what Boston's biggest need is this offseason.
How poor was Boston's rim protection? The NBA utilizes player tracking data to define "rim protection" as "the defender being within five feet of the basket and within five feet of the offensive player attempting the shot." Crunch the numbers for opponent field goal percentage for every player in the NBA that appeared in at least half (41) of their team's games and the first Celtics player doesn't appear until No. 116 in Kris Humphries, who limited opponents to 50.8 percent shooting near the rim.
Boston's other bigs? Jared Sullinger lands at 198th (53.9), Brandon Bass spots at 202nd (54.1), and Kelly Olynyk finished 257th (56.3). Rookie Vitor Faverani actually had the best number (46.1) over 37 appearances, which would have ranked him 31st overall (albeit in limited per-game reps).
The optimistic Celtics fan hopes that Faverani can bounce back from the knee surgery that shortened his rookie campaign and provide a steadying presence as he settles and develops at the NBA level. Colton Iverson, last year's second-round pick who spent a year in Turkey, has the length and physicality to help the back line, too.
Can the Celtics find a rim protector in the draft? It certainly would have been a lot easier if the ping-pong balls had given them the chance at picking Joel Embiid. But since that's not happening, Boston will have to examine what's left of a big-man class that -- much like the team's roster last season -- isn't overflowing with pure size.
Not a lot of other bigs are projected to jump off the board before Boston picks at No. 6, but the most likely, Indiana's Noah Vonleh, is maybe the most intriguing among lottery hopefuls. Vonleh is only 6-foot-10, but he's got a 9-foot standing reach and a 37-inch vertical that helps him deter shots (he averaged 1.4 blocks per game during his freshman season). If Vonleh is off the board before No. 6, the best remaining lottery bigs are undersized and, while talented, are not necessarily future rim protectors (though you can make the case that someone like Aaron Gordon can prevent the need for back-line help with an ability to defend on the perimeter).
Boston might still have big-man options with its second pick at No. 17, but there's an axiom that you don't find size late in drafts because it's usually flawed. At best, mid-to-late-round bigs are certainly a roll of the dice. The Celtics were able to pluck Sullinger at No. 21 in 2012 because of concerns about his back, but swung and missed on Fab Melo one pick later.
Even still, the Celtics are likely to have some intriguing options here, particularly if guards and wings are the hot items through the lottery picks. In his latest mock draft, ESPN's Chad Ford pegged Latvian big man Kristaps Porzingis as Boston's pick at No. 17. The 18-year-old is a bit lanky, but he's a legitimate 7-footer with athleticism. The concern is that he's going to need some time to develop and bulk up, but a patient team might be rewarded with his ability to defend the rim.
The Celtics auditioned two potential mid-to-late first-round bigs last week in France's Clint Capela and Michigan State's Adreian Payne. The two are seemingly at different ends of the spectrum. Capela is young and very raw, but he's got the specs (6-foot-11 with a 9-foot-3 standing reach) and athleticism to help defend the basket. Payne keeps hearing barbs about his "advanced" age (23), but he looks more physically ready (even after a bout with mono).
Bosnia's Jusuf Nurkic seems to be about as close to a legitimate center as you'll find outside of Embiid in the first round. He's a hulking 6-foot-11 and 280 pounds, but, being a foreign player, there's the usual air of mystery around him. The scouting report suggests that he's not nearly as athletic, or as good of a rebounder, as the other undersized bigs around him, but he's got the size that will entice some team, even if his offensive game seems to be much ahead of his defensive game.
The Celtics must determine if it's better to seek an established big this offseason (time to revisit Omer Asik?) and hope that the likes of Faverani and/or Iverson can emerge as backup help on the back line. Boston must balance taking the best available player with filling needs with both of its picks.
Finding that rim protector might be a bit easier if there were more 7-footers roaming this draft.