WALTHAM, Mass. -- Draft prospects who arrive early in town typically elect to visit the Boston Celtics' training facility to get up shots in advance of the next day's audition. For Isaiah Austin, getting to a new gym early is a necessity, particularly in his quest to play at the NBA level.
Austin, a 7-foot-1 center out of Baylor University, revealed earlier this year that he is blind in his right eye, the result of a torn retina sustained before high school. As he visits NBA teams this month trying to boost his draft stock, Austin finds it helpful to test his depth perception in new gyms before his formal workouts.
Austin, once one of the nation's top high school players, managed to keep his eye ailment a secret for more than five years, but now he's embracing the chance to share his story as part of his journey to the NBA.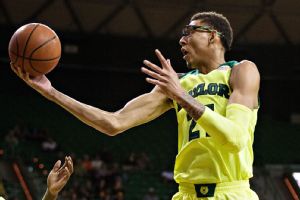 Jerome Miron/USA TODAY Sports
Isaiah Austin hasn't let right-eye blindness deter his NBA dreams."Sometimes because people get so caught up, thinking that basketball is life, but there's so many more aspects to it," said Austin. "I want to be able to use basketball as a stepping stone to touch people around the world with my story."
Austin's story deserves to be heard. A baseball injury loosened his retina in junior high school and, two years later, after sprouting to 6-foot-7 by the eighth grade, his vision disappeared completely in his right eye after attempting a routine pregame dunk. Four major surgeries followed, his vision returning briefly each time before fading again.
Fearing he would not be able to continue his basketball career, his mother, Lisa Green, told Austin that he could make the ailment an excuse, or he could make it his story. He chose the latter.
Austin soon returned to competitive basketball and ended up being one of the nation's top recruits. A native of Arlington, Texas, he elected to stay close to home and play at Baylor. A solid freshman season left him pegged as a first-round draft prospect and many thought he'd jump immediately to the NBA, but a shoulder injury encouraged Austin to return for his sophomore season.
It might have been a blessing. Austin's stats dipped a bit this past year, but no metric can quite measure his maturation, which aided him in finding the courage to reveal his eye ailment publicly in January.
"I really needed that extra year at Baylor to help me [tell my story]," said Austin. "To have the coaching staff and my teammates behind me, them supporting me, and really sitting down to help me mature as a man -- that was a great experience for me. I wouldn't change it for the world."
Now, only the more optimistic projections have Austin pegged as a second-round prospect, though a draft devoid of pure size should enhance his chance of hearing his name called among the 60 selections later this month. Austin hopes that the exposure of playing at the NBA level will motivate others with disabilities, but he's already an inspiration to many.
"First of all, I'm a big fan of him. I think his story is inspirational," Celtics coach Brad Stevens said. "And him coming out and sharing his story was inspirational. I've got a good friend of mine who has gone through some issues with his eye, and that was one of the first stories that I shared with him. He's a really neat kid."
The NBA is a bottom-line business and it's up to Austin to prove he can play at this level. He's got the size and length (7-foot-5 wingspan), but the scouting report invariably notes that he must add bulk to his lanky 220-pound frame to compete against NBA frontcourts.
"He's long, athletic, he can play out on the perimeter. I think he's got a high ceiling," Stevens said. "I think, obviously, he's a guy that, if he continues to shoot the ball really well from the perimeter, can really be a versatile offensive player, and, defensively, he's got such length. He's got to put on some weight, there's no question about it, but he's a young guy that's only going to get better and better and stronger and stronger."
Added Celtics director of player personnel Austin Ainge: "I think with Isaiah, being a former No. 1 player in the country out of high school, I feel like he really played within himself this year, didn't force things, played to win, and really helped his team win. You see that a lot with guys who go back to college and figure that out. He also got in the paint a little more this year, wasn't in love with the 3-point shot. He's a very intriguing prospect. He's very long and skilled. He has a good feel for the game. He can pass, he can shoot. Not the strongest kid, but the ability to play on the perimeter matters."
It's impossible not to root for Austin. His passion and charisma were obvious as he talked with Boston reporters following his local workout this past week.
"Being a basketball player is one thing, but being a great person is a whole different thing," Austin said. "It's a whole bigger standard. And I pride myself on being a great person. Basketball is a privilege, and I'm thankful for it, and I'm blessed to be able to play it. And I'm blessed to be this far. But as far as life goes, I have to make sure that I touch people with my personality first."
Austin has already used his story to inspire some youngsters back home in Texas and glows when he talks about meeting those who can relate to his journey.
"That means a lot to me -- just sharing my story with people and being able to relate to people in aspects of life other than basketball," said Austin. "It's a great thing for me. And I like to be able to connect with people of all ages, and elementary kids really connect with me. Just being able to share my story has helped me grow as a person and as a man."
Austin shared how he has a relationship with Celtics forward Jared Sullinger and his father, Satch, after crossing paths on the AAU circuit. Austin said he loved his brief glimpse of Boston, then laughed while recalling the terrible turbulence he encountered on his way into town.
Boston was his sixth workout and Austin had at least four more scheduled. That means he's likely to audition for a third of the league, all while hoping some team will take a chance on a kid who has already beaten the odds.
"If I get drafted anywhere, that would mean the world to me," Austin said. "Because I'm not even supposed to be in this position in the first place. I'm not supposed to have made it this far, so I'm just thankful."
Additional reading: ESPN the Magazine: Austin sees future in NBA | Draft profile