WALTHAM, Mass. -- Louisiana Lafayette's Elfrid Payton seems to have steadily climbed draft boards recently, but that's done nothing to diminish the chip on his shoulder. Every workout is a chance for the mid-major point guard to prove himself and he seemed particularly focused on Friday's session with the Boston Celtics.
Boston's six-man workout that day featured six guards all vying to be lottery picks in this month's draft. For Payton, it was a chance to prove himself alongside some of the draft's more notable names, including Oklahoma State point guard Marcus Smart, Michigan State's Gary Harris, Michigan's Nik Stauskas, Creighton's Doug McDermott and UCLA's Zach LaVine.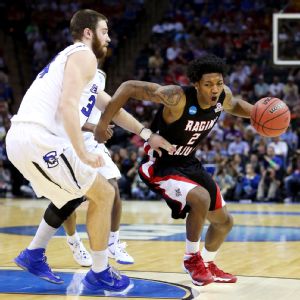 Ronald Martinez/Getty Images
Louisiana Lafayette's Elfrid Payton is eager to prove himself at the NBA level.While Payton has climbed to No. 13 on Chad Ford's big board, he's maybe the most unheralded of that group, especially considering the attention that LaVine and his near-four-foot vertical has drawn in the pre-draft process. Meeting with reporters after the session, most of Payton's answers resolve back to trying to "prove himself" and hoping to "show he can play at this level."
Mid-major guards are drawing more attention recently, thanks in part to the exploits of players such as Damian Lillard (Weber State) and C.J. McCollum (Lehigh), both lottery picks of the Portland Trail Blazers the past two years.
Payton is long and lanky (6-foot-4, 185 pounds; 6-foot-8 wingspan) and uses his size to irritate opposing guards. He's averaged better than two steals per game the past two seasons and took home the Lefty Driesell Award, given to the best defender in Division 1 basketball.
Payton couples that defensive tenacity with an ability to attack the basket with his speed. He averaged 19.2 points, 6 rebounds and 5.9 assists per game during his junior season while leading the Ragin' Cajuns to the NCAA tournament this past season.
Initially pegged as a late first-rounder when he declared for the draft in April, Payton has seen his stock climb toward the lottery. If Payton stays on the board, the Celtics might have a chance to grab him at No. 17, the second of the team's first-round selections.
"He was good; very physical defending the ball," Celtics coach Brad Stevens said of Payton after his workout on Friday. "He can get where he wants to go with the ball. He's a guy that was highly thought of coming out, especially out of USA basketball stuff last summer. And the coaches that he had raved about him. He lived up to that [Friday]."
Payton landed a roster spot on the US under-19 national team last summer. Even while sharing the roster with the likes of Smart, he ascended to the starting point guard role and helped Team USA win gold at the world championships in Prague. That helped the rest of the basketball world take notice of his talents.
Even as he preps for a potential invite to New York for the draft festivities, Payton is adamant that he's still trying to prove himself and it seems unlikely that the chip on his shoulder will ever budge.
"A lot of guys say that, because I come from a small school, it's a different level and I'm not supposed to be here, stuff like that," Payton said. "I'm just trying to prove that I do."
Asked about being pitted against some of the other top guards during Boston's workout, Payton noted, "This was a great group, so I think it speaks a lot about my game. I think they wanted me in this group, I think I was able to come out and show that I can do some things and just compete at this level."
Stevens was asked if, after playing at a mid-major, it was important for the Celtics to see Payton against top incoming talent.
"I actually go the other way on that," Stevens said. "I don't worry about the perceived level of competition because a guy like that gets everybody's best shot every time he steps on the floor and plays with that kind of pressure every time he steps on the floor. It's a different kind of challenge, but it is nonetheless a challenge that you have to step up to. If he's considered to be in this light of guys that are going to be drafted high, there's a reason for that, so the competition thing never really comes into play for me."
Does Stevens, the former head coach at Butler University, have a soft spot for mid-major guys?
"You have a soft spot for all these guys once you meet them because you want them all to do well," Stevens said. "You like them all so much, you want everybody who comes through to end up coming back. But [the Celtics] only get two picks in the top 20. I'm a lot more concerned with making our team better than finding my own soft spot for people."
Payton knows the scouting report says that he needs to add bulk (without compromising his game-changing speed) and strength (to finish at the rim), and his jump shot is a work in progress. But he's certain he can defend multiple positions at the next level and believes his defense alone will give him the chance to earn time that should aid his development. He's still only 20, but notes his leadership abilities after three seasons at Louisiana Lafayette.
But the biggest thing going for him is the chip on his shoulder, the sort of motivation that could ensure he reaches his potential at the NBA level.