WALTHAM, Mass. -- The Boston Celtics have auditioned at least 49 draft hopefuls over seven days of workouts since the start of the month, including many of the top names expected to be available when the team picks at Nos. 6 and 17. These workouts are designed, in part, to help the team separate the players that might be logjammed on their draft board.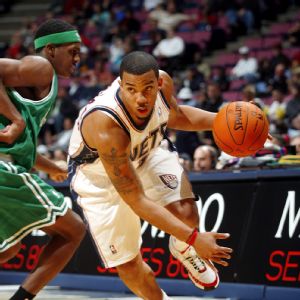 Jesse D. Garrabrant/Getty Images
Boston chose Rajon Rondo over Marcus Williams after adding a first-round pick in 2006.Some players remain too close to separate and the Celtics sometimes attempt to bring those players back for a second workout -- the maximum allowed by the league -- to essentially break the tie.
Boston had not scheduled any return visits as of Monday, but director of player personnel Austin Ainge acknowledged that there is the potential for callbacks as the draft draws closer. But even those are an inexact science.
"It's hard because guys are really ragged, I mean, they are really burnt out by the time the draft rolls around," Ainge said. "Some of these guys do 10, 15, 20 workouts and so it's kind of case-by-case basis. We may bring a couple guys back, we haven't decided yet. We have not set any up for callbacks."
The Celtics are tentatively scheduled to hold two more group workouts this week. Callbacks could come in the days or hours leading up to the draft, as has happened in previous seasons. Ainge even singled out one such instance on Monday, noting how the Celtics brought guards Rajon Rondo and Marcus Williams to Waltham in advance of the 2006 NBA draft.
"Sometimes you bring them back and you still can't [decide]. But sometimes you bring them back and it's a knockout punch," Ainge said. "We did that with Rondo and his draft day. We brought him back with Marcus Williams from UConn and it was clear in the workouts that Rondo was just a cut above. And that helped us a lot."
The Celtics facilitated a draft-night swap with the Phoenix Suns to land Rondo at No. 21, while Williams went one pick later to the Brooklyn Nets. Rondo emerged as a superstar talent, helping Boston to a world title in his second season, while Williams spent two unremarkable seasons with the Nets before being traded to Golden State and was out of the league by 2010. He now plays professionally in Russia.
The Celtics couldn't have known for certain that they'd even have the opportunity to pick Rondo or Williams, but it hammers home the reasons for their diligence in auditioning a wide variety of prospective players, including second-round prospects despite not currently owning a pick beyond 17.
• SHABAZZ HEADLINES WORKOUT: Speaking of UConn guards, Boston's workout on Monday was highlighted by first-round prospect Shabazz Napier. The five other invitees were Michigan State's Keith Appling, Holy Cross' Dave Dudzinski, Arizona State's Jermaine Marshall, Georgetown's Markel Starks and Southeast Missouri's Tyler Stone. "It was another good group," said Celtics coach Brad Stevens, who has helmed the pre-draft workouts. "I think the competitive stuff went back and forth a little bit, but it was another well-conditioned, hard-fighting group, through and through. We haven't had many that have had any trouble getting through the workout and the workout is made to keep you on your toes for an hour-plus."
• GUEST CRUSADER: The Celtics continue to put some local college stars in the spotlight, this time bringing in Dudzinski, a 6-foot-9 big man who averaged 15.1 points and 7.4 rebounds in his senior season at Holy Cross. Asked about trying to make a mark at an NBA draft workout, Duzinski said, "Coming from a small school like that, you've got to work that much harder. But those that rely on their past accomplishments don't make it very far in this business. It's the guys that are continually able to show that they can play at the next level, that's what you're out here trying to show today." Even in a workout featuring a handful of players pegged as second-rounders or to go undrafted, Dudzinski said of his visit, "It's kind of a surreal moment, being out here with all these guys you watched on TV every year. The opportunity is fantastic and I'm really happy to be here and show them what I can do."
• MAKING AN IMPRESSION? Stevens was asked if those invitees that are not surefire first-round picks might help bring a focused tone to the workouts. "You know, I would say that it's unpredictable," Stevens said. "You would think that a guy who would be less likely to be drafted, or maybe is a second-round guy according to most, would bring more fire than a top-10 projected guy, but I haven't seen that to be the case. And that's more of a compliment to the top-10 guys than it is to the guys that are projected later. It's been pretty consistent across the board, no matter where they're [projected]. Hey, you're working out for a chance to play in the NBA. If you don't bring it, that's a red flag."