WALTHAM, Mass. -- The Celtics, their season having ended two months prior, hosted their seventh pre-draft workout on Monday, just hours after the San Antonio Spurs hoisted the Larry O'Brien trophy.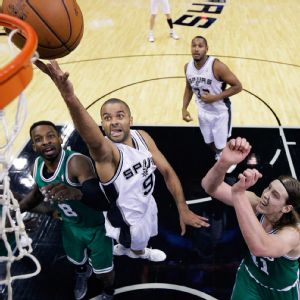 AP Photo/Eric Gay
The Spurs help remind Boston why the right personnel moves -- including the draft -- are so important to a team's success.Maybe with the Spurs' dominating effort against the Miami Heat in this year's Finals in mind, some of Boston's decision-makers gushed about San Antonio's depth and selfless play. As Celtics coach Brad Stevens noted, "It's clear that we're all chasing them."
The Celtics know that much of San Antonio's success can be traced to making the right personnel moves, including a keen eye in the draft, particularly when picking later in rounds. As Boston plots its return to contender status, the Spurs offer hints at a roadmap.
"I think San Antonio was a good model this year, they had two or three deep at every position and that's obviously a goal," said Celtics director of player personnel Austin Ainge. "Easier said than done."
But then Ainge said something that ought to have caught your attention: "We will not be avoiding positions this year. We could use help at every position."
The Celtics own the Nos. 6 and 17 picks in this year's draft. While the top three spots are a slam dunk, the next tier of players is highlighted by point guards and power forwards -- maybe the two spots where Boston is best stocked at the moment. But one thing that has been stressed during this pre-draft process is that the Celtics plan to draft the best available player rather than address a depth need.
"We always say that, 'Need is a poor evaluator,'" said Ainge. "And we will try to get the best player we can, and if it gets really really close and we can't decide between guys, sometimes you take the need. But especially when you're drafting with the 6th pick, we'll probably go with the best player."
If the Celtics elect to keep their picks, they can ill afford to swing and miss. So much of the rebuilding process is being able to identify potential, even if those picks are ultimately flipped down the road for more established talent.
The Spurs only hammer that home. Sure, their foundation was built on some lottery luck, but they've been able to sustain their remarkable level of play in part by smart draft decisions. It helps when you pluck a future Finals MVP out of the draft at No. 15 (landing Kawhi Leonard in a draft-night swap with the Indiana Pacers in 2011).
Stevens noted that Leonard was a deserving MVP, but also said that it's the selfless talent around him that helps the Spurs thrive.
"I just think everybody is so locked in to their role and trying to be the best teammate they can be," said Stevens. "You see some games where those guys play, some games where they don't play. They're very supportive of one another. They're clearly on one mission. Against us, they didn't have three of their starters the second time they came here and they drilled us. I think that's who they've been all year. They've been able to sit guys, rest guys, do all that stuff and never miss a beat. The way that they played and the way that their young guys have increased their roles and the way that their old guys have continued to play great and accept those young guys -- at the end of the day, it's been a great thing to emulate."