After being bought out by Charlotte in March of 2012, Boris Diaw was reportedly considering the Boston Celtics as a destination. He chose instead to sign with good friend Tony Parker and the San Antonio Spurs, which culminated Sunday in the two hoisting the Larry O'Brien trophy after dismantling the Miami Heat.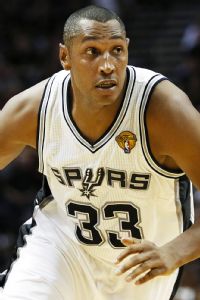 Soobum Im/USA TODAY Sports
Boris Diaw helped the San Antonio Spurs to a world title this season.In reflecting on his friendship with Parker on Grantland, Diaw noted how he considered joining the Celtics.
"I was thinking of going to Boston, or coming [to San Antonio], and I was wooed before Boston split up, so that was when Garnett and Paul Pierce and Ray Allen were still there," Diaw said. "It was definitely weighing in the balance that Tony was here and I would come to familiar faces, and I felt the team was fitting me most. And I felt like I knew the team, I knew where it was going, because I've been friends with Tony all these years, and so I knew the way they were functioning inside this team."
It's easy to forget now, after Diaw's efforts in this playoffs, that the Charlotte buyout might have been the low point of his career, as the lowly Bobcats were questioning his conditioning and effort level.
That said, the 2011-12 season also saw Boston surge to the cusp of the NBA Finals, putting the Heat's back to the wall while up 3-2 in the Eastern Conference finals. You can't help but wonder if Diaw's presence, coupled with the Big Three and Rajon Rondo, might have been enough to nudge Boston into the championship round.
The Heat went on to defeat the Oklahoma City Thunder in five games to win the first of two consecutive titles. The Celtics saw Ray Allen defect to the Heat that summer, precipitating the rebuilding process that launched in full the following summer.
(h/t: MassLive)