WALTHAM, Mass. -- At the end of a recent workout for the Denver Nuggets, UCLA's Zach LaVine was asked to show off his dunking ability. With seemingly minimal effort, LaVine produced a pair of bounce-ball slams, the first going between his legs, the next behind-his-back as fellow draft hopefuls and observers just shook their heads and laughed.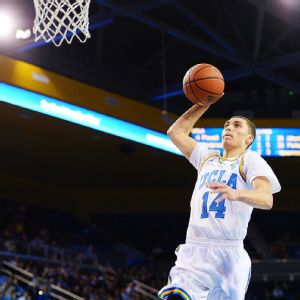 Harry How/Getty Images
UCLA's Zach LaVine elevates for a dunk.A somewhat similar scene had played out at the Boston Celtics' training facility a mere 24 hours earlier. Despite having just completed a strenuous workout against some of the top guards in this year's draft class, culminating with Boston's famous three-minute sprint drill, LaVine still had enough energy to show off his 40-inch-plus vertical in front of a couple Celtics staffers who happily fetched his rebounds.
It's LaVine's raw athleticism and potential that has helped him steadily creep up draft boards. He's a possible lottery pick, but almost certain to go in the middle of the first round. In fact, ESPN.com's Chad Ford pegged him to go 17th to the Celtics in his latest mock draft.
LaVine is a tantalizing prospect. Start with his size (6-foot-6), length (6-foot-9 wingspan), and athleticism (41 ½ -inch vertical at the NBA combine). Then remember that he just turned 19 in March and was merely a reserve in his lone season at UCLA (often playing off the ball, though he classifies himself as a point guard at the NBA level).
LaVine might not be as NBA-ready as some of the other star freshmen in this year's draft class, but he's got the sort of potential that's hard to look past.
"Zach is as athletic and bouncy a guy as there is in the draft," said Celtics coach Brad Stevens after leading a six-man workout Friday that also featured Oklahoma State's Marcus Smart, Michigan State's Gary Harris, Michigan's Nik Stauskas, Louisiana Lafayette's Elfrid Payton, and Missouri's Jordan Clarkson.
"[LaVine is] an amazing finisher with an amazing ability. He's got a high, high ceiling. I think he's going to be a really good player. It'll be interesting to see where he ends up or at what pick, as far as number goes, just because he's so young. But as far as upside and everything else, he's way up there."
LaVine averaged 9.4 points, 2.5 rebounds, and 1.8 assists over 24.4 minutes per game at UCLA. His shooting faded a bit after a hot start and LaVine tended to thrive in the open court where he could best utilize his athleticism. The question with LaVine is simply how will his game translate to the NBA and can he continue to progress at the next level.
Asked what he tried to show during his Boston workout, LaVine noted: "I feel like I've been showing a lot of my point-guard abilities, being able to come off the ball, play-making abilities, passing the ball, creating for others. A lot of people know I'm athletic and can shoot the ball pretty well, but I'm trying to show my maturity, my vocal [play-calling], being able to play defense as well. I'm trying to handle every aspect of the game and trying my best in the workouts."
LaVine has professed a desire to be in the Slam Dunk contest and some Celtics fans will wonder if this is Gerald Green all over again (the Celtics took Green at No. 18 in the 2005 draft and only this past season did he jumpstart a career that saw him spend two seasons in Russia after spending his first four NBA seasons on four different teams). LaVine seems unfazed by the naysayers. He's confident in his abilities and has attacked the workout circuit in hopes of upping his draft stock.
"You're in the NBA now. So knowing that you're going to be going up against competition like this the whole time, you have to get used to it," LaVine said after Boston's talent-heavy workout. "You have to go in there and compete everyday in the NBA schedule. You're getting used to it right now and you have a great group of guys in every workout, so you just have to get familiar with it and go as hard as you can, try to be the best."
LaVine spent Friday in Boston, then immediately traveled to Denver to work out for the Nuggets the next day. He'll soon reach double digits for pre-draft sessions, a high number for a potential lottery pick. LaVine was asked if he ever forgets what city he's in.
"I never forget what city I'm in, but I forget what day it is," he joked.
If LaVine is still on the board when the Celtics pick at No. 17 next week, the question for Boston will be whether it can be patient enough to bring him along, or whether there is an equally talented player that might be a bit more of a sure thing.
The Celtics could obviously use a jolt of youth and athleticism. LaVine provides both. But the Celtics must be certain there's more to his game than the dunks that first catch your eye.