BOSTON -- The Boston Celtics selected Oklahoma State point guard Marcus Smart with the sixth overall pick in the 2014 NBA Draft.
Get Smart?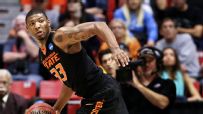 Celtics president of basketball operations Danny Ainge said he likes Marcus Smart's fire. He proved it on draft night. Story
At 6-foot-3, 227 pounds, Smart owns an NBA-ready body and is known for being a physical presence at both ends of the floor. He can play off the ball, but spent his sophomore season at Oklahoma State establishing himself as a point guard.
At the NBA Draft combine in Chicago last month, Celtics president of basketball operations Danny Ainge said he liked Smart's fire, even after he was suspended three games for a fan-shoving incident.
"I sorta like Marcus Smart. I like his fire," Ainge said. Later he added: "I think he's a great kid, a great player and I think he'll have a bright future."
Boston worked Smart out twice, including as part of a guard-heavy workout earlier this month. He was brought back this week to audition again.
Celtics owner Wyc Grousbeck said there was applause in the team's draft war room when it became clear Smart would be available at No. 6.
"Our war room is very happy with our pick," said Grousbeck. "My job is to be part of that and to be supportive. Our basketball guys are very excited and have been focusing on Marcus for several weeks. We really liked the top six or seven kids in the draft quite a bit, but I really thought he's pretty exceptional in a couple of ways and am really looking forward to having him."
Later Grousbeck added: "We think that this kid really has some special attributes. We like the fact that he's an instigator, back to Red [Auerbach]. As Red told me personally when I came in, 'You need instigators, not retaliators.' This kid is energetic. He's a bull. He's a force. When I met him, he filled the doorway. He's got that physique and that drive and that attitude that we really like around the Celtics."
The Celtics used pick No. 17, acquired as part of last year's blockbuster swap with the Brooklyn Nets, to select Kentucky swingman James Young. The Celtics finished the 2013-14 season at 25-57 overall, tied with Utah Jazz for the fifth-worst record in basketball, but lost a random drawing as a tie-breaker and landed at No. 6.
Ainge said before the draft that the team's decision to keep the picks did not necessary suggest they are not trying to accelerate the rebuilding process.
"I think our initial goal when the season ended was to expedite a rebuilding process," said Ainge. "I don't think by taking 6 and 17 that that has ended. We've always been comfortable with 6 and 17 and knew that was the most likely scenario. But we can't rush something that's not there. We've made efforts to expedite and will continue to throughout the summer and just see what opportunities are there, but we'll try to remain opportunistic."
In the days leading up to the draft, much of the buzz around Boston was whether Kansas center Joel Embiid might slide within the team's reach. That hope ended when the Philadelphia 76ers selected Embiid at No. 3. Andrew Wiggins (Cleveland at No. 1) and Jabari Parker (Milwaukee at No. 2) rounded out the top three selections.
There were groans from the Celtics' draft party at TD Garden when Aaron Gordon went fourth to the Orlando Magic, while Australian point guard Dante Exum landed in Utah at No. 5. The Smart pick was met with some cheers as it was displayed inside the arena.
Grousbeck was asked if the Smart pick meant anything to point guard Rajon Rondo's future here.
"It's interesting. That wasn't in the topic of conversation," said Grousbeck. "We have confidence in [coach] Brad [Stevens] that he can manage a roster, but we also have confidence that, of the top-6 pick, that we were going to pick the best available as opposed to try to [pick based on need]. That's a strategy that, when you're rebuilding a team, you take the best available athlete and then you let it all work out. We've got an All-Star point guard, so that's not in question here."
Added Grousbeck: "I don't think this has any impact on Rajon at all."
Later, Brad Stevens echoed the notion that the two can co-exist.
"I don't think there's any doubt, I think they can play together," said Stevens. "I think it will be great for Marcus to have a guy like Rondo to look up to, to learn from. Not many guys get that opportunity, especially early on in the draft like this. Marcus is another guy that I was thrilled that he was there at 6, because physically he's ready to play and he competes every single minutes of every single day. That will do nothing but help your team, regardless of what position he's playing. I expect him to play some off the ball, I expect him to play some with the ball. But he's a young guy. He's going to be playing with a guy there that's been in the league for a long time, that can really help him learn about it. I think it's great. I think it'll be great for both of them."