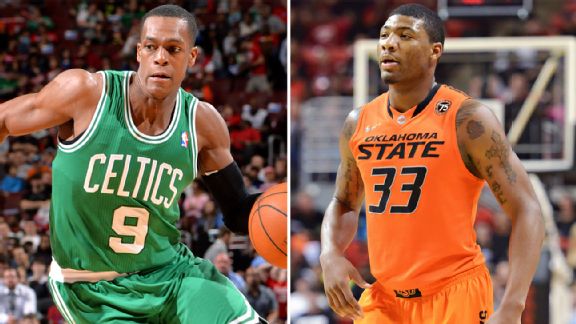 Getty Images
Rajon Rondo and Marcus Smart should share ballhandling duties in Boston.BOSTON -- Shortly after the Marcus Smart pick was announced inside the Boston Celtics' draft party at TD Garden on Thursday night, a fan turned to a friend wearing a No. 9 Rajon Rondo shirt and playfully said, "Uh oh."
The insinuation was that, by the Celtics' selection of a point guard with the sixth pick in the 2014 NBA draft, Rondo's days might be numbered. While reveling in the team's ability to land Smart -- as well as Kentucky swingman James Young at No. 17 in Thursday's draft -- Boston's top decision-makers stressed that the two point guards can coexist.
Celtics president of basketball operations Danny Ainge was emphatic when asked if the team intended to move forward with Rondo, offering a firm, one-word reply: "Yes."
Asked if Rondo and Smart can coexist on the floor, Ainge added: "Absolutely. No question. And [Smart] and Avery. No question. He's a very versatile player. He can play off the ball. He can handle the ball. With his length and his size, he can probably play against a lot of small forwards -- 6-3, long wingspan, 230 pounds. He's a very versatile player. Easily those guys can play together, and I think they would really thrive playing together, all of them."
Ainge's sentiments were echoed by coach Brad Stevens.
"I don't think there's any doubt. I think [Smart and Rondo] can play together," said Stevens. "I think it will be great for Marcus to have a guy like Rondo to look up to, to learn from. Not many guys get that opportunity, especially early on in the draft like this. Marcus is another guy that I was thrilled that he was there at 6, because, physically, he's ready to play, and he competes every single minute of every single day. That will do nothing but help your team, regardless of what position he's playing. I expect him to play some off the ball. I expect him to play some with the ball. But he's a young guy. He's going to be playing with a guy there that's been in the league for a long time, that can really help him learn about it. I think it's great. I think it'll be great for both of them."
Stevens noted how Rondo was present when Smart returned to Boston this week for a second workout. The two never explicitly talked about the potential to coexist, but they did discuss Smart as a prospect. Stevens believes that Smart has the ability to improve his shooting and potentially play more off the ball when sharing the court with Rondo.
"Again, I think Rondo can play with a lot of different people," Stevens said. "It's kinda like we've talked about in the past: If you can find guys that are tough, that are versatile defenders … we think that he gives you the ability to guard 1, 2 and then sometimes 3. If you watch a game, he's a guy that can switch a lot of screens because he's a 230-pound guard. He gives you a lot of versatility on the wing for a guy that's a little bit shorter, especially with a 6-9 wingspan."
Smart, talking to Boston media during a conference call from the draft in Brooklyn, New York, was asked if the team ever broached the subject of playing him alongside an All-Star guard.
"No, not at all," said Smart. "They just really liked the competitive nature that I bring. I can help the team in many ways. They also talked about me playing off the ball … that I could play off the ball, with Rondo as well, is a suggestion that they also had."
Asked about his favorite player growing up, Smart even threw out his future teammate's name.
"I didn't have a favorite. Rondo was actually one of the guards that I liked watching just because he reminded me of me, myself -- very versatile; he can affect the game in many ways," Smart said.
Celtics owner Wyc Grousbeck was in the team's war room for the Smart selection and said the notion that Smart's presence would affect Rondo's future was never discussed.
"It's interesting. That wasn't in the topic of conversation," Grousbeck said. "We have confidence in Brad that he can manage a roster, but we also have confidence that, of the top-six pick, that we were going to pick the best available as opposed to try to [pick based on need]. That's a strategy that, when you're rebuilding a team, you take the best available athlete, and then you let it all work out. We've got an All-Star point guard, so that's not in question here."
Added Grousbeck: "I don't think this has any impact on Rajon at all."
Rondo is set to enter the final year of his contract and has said he plans to explore unrestricted free agency next summer. There's been speculation that Rondo's future uncertainty, along with a looming payday, might force Boston to explore moving him this summer to avoid the risk of losing him without compensation.
While Smart provides a succession plan should Rondo depart, the plan for now appears to be having both on the roster next season.