The Boston Celtics have had success drafting college sophomores recently. So as the rest of the league gravitates towards one-and-done freshmen, have the Celtics found a [Marcus] Smart strategy drafting players with two college seasons?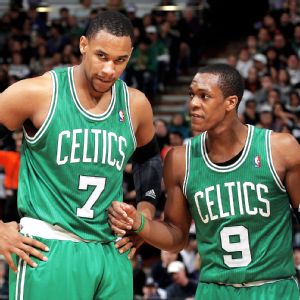 Rocky Widner/NBAE/Getty Images
The Celtics have had success drafting college sophomores like Jared Sullinger and Rajon Rondo.From Nate Silver on FiveThirtyEight Sports:
When Jared Sullinger, the nation's No. 2 high-school recruit, finished his freshman year playing center at Ohio State in 2011, he was forecast to be drafted into the NBA in the top three. But when he declared that he was going back to school for his sophomore season, his draft stock plummeted, bottoming out at the 20th pick the next year, according to one mock draft. This was despite a season in which Sullinger won his second consensus All-American award and led Ohio State to the Final Four. Eventually, he went No. 21 to the Celtics — a bargain considering he's outperformed most of the players who went in the lottery that year.

The Celtics have had success with sophomores. Their best player, Rajon Rondo, entered the draft after his sophomore year at Kentucky,1 and they were the first team to take a sophomore in Thursday's NBA draft, choosing Marcus Smart of Oklahoma State with the sixth pick. But the Celtics are atypical. The draft's top four picks, Andrew Wiggins, Jabari Parker, Joel Embiid and Aaron Gordon, left college after their freshman year. Two freshmen whom the Celtics bypassed, Julius Randle and Noah Vonleh, went No. 7 and No. 9.
After detailing some of the statistical pros and cons to drafting sophomores, Silver closes by noting:
Exploiting a 10 percent edge won't ensure a team a title. The Celtics will need some luck to build a championship contender around Smart, Rondo and rotation players like Sullinger and Kelly Olynyk. The sophomore strategy isn't sexy, and other players chosen on Thursday have higher upsides than Smart. But the Celtics are playing the percentages while other teams are playing the lottery.
Smart drew criticism for returning for his sophomore season at Oklahoma State, particularly when his stats slumped and when he endured a three-game suspension for a fan-shoving incident. Ainge was asked about Smart's decision to return for a second collegiate season.
"I admire guys who back to school," said Ainge. "Yeah, these kids are under a microscope and there's a lot of pressure on a lot of them and some of them have unreal expectations. I thought Marcus came out of the gates great this year. He hit a little slump in the middle of the season and had the suspension. He ended up coming back and helping his team win."
Celtics coach Brad Stevens certainly didn't mind Smart's decision to return for another college season.
"I'd say, as an organization, we're happy he decided to go back to school," said Stevens. "Because he wouldn't be with the Boston Celtics if he didn't."