WALTHAM, Mass. -- It's been a dizzying four days for Marcus Smart since the Boston Celtics selected him with the sixth overall pick in the 2014 NBA draft. But Tuesday morning it was time to punch the clock for the first time as members of the team's summer roster gathered for the first of three two-a-day sessions at HealthPoint.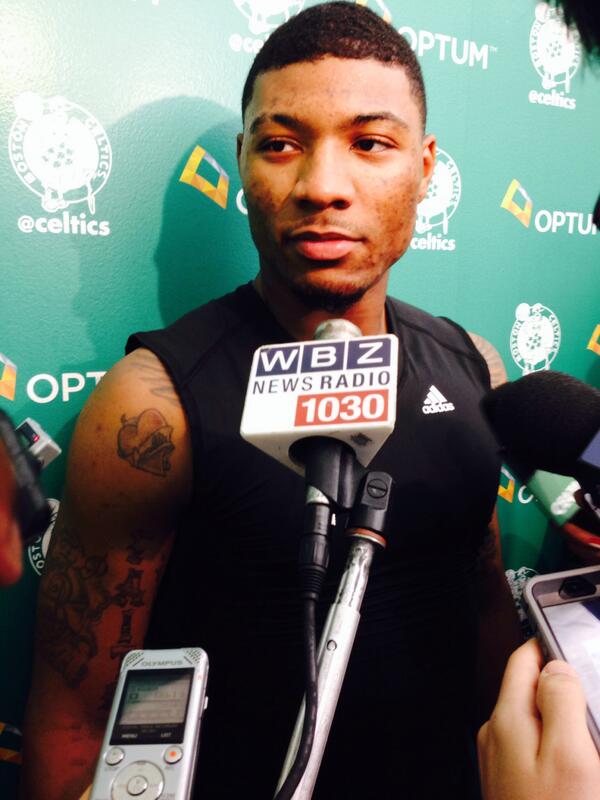 Chris Forsberg/ESPN Boston
Marcus Smart went through his first official practice with the Celtics on Tuesday."These last couple of days have been a whirlwind," Smart said. "It's been a lot of celebration, excitement and hype, but now it's time to finally get back on the court and put the work back in. That's what we do, put in work. And it's time to get back to work."
Smart smiled while noting it wasn't too much different than what he was used to at Oklahoma State, except "you don't have to go to class."
The Celtics' youngest players and roster hopefuls did attend Basketball 101 on Tuesday morning while going through a morning session heavy on play installation, drills and off-court strength work.
"I wouldn't call it class. I love basketball," Smart said. "It's not as boring as going to class. It's fun, coming out here and learning things and doing what you love to do."
Smart said the team ran him at the point guard spot during installation, but said he'll be ready to play either guard spot when summer league games start Saturday in Orlando. Celtics assistant coach Jay Larranaga, tasked with running the summer squad, liked the energy Smart brought to the floor.
"Marcus is just a really enthusiastic team player, brought a lot of energy to this practice, and we anticipate him bringing a lot of energy to every practice," Larranaga said.
Celtics second-year big man Kelly Olynyk offered high praise for Smart as well.
"He's a great player," Olynyk said. "I saw a couple workouts when he was here [before the draft]. He's got lots of energy, lots of enthusiasm, works real hard. His skill is definitely there for this level. I think it's only going to keep getting better. He's really eager to get in the gym all the time and I think he's a guy with a great attitude, great energy, and definitely his hard work will pay off."
Smart said he hasn't had a chance to talk with either of Boston's veteran guards -- Rajon Rondo is out of town, while Avery Bradley is now a restricted free agent -- but Smart closed out Tuesday's morning session by shooting with Phil Pressey. The two are familiar with each other, having both played high school basketball outside of Dallas.
"I've known [Smart] since he was younger, coming up," Pressey said. "We've just been in contact with each other. It's kind of crazy that we're here on the same team. I would've never thought of that. But best of luck to him. Hopefully we can start this thing off right."
What were Pressey's impressions of Smart's first practice?
"He did real well," Pressey said. "He's anxious to get out there, show the coaches what he can do, just like I was last year. We're just out here trying to get better and get ready."