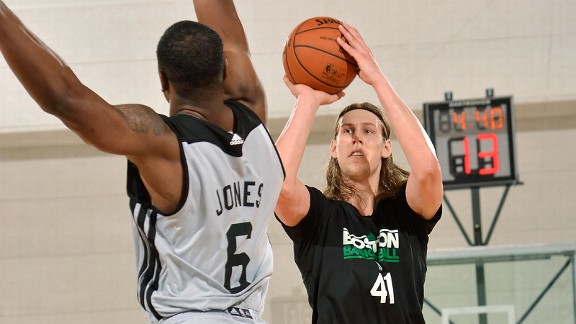 Fernando Medina/NBAE/Getty Images
Kelly Olynyk and the Celtics are back at Orlando summer league this week.The Boston Celtics open their five-game summer league slate on Saturday afternoon in Orlando. Here are a handful of things to watch over the next week:
W2W4: Celtics Summer League

Everything you need to know about Celtics summer league in Orlando, including some of the top storylines heading into the event.
---
•
Sullinger works up summer sweat
• 'Veteran' Olynyk embraces summer work
• Iverson: Roster spot mine for taking
• Smart lifts energy at summer workouts
• Coach Larranaga enjoys summer job
• Celts play it safe with rookie Young
• Video: A glimpse inside summer workouts
• Summer League roster | Schedule
Smart's first NBA game experience
Within minutes of the Celtics' selecting Marcus Smart with the sixth overall pick in this past week's draft, some had packed the bags of Rajon Rondo and suggested the selection meant he was sure to be traded. Let's pump those brakes and at least see what the kid can do at summer league before we deem him ready to replace an All-Star point guard.
Here's what we do know: The Celtics' coaching staff has raved about Smart and his leadership during practice this week. We'll likely see him share some backcourt time with roster incumbent Phil Pressey, which should provide a glimpse of how the 20-year-old operates both on and off the ball.
Let's not overreact to what we see -- good or bad. Remember that Kelly Olynyk lit summer league on fire last year, and the Celtics still eased him in during the regular season. That said, most eyes will undeniably be on Smart this week, and it'll be fun to see what he can do in game situations.
Does Young play this week?
Boston's other first-round pick, James Young, did not participate in contact drills during three days of practice leading up to summer league. The team is playing it safe with his health after he injured his neck in a minor car accident this past month.
Celtics coach Brad Stevens admitted Thursday that Young is antsy to play, but that's no reason to rush him on the court. Boston will operate with caution this time of year, especially after Stevens stressed that it is regarded a short-term injury.
If Young is able to get out on the court, the time should serve him well. He's only 18 and needs as many reps as possible. After spending just one season at Kentucky, Young's game is still a bit of a mystery, though he had a solid tournament showing (which included 20 points in the national title game).
Can Johnson, Babb and/or Pressey make a statement?
The Celtics have a rare surplus of NBA-experienced talent on their summer roster this season, including Pressey, Chris Johnson and Chris Babb. The hitch: All three are also on non-guaranteed deals, which means they're still competing for roster spots. Pressey might have the most security, having appeared in 70 games this past season, but the Celtics added depth at the point guard spot, and he'll be fighting to keep a consistent role.
Johnson appeared in 40 games after being signed out of the D-League and earned his roster spot while on a pair of 10-day contracts. Like Pressey at point guard, the 24-year-old Johnson is looking at a swingman spot that added depth in Young, and he must continue his full-throttle style of play to cement his spot.
Babb admitted Thursday that he's in for a fight for his roster spot. After spending much of this past season with the Maine Red Claws -- after being Boston's final training camp cut -- nothing is assured for Babb this summer. Like Johnson, he was a good teammate who worked hard and impressed the coaching staff with his attitude and potential. But he needs to use summer league to show why he deserves to stick around.
In recent weeks, the trio of Pressey, Babb and Johnson have been working out in Boston with other returning veterans, and that experience ought to help them hit the ground running in Orlando.
How does Olynyk look?
Olynyk put himself on the NBA radar with a breakout showing at summer league last year, when he averaged 18 points and 7.8 rebounds and landed on the summer league first team. Things will be different this time around. Now he's the NBA All-Rookie second-teamer who averaged 8.7 points, 5.2 rebounds and more than 20 minutes per game this past season. Those watching Olynyk will want to see how his game has developed over the past year, including in the months since the 2013-14 season ended.
"I think, last year, you definitely had to prove yourself and prove that you deserve to be there," Olynyk said. "This year, you've still got to prove that you deserve to be there. Every day that you step on the court, you have something to prove. But I think it's more about helping the young guys prove themselves and help them get acclimated out there and just make them as comfortable as they can be out there so their transition goes as smoothly as it can."
Who makes a charge at a roster spot?
Last year it was Pressey, an undrafted free agent, who stated his case for a roster spot and emerged with a contract that included a first-year guarantee. Will someone else play his way onto the roster this year? The Celtics have a veteran bunch, but there's some intriguing talent that spent this past season overseas and others who will simply be fighting to stick around (even if it's just for an invite to training camp in October).
As Brad Stevens noted on Thursday: "[There's] a lot of young guys who are also trying to prove themselves, that they even belong in the league ... With this group out on the floor, it's not hard to get the most out of them."
One roster hopeful in particular to keep an eye on? Big man Colton Iverson. After being stashed overseas in Turkey this past season, the 7-foot Iverson has the size and motor to help him claw his way to a roster spot. For his part, Iverson has acknowledged it's on him to prove he deserves to stay stateside this year.