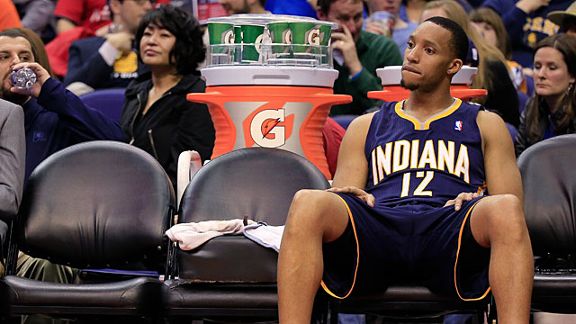 Rob Carr/Getty Images
Can Evan Turner revitalize his career with the Celtics?Rapid reaction after the Boston Celtics agreed to terms with free-agent swingman Evan Turner:
• Low risk, high reward? Positioned to navigate another season that should be heavy on development as part of a rebuilding process, the Celtics are adding a former No. 2 pick who should be motivated to re-establish his value. Turner got traded from Philadelphia to Indiana at last season's trade deadline with the Pacers looking to bolster their bench for a playoff run. Instead, Turner played sparingly, and Indiana declined to extend an $8.7 million qualifying offer this offseason, making Turner a free agent. If he can revitalize his career in Boston, it's a low-risk/high-reward play. The concern is that Turner will further clog an already logjammed shooting guard/small forward spot and potentially take minutes away from the likes of rookies Marcus Smart and James Young.
• The trouble with Turner: Before Philly dealt Turner, ESPN Insider Amin Elhassan examined Turner's game and why the team struggled to move him. "Turner isn't a particularly good perimeter shooter, but he thrives in the midrange, where the majority of his shots come (mostly off pull-ups). His 3-point percentage falls below the Kendall Gill Line (basketball's version of baseball's Mendoza Line: 28.1 percent shooting from 3-point range) in every spot except the left corner, where he shoots 38 percent, although he did shoot well from the corners last season. If he does make the pass, it will usually be the easiest one available (to the pick-setter popping back or to a player in his direct line of sight as he comes off a screen). ... If the ball isn't in his hands, he's not nearly as big a threat as he gets stuck watching the ball, while his poor perimeter shooting encourages defenders to help off him on the weak side. In short, to get the most out of Turner, you have to continue to get him touches."
• Crowded house: The Celtics now have a whopping 18 players under contract with a payroll that will, at least temporarily, crawl over $80 million. Boston still has three nonguaranteed contracts totaling roughly $7 million that can help it trim down moving forward. With that in mind, the odds just got a little bit longer for nonguaranteed players Chris Johnson and Chris Babb. Boston does have Keith Bogans' $5.3 million nonguaranteed salary that can help it immediately chop salary, though that slot might be more valuable as a trade asset. Needless to say, more moves are coming as the 2014-15 season approaches, but Celtics president of basketball operations Danny Ainge and his staff seem content to gobble up low-cost assets in hopes of maximizing their value while navigating this rebuilding process.
• Reclamation magic? Brad Stevens was able to figure out the best way to maximize Jordan Crawford's talent last season before the team dealt him away while acquiring future assets in January. It's fair to wonder if the Celtics can do the same with Turner. If Turner jump starts his career, maybe Boston will be able to get more than its initial investment before the trade deadline.