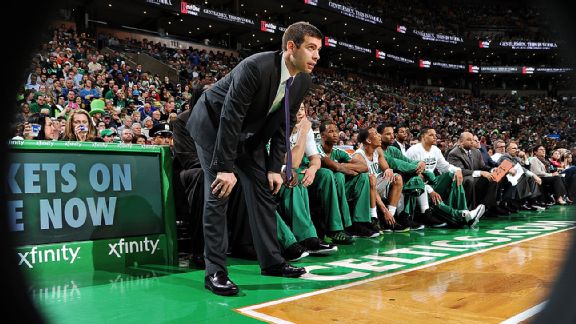 Brian Babineau/NBAE/Getty Images
Will the Celtics' record improve this season? Our panel checks their crystal balls.The summer doldrums are upon us. Even with all that sunshine outside, August can be the darkest month on the calendar for a hoops fan. With roster construction essentially complete (though the Boston Celtics still have a bit of trimming to do), it's a slow crawl to the start of training camp in late September. Don't fret, we're here to help you get through this.
SUMMER FORECAST 2014

Throughout the month of August, we'll break up the summer doldrums by trying to predict exactly how the 2014-15 season will play out for the Boston Celtics. A rundown of the series:
Coming later this week ...
Each weekday for the next three weeks, our summer panel of prognosticators -- a motley crew featuring our friends in the Celtics blogging community -- will join forces to tell you how the 2014-15 season will play out for Boston. We'll gaze into our crystal balls and attempt to answer all your questions before this year's team even hits the floor together for the first time.
Up first this summer: Predicting the final regular-season record.
The Celtics are coming off a 2013-14 campaign in which they went 25-57 and finished tied with Utah for the fourth-worst record in basketball. Boston finished 12th overall in the Eastern Conference in front of only Orlando, Philadelphia, and Milwaukee.
Will the team be better this year? Averaging up the votes received from 15 responding members of our ESPN Boston summer forecast panel, our prognosticators have Boston pegged at 28-54 overall.
The guess from this writer? Consider us among the more optimistic. We have Boston pegged to go 30-52, a modest five-game improvement. Some of you are scanning next season's projected roster and wondering where those additional wins are coming from, especially in an Eastern Conference that appears to have beefed up a bit.
The Celtics played in a staggering 49 games that were within five points in the final five minutes last season. That was tied for the fourth most in the league and Boston was a cringeworthy 15-34 in those games, its .306 winning percentage in those tight games the second worst mark in the league (behind only Milwaukee at .250).
The guess here is that, in Brad Stevens' second year on the bench, the Celtics will find a way to win a few more of those close games that slipped away. We don't expect a huge improvement, it's still a young roster thin on players that have shown an ability to thrive in clutch situations. But younger players will learn from last season.
The league average in those close games was nearly a .500 winning percentage. If Boston were to climb towards that, it'd be a nine-game improvement. We're not expecting that, but the Celtics will find a way to win more of the type of games that slipped away last season and that will help them take a small step forward in the win column.
Thirty wins won't be much to get excited about, but it would still be progress.
Read on to see our panel's predictions on the season record, and, coming Monday afternoon, look for our Fan Forecast, with a sample of reaction from readers who voted in our summer forecast survey.
---
Michael Pina, CelticsHub (35-47)
A full season of healthy Rajon Rondo, Stevens is no longer a rookie, the infusion of serious rookie talent (on both ends), and further development from Kelly Olynyk and Jared Sullinger should be good enough for 10 more wins.
Kevin O'Connor, CelticsBlog (27-55)
Boston's roster is much more talented than it was last season thanks to the new additions and the probable development of young players, but so is the entire Eastern Conference. The Celtics will probably pick up a few more wins in tight contests (they were 9-14 in games decided by 5 points or less in last year), especially since it's Stevens' second season as head coach. But fans really shouldn't be expecting more than 30 to 35 wins unless a move is made for an impact player to pair with point guard Rajon Rondo.
Padraic O'Connor, CelticsLife.com (25-57)
The Celtics will be entering the 2014-15 season with a combination of new and veteran talent, high level contributors entering contract seasons, and for the first time in a long time, a healthy roster. While these factors could see Boston getting off to a hot start, it won't last. The East has gotten tougher through free agency and Boston's lack of "fireworks" in the offseason will likely keep them in the basement of the conference. To paraphrase Kevin Garnett, every game will be a bar fight -- I just don't see the Celtics winning more than 25 of them.
Jeff Clark, CelticsBlog (34-48)
A full season of Rondo alone should be good for 5-10 more wins. Also, I see the younger players taking a step forward.
Cory Prescott, CLNS Radio (32-50)
The Celtics will play about .500 ball for the first month or two of the season until Danny Ainge decides to cut bait with Rondo, and possibly Brandon Bass. The youth movement will commence, giving the rookies ample playing time, plus guys like Tyler Zeller, Olynyk, and Sullinger, more time to develop in the front court. Stevens will continue to improve as a coach, but he has been handed a mismatched roster of guards that can't shoot, and big guys who aren't able to protect the rim.
Bill Sy, CelticsBlog (38-44)
Look for the Celtics' brain trust to build up value with their vets at the start of the year. Marcus Thornton, Bass, and even Joel Anthony could get some extra run early to see what they'll fetch and the team will hover just under .500. But come the new year and certainly after the February trade deadline, Stevens will lean heavily on the youngsters -- particularly Marcus Smart, Olynyk, Sullinger, and Zeller -- and start molding the team. Those growing pains will keep the team out of the playoffs and back in the lottery for the second straight year.
Jay Ouellette, RedsArmy (34-48*)
Despite the roster having no balance again, the reason for the asterisk is Rondo's status. If he's here for a full year they should win at least that many games.
Mark Vandeusen, CelticsLife (25-57)
Yes, I'm predicting Boston will finish with exactly the same record as one year ago. The C's may be slightly more talented than last season with the additions of Smart and Evan Turner, a full season of Rondo, and more mature and experienced versions of Sullinger and Olynyk. But what they no longer have is a first-year head coach and a group of guys looking to prove themselves after a franchise-altering blockbuster trade. I don't expect a repeat of the optimistic 10-12 start from last season.
Jon Duke, Celtics Stuff Live (25-57)
Similar results, but more emphasis on growth from the younger players on the roster.
KWAPT, Red's Army (30-52)
I honestly don't see the Celtics being much better this time around. More fun to watch? Possibly/hopefully yes, with the additions of Smart, Young and Thornton, who could add some scoring punch. But, realistically, this team will come into camp similar to last year, with a lot of new faces. Kris Humphries brought some much needed hustle, defense and rebounding last year. I can't see Olynyk filling that void, so who is going to be the "energy" guy? The other question mark is, of course, Rondo. If Ainge decides to deal this young team's leader at the trade deadline, this squad could go into a serious funk for lack of a better word.
Also voting: Tom Westerholm, CelticsHub (27-55); Brian Robb, CelticsHub (35-47).
---
Your turn: We invite you join the conversation. Sound off in the comments about what you think Boston's record will be next season.
(Chris Forsberg can be reached at espnforsberg@gmail.com or on Twitter @ESPNForsberg. Hop HERE to submit a question for his Celtics Mailbag.)