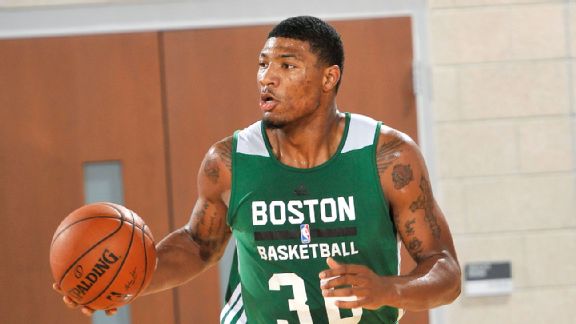 Fernando Medina/NBAE via Getty Images
How will Marcus Smart fare in his first NBA season? Expectations appear high.Each weekday for a three-week span, our summer panel of prognosticators -- a motley crew featuring our friends in the Celtics blogging community -- will join forces to tell you how the 2014-15 season will play out for Boston. We'll gaze into our crystal balls and attempt to answer all your questions before this season's team even hits the floor together for the first time.
SUMMER FORECAST 2014

Throughout the month of August, we'll break up the summer doldrums by trying to predict exactly how the 2014-15 season will play out for the Boston Celtics. A rundown of the series:
Coming later this week ...
Today's Celtics Summer Forecast topic: What are your expectations for Celtics rookie Marcus Smart?
Our panel was given four potential options for Smart: (1) All-Rookie team; (2) Rotation player with immediate impact; (3) Role player with limited impact; and (4) D-League.
The No. 6 pick will shoulder plenty of first-year expectations as nearly 65 percent of our panel pegged him for the All-Rookie team. Now, let's keep in mind that 10 players make the two All-Rookie squads and it's not that daunting of a task some years. Last season, despite playing only 20 minutes per game, Kelly Olynyk topped the NBA's All-Rookie second team in voting.
This year's rookie class appears deeper and more talented, and it'll include the likes of Philadelphia's Nerlens Noel, who sat out last season while rehabbing from ACL surgery. Regardless, this writer agrees that Smart has All-Rookie potential. His NBA-ready defense should help separate him from some of his rookie peers and aid his case to earn a spot by season's end.
What's working against Smart, at least initially, is Boston's seemingly deep backcourt. The team returns Rajon Rondo and Avery Bradley in starting roles, while there will be motivation to showcase the likes of Marcus Thornton -- and Evan Turner, too, if he plays some minutes at the 2 -- in reserve roles at the start of the year.
But Smart showed NBA-ready skills at summer league and got experience against top-level competition with the USA Basketball select team, all of which should help him immediately carve out rotation minutes with the potential for his role to grow, especially should Boston make additional in-season moves to shed guard depth.
If Smart develops his jump shot and can impact the game at both ends of the floor, he'll muscle his way into the All-Rookie conversation. A look at our forecasters voting:
Read on as our panelists explain their ballots:
Kevin O'Connor, CelticsBlog (All-Rookie)
Marcus Smart is in a perfect situation: he'll start the season on the bench, allowing him to unleash his ferocious defense on a nightly basis, and if Rajon Rondo is eventually traded he could slide into the starting unit to get experience as a pure point guard. Plus, volume matters when it comes to voting for All-Rookie honors (Hello, Mr. Inefficient Michael Carter Williams), and he'll certainly get the playing time to wrack up the stats, even if the efficiency isn't there in year one.
Tom Westerholm, Celtics Hub (All-Rookie)
Realistically, it's not that hard to make an All-Rookie team (Michael Carter-Williams had a true shooting percentage of 48 and won Rookie of the Year last year), but Smart should have an impact on the game almost immediately on the defensive end. As Boston's prize pick from a loaded draft, he'll have plenty of opportunities to prove himself.
Mark Vandeusen, CelticsLife (Rotation player)
I had trouble choosing a category here because I think "All-Rookie team" and "rotation player with immediate impact" can definitely overlap. I see Smart as the first guy off the bench, and playing 20-25 minutes per game in a three-guard rotation with Rondo and Bradley. Whether or not fellow rookie James Young earns minutes as well may determine if Smart is on the court enough to make the All-Rookie team.
Jay O., Red's Army (Limited impact)
As much as everyone wants to hand the PG keys over to Smart, it rarely works that way in the NBA. Especially for a player that isn't a natural PG. If Rondo gets traded by the deadline, his impact may see a surge in the final 30 games or so, but I think Smart's impact beyond a role/learning level will take time. And that's fine.
Jay King, MassLive (Rotation player)
Will Smart step in and flourish with efficient offense from Day 1? Probably not. Expect some nights when the ball won't fall, when turnovers come more often than assists. Also expect him to be fearless, to keep attacking, and to pile up a number of scoring outbursts when he gets hot. And the guard's defensive capacity should make up for whatever growing pains he might have at the other end. With Rondo and/or Bradley as starters, Smart should come off the bench to make opponents sweat. Coach Brad Stevens is probably having fun dreaming about his perimeter defense.
Chris Jones, Red's Army (All-Rookie)
Smart's shot selection will likely need to improve at the next level, but it's hard not to see him playing at a high-caliber level from the start. He's tough and determined -- plus, he's got a little extra feel for the NBA game after practicing with Team USA team last month.
Cory Prescott, CLNS Radio (All-Rookie)
Smart has competed his entire life and I don't expect that to change now that he is in the NBA. Even with a full roster, Smart will be given every opportunity to succeed. A heavy guard rotation of Rondo, Bradley and Smart seems to be in order. Don't be too surprised if Stevens uses all three on the court from time to time, which would be an absolute nightmare for opposing defenses. Smart's outside shot still needs work, but his defensive abilities and aggression going toward the hoop (he averaged 8 free throws per game last season) will get him heavy rotation minutes. A Rondo trade would certainly increase his value to this rebuilding team.
Bill Sy, CelticsBlog (Rotation player)
After watching him in summer league and hearing nothing but good things about his participation in USA Basketball's training camp, I'm absolutely sold on this kid. He affects the game in so many ways and although that won't always translate in the box score, those intangibles will solidify a spot for him in Stevens' rotation, but it just won't be enough to get him on the All-Rookie team.
Jeff Clark, CelticsBlog (All-Rookie)
I think he'll be the first guard off the bench playing along side either Rondo or Bradley or even in some sets with both of them. He'll establish himself as a top notch defender and develop his offensive game throughout the year. If he isn't traded he should be an excellent player for years to come.
Jared Weiss, CLNS Radio (All-Rookie)
Although there may be five better rookies than Smart, there won't be two guards better than him. Smart is stuck behind the two best players on the roster, but he will serve in a role that should make him the best scoring guard in his class and allow him to be a leader on defense. Plus, he's got enough swagger to make him stand out as one of the faces of his class.
Padraic O'Connor, CelticsLife.com (Rotation player)
I expect great things from Marcus Smart ... in the future. The Celtics have no shortage of options in the backcourt which will lead to Smart having plenty of time to learn from Rondo, understand Stevens' offense and defense, and live up to his lottery pick status without the pressure of having to do it himself as other lottery picks on tank-a-palooza teams have done in the past.
KWAPT, Red's Army (All-Rookie)
This kid has everything needed to become an instant fan favorite. Heart, hustle and a take-no-prisoners attitude on defense. I think Smart will have a productive season and I really hope Stevens gives him a lot of minutes. During the Doc Rivers days, rookies were lucky to see a minute or two of playing time during garbage time. It'll be interesting to see how Smart handles adversity -- we know that, between the strong opinions of fans/media in Boston and the amount of losses he'll be faced with this year, he'll see plenty of it.
---
Your turn: We invite you join the conversation. Sound off in the comments with how you think Marcus Smart will fare this season.
(Chris Forsberg can be reached at espnforsberg@gmail.com or on Twitter @ESPNForsberg. Hop HERE to submit a question for his Celtics Mailbag.)