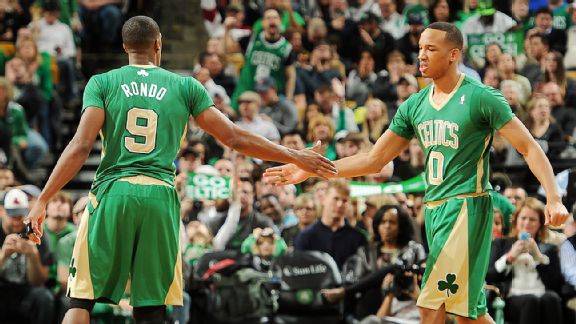 Brian Babineau/NBAE/Getty Images
Rajon Rondo and Avery Bradley helm our panel's MVP list.Each weekday for a three-week span, our summer panel of prognosticators -- a motley crew featuring our friends in the Celtics blogging community -- will join forces to tell you how the 2014-15 season will play out for Boston. We'll gaze into our crystal balls and attempt to answer all your questions before this season's team even hits the floor together for the first time.
SUMMER FORECAST 2014

Throughout the month of August, we'll break up the summer doldrums by trying to predict exactly how the 2014-15 season will play out for the Boston Celtics. A rundown of the series:
Coming next week ...
Today's Celtics Summer Forecast topic: Who emerges as the Celtics' team MVP during the 2014-15 season?
Some will argue that this is a slam dunk; that Rajon Rondo is the obvious answer. Our panel didn't exactly disagree with nearly 72 percent of voters picking Boston's point guard. Backcourt mate Avery Bradley landed on multiple ballots and one voter made the case for Jared Sullinger, but most of our experts agree that, if Rondo is healthy and remains in Boston for the full season, it's hard to envision another player challenging his status as the team's most valuable player.
Even while easing himself back in from ACL surgery last season, Rondo averaged 11.7 points, 9.8 assists, and 5.5 rebounds -- all marks above his career averages -- in 30 appearances. Further removed from the injury that limited him to 68 total games over the past two seasons, most expect Rondo to return to All-Star-caliber form.
Celtics president of basketball operations Danny Ainge has gone so far as to suggest that Rondo will have the best year of his career this season and -- though our panel was split on that notion -- it's clear that Rondo will have motivation as he preps for unrestricted free agency next summer. Rondo is set to command a hefty payday on the open market, but can only firm up that big-ticket price tag by reestablishing his talent this season.
This writer's vote? Rondo was the pick here as well. It'd be interesting to see if anyone on the team can push him, whether it's Bradley flourishing at both ends of the court, or Sullinger making a jump in his third season in the league. Alas, everything starts with Rondo and much of the success of his teammates will depend on how much better he can make them.
A look at how our forecasters voted:
Read on as our panelists explain their ballots:
Kevin O'Connor, CelticsBlog (Avery Bradley)
Contrary to popular belief, Avery Bradley has always been a good shooter, the only issue is that he lacked range. At the end of last season, Bradley's shot distribution changed, as his mid-range attempts were replaced by above-the-break 3s. That will continue into next season, and if he starts hitting those consistently (like he did at a 57.9 percent clip in his last 14 games), then he's in for a big year. Not to mention that he's the by far best on-ball defender on the team.
Tom Westerholm, Celtics Hub (Rajon Rondo)
If we assume Rondo lasts the season in Boston, this really isn't a tough question. Rondo is far and away the most talented player on the team, and he's in a contract year with no other talent to take away from his production. This could be a lot of fun.
Cory Prescott, CLNS Radio (Jared Sullinger)
Sullinger was one of a few Celtics who played well from start to finish last season. Finishing fourth in games played with 74, Sullinger bounced back nicely from his shortened rookie season to post averages of 13.3 points and 8.1 rebounds per game in 28 minutes of action. What Sullinger lacks in traditional NBA athletic ability he makes up with a high IQ, and a keen sense on how to use his body to his advantage. Sullinger will never be confused as a shot blocker, but did manage to start 35 games at center, doing whatever Brad Stevens asked of him. Stevens even encouraged Sullinger to use his 3-point shot more, and while that may have had mixed results (27 percent), it bodes nicely for him this season. Sullinger, along with Kelly Olynyk, will get ample amounts of playing time, ideally giving Ainge two cornerstones for the frontcourt of the future.
Jay King, MassLive.com (Rajon Rondo)
Ainge thinks Rondo should have the best season of his career. Brad Stevens and Doc Rivers think the point guard should bounce back, too. And I'm guessing they're all right. Rondo's finally healthy, he's a four-time All-Star, and he will be in a contract year. Get ready for a lot of triple-doubles.
Chris Jones, Red's Army (Rajon Rondo)
Even though part of me hopes that rookie Marcus Smart ends up as the team's MVP, Rondo likely takes home the hardware. He's in a contract year and it's very possibly he's views the Smart selection as his own replacement -- again giving him something to prove. Smart will be fun to watch, but Rondo's too experienced to give up the team MVP to a rookie.
Julian Edlow, WEEI.com (Rajon Rondo)
Rondo is still the clear-cut best player on the Celtics. I don't expect him to have a career year like Ainge does, but if team MVP isn't obtainable, then Rondo has either lost himself a ton of money, or been traded away as the rebuild hits its peak.
Bill Sy, CelticsBlog (Avery Bradley)
Every offseason, Bradley seems to add another element to his game. He showed up in Boston as an A+ defender and since then showed an ability to work off the ball. This summer, he's working on driving into the paint and getting to the line. Don't be surprised if Bradley becomes Joe Dumars to Rondo's Isiah Thomas.
Jay O., Red's Army (Rajon Rondo)
Either way, Rondo will be their MVP. If he ultimately stays here and puts up a monster comeback season with numbers and more-than-expected wins, then re-signs here then he's the MVP. If they trade him and get a great deal in return for him (in the form of either another star or players plus picks) then he's the MVP for adding to the chamber of assets. He's been their MVP since basically 2010, and it hasn't changed.
Jared Weiss, CLNS Radio (Avery Bradley)
If there's any player you can expect to get even better with a new contract, it's Bradley. He gets better every season and continues to work harder on new areas of his game. He was one of the few guys that stood out for his consistent effort last season and should continue to stay true to what got him his big contract.
Mark Vandeusen, CelticsLife (Rajon Rondo)
The only chance any other Boston player has in this category is if Rondo gets dealt during the season, and I'm guessing that's not happening. Whether or not he takes leadership of the team and brings out the best in all the young guys around him, or simply puts up big numbers as a soon-to-be free agent, Rondo is the Celtics' MVP either way.
Padraic O'Connor, CelticsLife.com (Rajon Rondo)
Rondo is my favorite to emerge as MVP. He's the captain. He's entering a contract year. He has a chip on his shoulder the size of Rhode Island. He's the constant subject of trade rumors. He wants to prove to the NBA that he is truly the best pure point guard in basketball. All of these factors combined are going to lead to a career season. Never underestimate the desire to silence critics.
Also voting: KWAPT, Red's Army (Rajon Rondo).
---
Your turn: We invite you join the conversation. Sound off in the comments with who you believe will emerge as team MVP.
(Chris Forsberg can be reached at espnforsberg@gmail.com or on Twitter @ESPNForsberg. Hop HERE to submit a question for his Celtics Mailbag.)