DARTMOUTH, Mass. -- A smile creeps across the face of Boston Celtics guard Avery Bradley when asked about the potential for both him and Rajon Rondo to be healthy for the start of the 2014-15 season.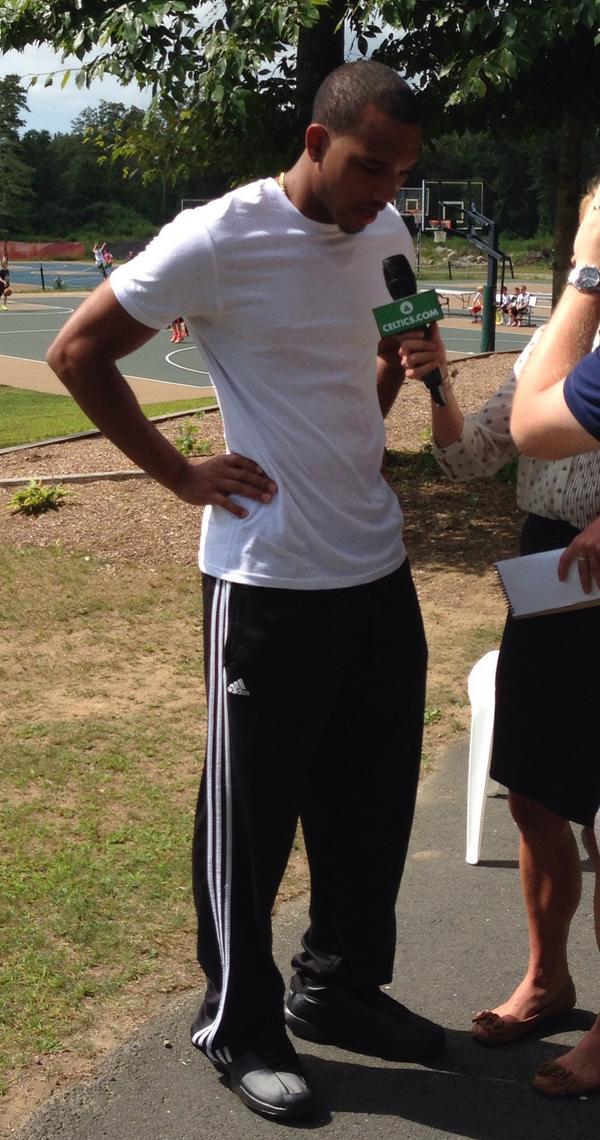 Chris Forsberg/ESPN Boston
Celtics guard Avery Bradley at his youth basketball camp in Dartmouth on Thursday."I can't even [put it into words], you guys just have to see," said Bradley. "A lot of people might say that, 'We can't be this, we can't be that.' I feel like with the coach that we have, we can be anything that we want to be. We just have to listen to [Brad Stevens] and buy into what he's trying to do, his plan for us. I feel like we have a chance to make the playoffs and make a lot of noise this year if we listen to Brad."
Bradley, back in the area to run his latest youth basketball clinic, gushed about the potential for the upcoming season, even as pundits predict another rebuilding season for the Celtics. While this is the time of year that every player dreams big, Bradley was emphatic that returning Celtics players believe they are capable of advancements.
Bradley said he crossed paths with Rondo in Vegas recently and said the Celtics' captain is "fired up" about the season. "Jeff Green as well," added Bradley. "We're all excited about this season." Bradley also offered high praise after working out in Vegas with Evan Turner, who will eventually be added to Boston's roster for next season.
And while he hasn't yet met rookie guard Marcus Smart, he's heard the buzz about his potential -- particularly on the defensive side of the ball -- and is eager to get on the court with him.
"Everyone keeps telling me that Marcus is a great defender and ... I'm excited about that," said Bradley. "Because Rondo is a great defender as well. Last year, he still played great defense, but this year I feel like he's going to take it to an even different level. I feel like we have a chance to be a top-10 defensive team in the NBA this year."
That will be music to the ears of Stevens, who challenged his team to be a top-10 defense last season (and the Celtics flirted with that for much of the first half before eroding late and trudging to a 25-57 record).
Bradley said he'll likely return to Boston in another week to ramp up for training camp and often reiterated that, "It's time to get started."
For his part, it never really ended. Bradley said he took a week off after the season, but was right back in the gym. He left the country for a vacation last week, but worked out each day. Bradley joked with team trainers that he's in the best shape of any player on the Celtics and is 100 percent healthy despite injuries that have nagged him during his career.
"I still work out three times per day. I'm in amazing shape right now," said Bradley. "I joke around with the trainers -- me and the trainers, we worked out in Vegas together at the player meeting to pick our new leader -- I told them I'm in the greatest shape on the team right now. So we were joking about that. I feel good right now, my body feels good and I feel stronger."
Bradley spent the morning working out and interacting with campers at the BBA Facility, an outdoor venue in Dartmouth. What's his favorite part of these camps?
"Just seeing the smile on the kids' faces and knowing that they are learning a lot at this camp," said Bradley. "The guys that are running this camp, they do a great job, and the kids are having fun -- that's the main thing for us."
Does Bradley ever get a common question from campers?
"All the kids like to ask me who the better coach is Brad or Doc [Rivers]," Bradley said. "And I kinda just laugh, because that's a question that I can't really answer."