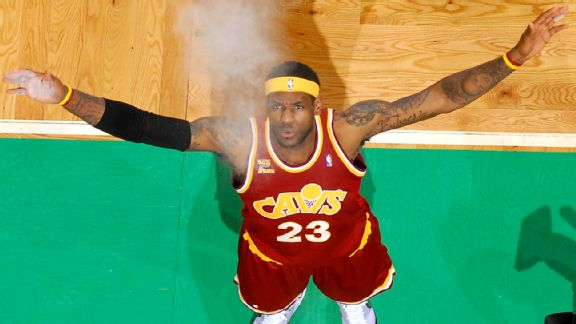 Brian Babineau/NBAE/Getty Images
LeBron James' return to Boston with the Cavaliers is a top date to circle this season.Each weekday for a three-week span, our summer panel of prognosticators -- a motley crew featuring our friends in the Celtics blogging community -- will join forces to tell you how the 2014-15 season will play out for Boston. We'll gaze into our crystal balls and attempt to answer all your questions before this season's team even hits the floor together for the first time.
SUMMER FORECAST 2014

Throughout the month of August, we'll break up the summer doldrums by trying to predict exactly how the 2014-15 season will play out for the Boston Celtics. A rundown of the series:
Coming later this week ...
Today's Celtics Summer Forecast topic: What's the most intriguing game on the schedule?
We didn't give our panel a list of options, keeping it open-ended instead and it brought back a diverse group of responses. One picked opening night, intrigued by what this team will look like at the start of what's expected to be a rebuilding season; others picked the season finale while noting it could be crucial to the lottery standings (while also ushering in a very important offseason for the team).
The one that jumped out most to this writer when the schedule was released? The visit from the Cleveland Cavaliers on Nov. 14 is hard to get past. Not only are the Cavaliers the early favorites in the Eastern Conference after welcoming back LeBron James, but it's Kevin Love's first trip to Boston after his early summer flirtation.
Love will likely hear it a bit from Boston fans because his mere presence in town offered hope for a rebuilding acceleration (even if it's not his fault that Cleveland had a better rebuilding package to offer the Timberwolves). Fair or not, Love will be viewed as a bit of a villain after joining forces with James in Cleveland.
Opening night hosting old friend Kevin Garnett, an early December visit from the rival Lakers, and the games right before and after the trade deadline are among the others many will have circled. But the Garden should have a little extra juice when the Cavaliers visit in mid-November.
Read on as our panelists explain their picks:
Jeff Clark, CelticsBlog (Oct. 29 vs. Nets)
Opening day is always the most fun. We finally get to see our team back on the court after a long offseason. Sadly, in a rebuilding year, there's not a lot left to get the blood boiling. Sure it will be fun to see Paul Pierce again (when the Wizards visit in earl December), but we already did the tribute thing for him. There's always the Lakers game, but just for old time's sake. There isn't even a game on the eve of the trade deadline to watch for benched players. I'm looking forward to the season, but no one game in particular.
Mark Vandeusen, CelticsLife (Nov. 1 vs. Rockets)
What's so intriguing about this matchup? It's the Celtics' second game of the season, and they're playing in Houston. Two days later they visit Dallas. Do you remember the C's ever taking a trip out west this early in the year? I certainly don't (I'm not counting Memphis in 2003 as "west"). Opening night against the Nets, Pierce returning with a new team, and LeBron coming to Boston as a Cavalier are all things we've seen before.
Tom Westerholm, MassLive.com (Nov. 14 vs. Cavaliers)
There will be plenty of interesting matchups between young players this season, and if Avery Bradley is to be believed, there might be some games down the stretch that have playoff implications for the Celtics. But let's not kid ourselves: LeBron James' return to Boston in a Cleveland uniform with Boston's best 2014 free agent target Kevin Love in tow will give Celtics fans a chance to boo until their lungs collapse. Other games might be intriguing from a matchup and schematic standpoint, but are any other ones going to be as hotly anticipated?
Jared Weiss, CLNS Radio (Nov. 14 vs. Cavaliers)
Nov. 14 will be the seventh game for the restored juggernaut on Lake Erie, giving the Cavs just enough reps to get in rhythm. While there is a good chance Celtics fans will be disappointed by the final score, anyone who loves basketball will be thrilled to see the most exciting team in the NBA coming to fruition. Since the Celtics don't figure to be making big waves on the national level, this game will be the most fascinating game to take place in the Garden all year.
Bill Sy, CelticsBlog (Dec. 17 vs. Magic)
The Celtics face the Bucks in February and we won't know who the Sixers are until Joel Embiid and Dario Saric are in uniform. Why are Orlando, Milwaukee, and Philadelphia so intriguing? Including Boston, all four are in rebuilds and taking different paths, whether it's drafting a future franchise player in Jabari Parker, or Sam Hinkie cleaning the slate with a tank. The Magic have used multiple first-rounders to build their roster, a road that Ainge might have to take.
KWAPT, Red's Army (Dec. 5 vs. Lakers)
I'm old school, so Celtics-Lakers is always big for me, regardless of each team's record. But this season, I think with Kobe Bryant's return, Rajon Rondo being at 100 percent and both teams fighting to get back to respectability, this is the most intriguing game on the schedule. We will also get to see Julius Randle and Marcus Smart, two guys go head-to-head (somewhat). Back in June, Randle said that he couldn't wait to show each and every team that passed on him in the draft what they missed. Expect him to come out fired up for his first taste of the one of the biggest rivalries in professional sports.
Jay O., Red's Army (Feb. 11 vs. Hawks)
Mainly because it could be Rajon Rondo's last game in a Celtics uniform (more on that later this week). It will be fun to see Cleveland, Chicago, Oklahoma City, Phoenix, Portland, and San Antonio all come to the Garden in November, which will all be great point guard matchups. It will be the first Rondo/Damian Lillard matchup ever, and the first Rondo/Derrick Rose and Rondo/Russell Westbrook matchups since January of 2012.
Jon Duke, Celtics Stuff Live (April 15 vs. Bucks)
Maybe I'm being a pessimist, but the final game of the season comes against the Tank-tastic Milwaukee Bucks. Could significant lottery odds be at risk? The Celtics face the Bucks twice in the last two weeks of the season, which might be their only winnable contests in April.
Julian Edlow, WEEI.com (Nov. 14 vs. Cavaliers)
There's not much to the schedule this year. It's going to be a rough season. Last year Pierce and Garnett's return gave us all a night to remember. There will be no triumphant returns this year -- Jerryd Bayless and the Bucks won't cut it. LeBron and the Cavs marching into town should create the most buzz the Garden sees this year.
Padraic O'Connor, CelticsLife.com (April 15 vs. Bucks)
Games against powerhouses (Chicago, Cleveland), rivals (Los Angeles Lakers), and where our old friends are now playing (Los Angeles Clippers, Brooklyn, Washington) are appointment viewing, but I'm most intrigued by this matchup against Milwaukee, the last game of the season. Despite Avery Bradley forecasting a playoff berth for the C's, they are most likely lottery bound. Getting into position to draft for impact will be a big part of this season.
---
Your turn: We invite you join the conversation. Sound off in the comments with your most-anticipated game of the season.
(Chris Forsberg can be reached at espnforsberg@gmail.com or on Twitter @ESPNForsberg. Hop HERE to submit a question for his Celtics Mailbag.)