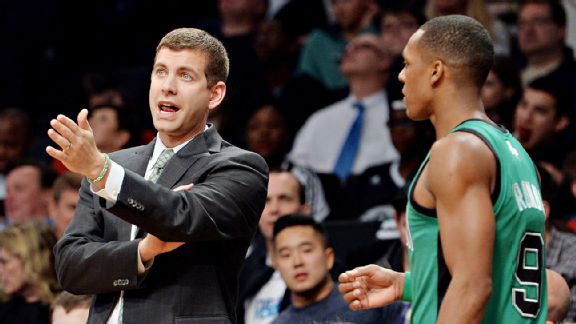 Stan Honda/AFP/Getty Images
The Celtics have plenty areas for potential improvement during the 2014-15 season.Each weekday for a three-week span, our summer panel of prognosticators -- a motley crew featuring our friends in the Celtics blogging community -- will join forces to tell you how the 2014-15 season will play out for Boston. We'll gaze into our crystal balls and attempt to answer all your questions before this season's team even hits the floor together for the first time.
SUMMER FORECAST 2014

Throughout the month of August, we'll break up the summer doldrums by trying to predict exactly how the 2014-15 season will play out for the Boston Celtics. A rundown of the series:
Coming later this week ...
Today's Celtics Summer Forecast topic: In what area will the Celtics most improve during the 2014-15 season?
Let's face it, there's no shortage of potential areas this team can take a step forward in while coming off a 25-57 season. One look at Boston's advanced numbers from the 2013-14 campaign produces plenty of eyesores. The most egregious?
• The Celtics ranked 27th in offensive rating and 20th in defensive rating.
• Boston finished 28th in turnover percentage.
• The Celtics ranked 28th in effective field goal percentage and 28th in true shooting percentage.
• Boston finished 25th in free-throw attempt rate.
That's really just the tip of the iceberg, particularly when you hone in on more specific areas. And while it would seem the Celtics should improve on the offensive side of the ball -- with lots of room for potential growth -- this writer's vote falls on the opposite side.
Celtics guard Avery Bradley boldly declared last week that he believes Boston can be a top-10 defense next season. That might be a tad ambitious, but you can understand Bradley's enthusiasm. The Celtics will potentially have their desired backcourt of him and Rajon Rondo healthy for the start of the season and plan to infuse 2014 draft pick Marcus Smart to that backcourt, giving the team a potentially tenacious three-guard rotation.
Boston still doesn't have the rim protector that was such a glaring need last season. Yes, Tyler Zeller could help, but that back line could still be a trouble area. That said, Boston flirted with being a top-10 defense in the first half of last season and, given coach Brad Stevens' desire to establish a defense-first DNA in his team, we suspect the Celtics will trend towards the top half of the league in defensive efficiency (that being the key to any success the team enjoys).
Before the All-Star break last season, the Celtics ranked 14th in defensive rating, allowing 103.2 points per 100 possessions through the first 54 games. Stevens challenged his team coming out of the break to nudge closer to the top 10 over the final 28 games, only to watch Boston rank 24th in that span by allowing a staggering 109 points per 100 possessions.
With a summer to further implore his team to make defense their top priority, Stevens is likely to again challenge his team to be a top-10 defensive squad and the guess here is they make a more sustained run at accomplishing that feat.
Read on as our panelists explain their picks:
Jeff Clark, CelticsBlog (Scoring)
The Celtics were one of the worst offensive teams in the league last year and, in theory, there's nowhere to go but up. A healthy, locked in Rajon Rondo has to help everyone in this regard. I think the young players will figure some things out as well -- in particular Marcus Smart, Jared Sullinger, and Kelly Olynyk. Then again, maybe this is wishful thinking.
Tom Westerholm, MassLive.com (Pace)
The Celtics were 17th in pace last season, which isn't awful, but there are plenty of ways for them to improve in transition. If Rondo and Smart play next to one another, Boston will have a nice opportunity to push the ball a lot more frequently since both can rebound and both are outlet threats.
Mark Vandeusen, CelticsLife (Interest)
After the initial Brad Stevens hype wore off, and again when Rondo's return failed to make the Celtics a playoff contender, there was very little reason for Boston fans to remain interested in watching last season. Even though I expect the C's to be equally bad this year, I do think they will be more entertaining. Rondo and Avery Bradley both being healthy to start the season should help with this dramatically, but the biggest difference is fans are likely to have a lot more invested in the play and development of a rookie like Smart (and possibly even James Young as well) than they did with Kelly Olynyk.
Julian Edlow, WEEI.com (Coaching)
Brad Stevens was great last season; he is going to be even better this season. It sounds like a simple answer, but not much else has changed. There's a reason Ainge signed Stevens for six years -- he is committed to Stevens' long-term success. Ainge's young coach is going to continue to learn the ropes while "Trader Danny" scurries to put a contending roster in place. When it is, Stevens will be ready to lead it.
Cory Prescott, CLNS Radio (Perimeter Defense)
The Celtics finished near the bottom of the league defensively last season, allowing opponents to shoot 47 percent from the field, eighth worst in the league. While it can be debated whether the back line of defense has improved, the perimeter defense should be improved this season. The drafting of Smart to go along with a healthy Bradley, as well as presumed good health for Rondo, should strike fear in the hearts of opposing guards. This three-headed monster will hopefully spark many fast breaks with their quick hands, as well as deter any opposing guards looking to drive the lane.
Bill Sy, CelticsBlog (Lineup consistency)
The future is now. With a roster consisting of seven players on rookie contracts, a re-signed Bradley, a look-see deal with Evan Turner, and Rondo and Jeff Green potentially becoming free agents next summer, it's time for Stevens to start molding this team. Can Sullinger, Olynyk, and Tyler Zeller become mainstays in the frontcourt? Could Smart be a franchise point guard? Win or lose, expect the youngsters to play big minutes.
Jay O., Red's Army (Turnovers)
Not only are the Celtics getting a fully recovered Rondo for a full season (barring a trade) but their prize draft pick, Smart, should be able to help shore up this area, where the Celtics were ranked near-dead last in turnovers (27th) and turnover percentage (25th). With another year of seasoning from the younger guys, plus Rondo directing the offense, this should be improved.
Jon Duke, Celtics Stuff Live (Offense)
It is hard to imagine the Celtics struggling on offense in 2015 as much as they did last season. Healthy contributions from Rondo and Sullinger and the growth of Olynyk should only help to improve what was an inept offense from a year ago.
Padraic O'Connor, CelticsLife.com (In-season trades)
Danny Ainge has amassed an arsenal of picks and assets, many of which are going to be used during the regular season. The clock is ticking on the contracts of Rondo, Marcus Thornton, Brandon Bass, and Keith Bogans, which leads me to believe Trader Danny might show up a little earlier than the All-Star Break this year.
Jared Weiss, CLNS Radio (Dribble penetration)
It was a rare occasion that Stevens would have multiple players capable of breaking down the defense on the floor simultaneously. With the additions of Marcus Thornton, Smart and even James Young, the Celtics' ability to get through the defensive perimeter and free up weak-side shooters will take a solid step forward. That is something Rondo has done better than almost any player in the league. While he struggled last year, he will be healthy enough this year to get close to his prior form. With more ball-handlers around to take some of that burden off of him, Stevens will finally be able to develop a more balanced half-court offense.
Also voting: KWAPT, Red's Army (Offensive production).
---
Your turn: We invite you join the conversation. Sound off in the comments with the area that you expect the Celtics to improve most in.
(Chris Forsberg can be reached at espnforsberg@gmail.com or on Twitter @ESPNForsberg. Hop HERE to submit a question for his Celtics Mailbag.)