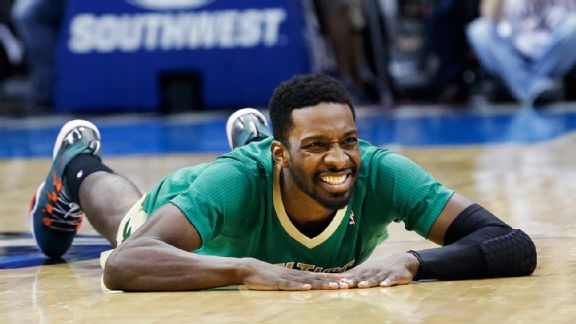 AP Photo/LM Otero
Can the Celtics and Jeff Green turn any 2013-14 frowns upside down?Each weekday for a three-week span, our summer panel of prognosticators -- a motley crew featuring our friends in the Celtics blogging community -- will join forces to tell you how the 2014-15 season will play out for Boston. We'll gaze into our crystal balls and attempt to answer all your questions before this season's team even hits the floor together for the first time.
SUMMER FORECAST 2014

Throughout the month of August, we'll break up the summer doldrums by trying to predict exactly how the 2014-15 season will play out for the Boston Celtics. A rundown of the series:
Coming later this week ...
Today's Celtics Summer Forecast topic: In what area will the Celtics struggle the most during the 2014-15 season?
On Tuesday, we examined the potential areas of growth for Boston. But with the upcoming season expected to be another rebuilding campaign, the Celtics are likely to struggle in many of the same areas that held them back last season.
Our panel, without being given specific options for this question, returned multiple votes in three areas: 3-point shooting, interior defense, and winning. No surprises there, the Celtics struggled beyond the arc (28th in 3-point percentage) and the lack of a true rim protector was often cited as a reason for Boston's defensive woes late in the season. That contributed to the team's meager 25-57 record, with the Celtics often letting games slip away late.
It's fair to wonder if Boston will improve in any of those areas this season. The team didn't add a lot of shooting, though Marcus Thornton will likely have a green light from the perimeter. The Celtics acquired Tyler Zeller, who will have to lean on his athleticism to help protect the back line. Considering the sheer number of games that Boston let slip away last season -- Boston was 15-34 last season in games that were within five points in the final five minutes -- it would seem the team would have to improve there, even without adding a surefire "closer" to the roster.
This writer's vote? Offensive efficiency remains a concern. The Celtics ranked 27th last season while averaging a mere 99.7 points per 100 possessions. A healthy Rajon Rondo is likely to bring some additional consistency to the offense, but the team's lack of shooting could force it to generate points in other ways (an up-tempo style could help, but this team still needs to do a better job of getting to the free-throw line after ranking 25th in free-throw attempt rate last season).
Boston needs Avery Bradley to continue to blossom offensively, while hoping more time for the likes of Kelly Olynyk and Jared Sullinger could add a scoring burst at the power forward spot. As usual, Jeff Green is a wildcard who could help Boston's offensive output with more consistency.
On Tuesday, we predicted Boston will improve defensively and that could help it win a few more games next season. Alas, the concern is the offense will continue to hold this team back.
Read on as our panelists explain their picks:
Jeff Clark, CelticsBlog (3-point shooting)
I'm sure that several of our players are working on their outside shot (Rajon Rondo, Jared Sullinger, etc.), but this team doesn't have a lot of reliable shooters. Marcus Thronton takes over the bench shooter spot vacated by Courtney Lee and Jerryd Bayless, but he didn't exactly have a good year shooting last year. The Spurs showed us the value of spacing the floor with knockdown shooters but I don't see that improving on this team without further moves.
Mark Vandeusen, CelticsLife (Minute distribution)
If I'm Brad Stevens I want to play Rajon Rondo, Avery Bradley, Marcus Smart, Evan Turner and Jeff Green at least 30 minutes per game each. That's already too many minutes at three positions, and I haven't even figured out how to get Thornton, James Young, Phil Pressey and Chris Johnson (assuming he sticks around) on the floor yet. Oh yeah, and Gerald Wallace is still here, too.
Julian Edlow, WEEI.com (Consistency)
We might as well just call them the Boston Jeff Greens. Green was suppose to step into the spotlight last year, instead he and the rest of the team was wildly inconsistent. It's going to be that way again this year. There are probably seven or eight players on Boston's roster that could go for 20+ points on any given night, but if any of those guys had 6 points in the next game, it wouldn't shock you. Yup, this team is going to be a mystery every night.
Cory Prescott, CLNS Radio (Rim protection)
The hardest skill for any NBA general manager to acquire is size. Why do you think Greg Oden was taken over Kevin Durant? Or why Joel Embiid was still being considered this year as the No. 1 pick, despite looking like a walking medical case? Brandon Bass and Kris Humphries tied for the team lead in blocks last season with 0.9 per game. While Bass remains on the team, Humphries departed via free agency. Tyler Zeller presents an intriguing young option, but isn't exactly a force at the rim either. Until it is fully addressed, the team's inability to defend the rim will be its biggest weakness. With a high number of perimeter players, as well as a surplus of draft picks, the Celtics may be able to acquire skilled size as the season progresses.
Bill Sy, CelticsBlog (Finding diamonds in rough)
Stevens was very good last season at rejuvenating the careers of veterans Jordan Crawford and Humphries. Subsequently, Ainge capitalized on those makeovers and masterfully flipped them for assets. With the youth movement in full effect, giving valuable minutes to Wallace, Bass, Thornton, and Joel Anthony won't be a priority. However, they're all known commodities and still might get moved by the trade deadline.
Jay O., Red's Army (Interior defense)
Teams shot nearly 60 percent against the Celtics last year from 0-5 ft. and about 41 percent from 5-9 feet (those marks were 11th and 3rd worst in the NBA, respectively). After hearing a lot about improving "rim protection," the Celtics didn't do much to help their cause. Unless they acquire some additional help, Stevens will have to rely on some innovative methods to fill this hole. Surprisingly, Boston's points allowed per game wasn't that bad, being the second lowest out of all teams that didn't make the playoffs (the New Yorks Knicks were first). It was better than the Los Angeles Clippers, Portland Trail Blazers, Houston Rockets, Dallas Mavericks, Phoenix Suns, and Atlanta Hawks.
Jon Duke, Celtics Stuff Live (Winning)
The Celtics have more talent than they did one year ago, but none of those pieces will help them win now. A return to the lottery is assured without a franchise-altering, Kevin Love-like trade. The only question is whether the Celtics can send Dan Gilbert to the draft lottery for them.
Padraic O'Connor, CelticsLife.com (Closing out games)
Much like last year, the 2014-15 Celtics will be fun to watch but they lack the experience to close games out effectively. A healthy Rondo and Avery Bradley is a solid start, but neither is the "professional scorer" the Celtics need to win consistently. I'm anticipating a lot of close losses and blown leads. "Fun losses" is what I'll call them. Is that a thing?
Tom Westerholm, MassLive.com (3-point shooting)
Sometimes the easiest answer is the best answer. The Celtics were 28th in 3-point percentage overall last season, and they added two rookies -- James Young and Marcus Smart -- who both struggled with 3-point consistency at the college level. A Smart/Rondo backcourt would give Boston very little in terms of spacing, and, while Jared Sullinger and Kelly Olynyk both have 3-point range, neither is likely to set the world on fire. Bradley might build on his 39.5 3-point percentage from last season, but he has fluctuated in his career so far. Don't look for the Celtics to improve noticeably from deep.
Jared Weiss, CLNS Radio (Interior defense)
As good as the Celtics' perimeter defense has been, their interior defense has been inversely effective. Of the players who contested at least five field goals at the rim last year, the Celtics did not have a single player in the top 50 for opponent field goal percentage. Although Vitor Faverani stopped players at the rim well, he proved to be an erratic player that usually found himself in foul trouble. The Celtics added Zeller to the mix in the pivot, but he has never proven to be a consistently effective defender. When opponents were able to dribble through the Celtics' exterior D, the bigs down low were routinely carved apart. Danny Ainge didn't make any personnel additions to project a different outcome this year.
KWAPT, Red's Army (Winning)
Duh.
---
Your turn: We invite you join the conversation. Sound off in the comments with the area that you expect the Celtics to improve least in.
(Chris Forsberg can be reached at espnforsberg@gmail.com or on Twitter @ESPNForsberg. Hop HERE to submit a question for his Celtics Mailbag.)