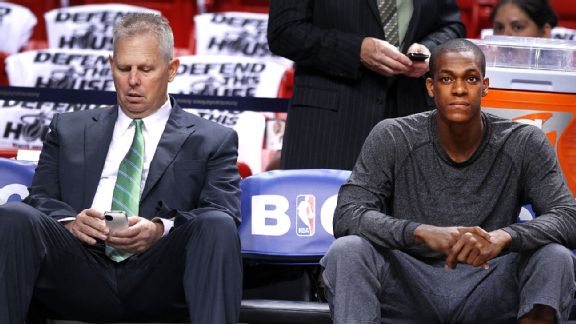 Jim Davis/The Boston Globe/Getty Images
Will Danny Ainge be intrigued by an in-season offer for Rajon Rondo?Each weekday for a three-week span, our summer panel of prognosticators -- a motley crew featuring our friends in the Celtics blogging community -- joined forces to tell you how the 2014-15 season will play out for Boston. We gazed into our crystal balls and attempted to answer all your questions before this season's team even hits the floor together for the first time.
SUMMER FORECAST 2014

Throughout the month of August, we broke up the summer doldrums by trying to predict exactly how the 2014-15 season will play out for the Boston Celtics. A recap of the series:
Today's Celtics Summer Forecast topic: Will the Celtics trade Rajon Rondo?
We close out our 15-day series with maybe the most common questions we've fielded this summer. Whenever the Celtics have come up in conversation, everyone from diehards that bleed green to the more casual fans want to know whether Rondo is part of the team's future.
Let's start with what we know: Rondo is entering the final year of a five-year, $55 million extension he signed in October 2009. The 28-year-old point guard will earn a team-high $12.9 million during the 2014-15 campaign and, while he has stressed that he doesn't like change and can see a long-term future in Boston, Rondo has also maintained a desire to test unrestricted free agency next summer.
Rondo, a four-time All-Star, is likely to command heavy interest that will only ensure a hefty price tag on the open market. Celtics president of basketball operations Danny Ainge has said the team sees Rondo in its future, but must balance Rondo's rising price tag as part of the team's rebuilding process.
Rondo's name has swirled in rumors every February (and usually crops up again each summer). With the possibility that the Celtics could watch Rondo walk away without compensation next summer -- as unlikely as that may be given Boston's potential to pay him more than others while owning his rights -- many have wondered if it would benefit the team to move him before season's end.
Will the Celtics trade Rondo this season? This writer has maintained that it seems unlikely that a team could possibly meet Ainge's steep asking price, particularly during the season when most suitors are likely to be playoff-bound teams that lack both high draft picks or a desire to give away established talent amidst a postseason push.
It's our belief that the Celtics will roll the dice a bit next summer. That allows them to further evaluate a healthier Rondo this season and gauge his fit as the centerpiece of a team navigating Year 2 of a rebuild. If Rondo has a quality season and the Celtics can sell him on what they are building -- with their growing pile of assets and future cap space -- then there's potential for Rondo to re-sign to a long-term deal. But even if that doesn't happen, Boston could still get a return on Rondo by facilitating his next deal as part of a sign-and-trade agreement.
Now, a team could also beat the summer rush and try to pry Rondo from Boston before February's deadline, but would likely be doing so without a guarantee of a long-term commitment. All of which suggests to us that Rondo is likely to spend the entire season in green and set up a very intriguing summer of 2015.
Our panel leaned heavy towards no trade. A closer look at how our experts voted:
Read on as our panelists explain their picks:
Tom Westerholm, MassLive.com (No)
The market for Rondo has dried up. Ainge won't want to lose him for nothing, especially since Rondo has given the Celtics very little reason to believe he wants to leave Boston. What's more, his skill set is incredibly malleable, making him an ideal rebuilding cornerstone. The Celtics will have cap space in spades in 2016, even if they re-sign Rondo. Why move him?
Julian Edlow, WEEI.com (Yes)
It's getting to the point where there is just no other option unless Ainge is prepared to watch Rondo walk in free agency. The trade/free-agent market over the next year does not have much to offer when looked upon in realistic fashion. It makes no sense to lose Rondo for nothing and there are no stars available to pair him with in Boston. By my count that leaves one possibility: A trade must happen. Ainge needs to do whatever it takes to find the most attractive package of young talent to get back in return.
Jeff Clark, CelticsBlog (No)
Basically, I still believe that Rondo is worth more to us than he is to other teams. He's a key foundation building block in the rebuild process and the team will have a lot of flexibility to do some big things in the summer of 2015. I think Ainge will listen to offers but at the end of the day Rondo will sign a long-term deal to stay in Boston next summer.
Cory Prescott, CLNS Radio (Yes)
I have flip-flopped on this topic since the beginning of last season. If Kevin Love had landed in Boston this offseason, there is no doubt in my mind that Rondo would have been signed to a long-term deal. Now that Love is in Cleveland and Rondo is left without a true superstar to run with, Ainge will be forced to either sign Rondo long term, deal him for even more future assets, or perhaps trade for some established size up front. Ainge won't hesitate to create even more flexibility for a team with a lot of future cap space and a boatload of draft picks. With $30 million set to come off the books as the roster presently stands, Ainge will have the ability to rebuild this team on the fly.
Mark Vandeusen, CelticsLife (No)
There are three possible options with Rondo: Trade him, re-sign him, or let him walk as a free agent. Mathematically, it seems like a bad idea to bet on any one of those scenarios over the other two. The fact that Ainge has consistently shown an unwillingness to deal when he feels he'll get less than his perceived value of his players in return also bodes well for Rondo staying put. And, finally, how many times in the past has Ainge actually traded Rondo? None. How many times has he not dealt his point guard despite rumors to the contrary? Countless.
Bill Sy, CelticsBlog (No)
Ainge needs to keep all his options open during this rebuild and that includes keeping the only star on the roster. If he's going to pitch the Celtics to big free agents next summer, Rondo needs to be in Boston to make it an attractive destination. He runs the risk of losing him to free agency, but I don't think he's too concerned. Rondo is the consummate team player and he'll prove it in July when he re-signs a cap-friendly contract.
Jay O., Red's Army (No)
Unless Ainge gets an offer that he can't refuse, I don't see him moving Rondo just to move him. Brad Stevens and Ainge do not have the fixed mindset like the majority of people out there when asked on this subject. They're more of the growth mindset approach, and if Rondo wants to stay, and they can make it work, they will. Ainge could have his eyes on other star players next summer to sign with Rondo. Trading him for spare parts and draft picks only extends the rebuild.
Jon Duke, Celtics Stuff Live (No)
Being a Rondo guy from Day 1, I hope he is here for a long, long time. However, sometimes a player's personal goals just don't match with where the franchise is headed. That might end up being the case next summer, but for now I fail to see why a team would acquire three months of a player without the guarantee of him re-signing. Next summer though? No idea what happens.
Padraic O'Connor, CelticsLife.com (No)
Rondo will not be traded this season because any trade would not return the value Rondo brings to Boston. Ainge is not trading Rondo because there's no one out there he wants for him; only players he wants to pair with him. Trading Rondo in 2014-15 wouldn't help the Celtics win any faster, so why do it? Unless another Kevin Garnett/Paul Pierce too-good-to-be-true offer comes along, Rondo stays in Boston.
Jared Weiss, CLNS Radio (No)
Whatever criticisms one may have of Rondo, the reality is that he is an All-Star and one of the players the rest of the league covets. He may have shortcomings, but there are very few stars in this league that don't. There is no point in trying to get scrap parts for a guy that can run an offense better than almost anyone in basketball. He has shown the ability to improve in any area that he wants. He has shown the ability to take over games when he wants. The next step for him is to take over a winning franchise. It can be done in Boston, but there will be plenty of other cities in the summer begging him to do it there. The Celtics hold several advantages in free agency next summer (Most importantly, the best insight on what Rondo is thinking). Unless Ainge can get a commitment from another premier talent, there doesn't seem to be much of a point to letting one go.
Also voting: KWAPT, Red's Army (No).
---
Your turn: We invite you join the conversation. Sound off in the comments whether you believe the Celtics will trade Rondo this season.
(Chris Forsberg can be reached at espnforsberg@gmail.com or on Twitter @ESPNForsberg. Hop HERE to submit a question for his Celtics Mailbag.)