BOSTON -- When Boston Celtics forward Jeff Green was asked about some extended summer stubble dangling from his chin, team president Rich Gotham playfully interjected that he must be going for a "Bill Russell look."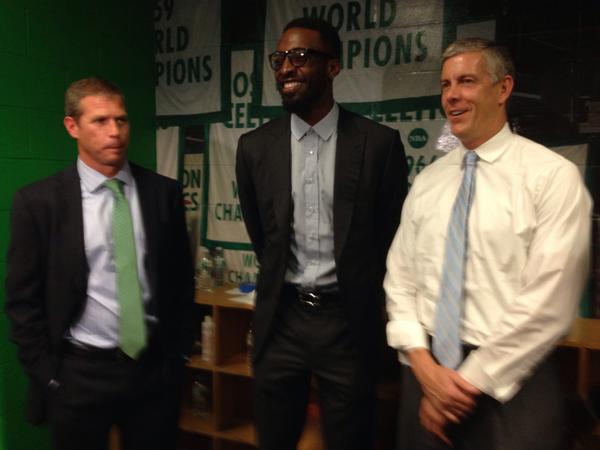 Chris Forsberg/ESPN Boston
Celtics team president Rich Gotham, Jeff Green and U.S. Secretary of Education Arne Duncan at an education event in Mattapan.Green, who returned to the area this week to start ramping up toward the start of Celtics training camp later this month, joined Gotham and U.S. Secretary of Education (and hoops junkie) Arne Duncan for an event to support the My Brother's Keeper initiative in Mattapan. Green added to his Russell look by wearing the latter's familiar blue button-down shirt and blazer, but when the conversation shifted to basketball, it steered more toward the current rebuild than the Russell-hung banners that served as Green's backdrop as he fielded questions.
"You can't really put a timetable on the rebuilding process," said Green. "As long as you continue to get better each day -- going to practice and just get better -- that's what it's going to take for us to get better as a team and to increase wins. I think we ended the season well and this whole summer each guy took it upon themselves to get better, which is going to make our team better."
What did Green focus on during the offseason?
"Just get better as a player, all around," he said. "I don't have one or two things that I focused on completely throughout the whole summer. I think it was more just becoming a better all-around player and trying to take the next step to becoming a leader on this team."
The 28-year-old Green is coming off a season in which he averaged a career-high 16.9 points over 34.2 minutes per game. But despite welcoming the bull's-eye that landed on him with Rajon Rondo sidelined for the start of last season, Green never quite flourished as the sort of go-to presence that many hoped he might develop into (particularly after a strong playoff showing to close the 2012-13 season).
Green expressed optimism about what a healthy Rondo can add to a young Celtics core this season ("With him being 100 percent healthy, I think he'll make our team just that much better," said Green) but the question remains whether the advancements of Rondo's supporting cast, and Green in particular, can help Boston take the next step in its rebuild.
On this night, the conversation at the Mildred Avenue School leaned heavier on education than hoops. While recovering from heart surgery that paused his basketball career, Green went back and finished his degree at Georgetown in 2012. This past summer, he made a $1 million donation to the school (which was matched by the Indiana Pacers' Roy Hibbert, while Patrick Ewing and agent David Falk pledged an additional $3.3 million toward the construction of an on-campus facility that will bear the name of Hoyas coaching legend John Thompson Jr.).
"Georgetown has done a lot for me in so many ways," said Green. "They gave me a great education. They gave me an opportunity to play basketball at a high level. And with the personnel that's around that school, Big John [Thompson Jr.], the professors, my coach, [John Thompson III], they also made me a better person. I owe a lot to them for getting me to where I'm at, so it was a no-brainer for me to just give back in order to help build a new facility in John Thompson Jr.'s name. He's done so much for that school, I think he's really deserving of it. I think it's going to be great for the school in the long run."
With a focus on Thursday's education event, Green added: "[Kids] look up to NBA players and to put our story out there about how we got to where we are and how education got us to the point we are now, I think it's big for these kids to hear. I think that's why we are out here, spreading the word, that education is very important. And it should come first."
A few more notes and quotes from Green's brief Q&A with reporters:
• Meeting the new guys: Green said he's spent time this week meeting the newest faces on the team, including rookies Marcus Smart and James Young. "I've had a lot of time to talk to the guys, get to know them off the court, but also work out with them, get to know them on the court," said Green. "We've become close through the last couple days that I've been here. And they've been here for a long time. They've been working hard to get ready for this upcoming season."
• Beard Inspiration: Russell > Harden: Given the option of picking Russell or former Oklahoma City Thunder teammate James Harden for his beard inspiration, Green joked, "I would go with Bill Russell before James Harden. It's something that just grew; I wasn't planning it. Just a different look, nothing big."
• Players in the community: Gotham was asked about having the Celtics players involved in community activities, whether it's Green at the education event or newcomer Tyler Zeller at a food bank in Lowell earlier this week. "It's really important," said Gotham. "The kids look up to the players. To have guys like Tyler, like Jeff today, this is their offseason. They are not under any obligation to do this kind of stuff, yet they value their role as a mentor to these kids and they know they make a positive difference by just spending time with them. Just the simple act of showing that they are willing to spend their time, that sends a great message to these kids, that someone's caring about them, someone is thinking about them. We're lucky, we have a great crew of guys who are able to not only make that statement, but also set an example like Jeff going back and getting his diploma at Georgetown, the importance of education."