If the Boston Celtics' season-opening win Wednesday led to rampant optimism, Saturday's 104-90 loss to the Houston Rockets probably evened things out. Facing a legitimate Western Conference contender, the Celtics let the game get away from them in the first quarter and never responded enough to quite make things interesting again.
The top storyline will be Boston's abysmal 3-point shooting, and for good reason. The Celtics missed their first 21 3-point attempts and were flirting with an NBA record for consecutive misses before Jeff Green produced the team's only triple with 4:10 to play. Boston finished a cringeworthy 1-for-25 shooting (4 percent) beyond the arc.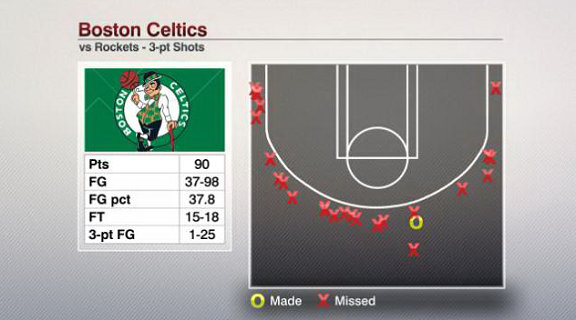 Celtics coach Brad Stevens noted after the loss, "if we throw in five 3s instead of one, it's a totally different game." He's not wrong. But maybe the more concerning aspect of Boston's 3-point woes was simply how reliant the team became on the shot early on, particularly as Houston started to take a lead.
The Celtics were down just six early in the first quarter but missed 3-pointers on three consecutive possessions. Houston's lead quickly jumped to 10, and instead of attacking the basket to try to make something happen, Boston continued to fire away from deep. They missed three more triples in a two-minute span later in the frame, and the Rockets' lead soon ballooned to 18 (which seemed insurmountable the way Boston was shooting).
We've often referenced how Stevens wants his Celtics to respond better to adversity. That's not just a desire to play better in the fourth quarter of close games. It's situations such as Saturday, in which Boston couldn't stop the bleeding early and never gave itself a true chance to compete again. (The Celtics did get within 11 in the third quarter, but it took little more than a minute for Houston to push its lead back to 18).
Boston's inability to consistently get to the free-throw line remains troubling. Of course, when your 3-pointers aren't falling, it makes that task even more difficult. But the Rockets shot 24 first-half free throws Saturday; Boston attempted three. It took 10 and a half minutes before Boston generated its first free throw attempt of the game, and the Celtics later endured a stretch of 17 minutes without a free throw attempt, including the entire second quarter and the first 4:46 of the third frame. Houston shot 40 free throws overall; Boston shot 18.
The Celtics were not tough with the ball and often let Houston dictate their shots.
Stevens admitted after the game, "I don't think we got the rim enough on the drive or backcut. ... We need to finish better, and we need to recognize the opportunity to drive and cut more. And we will."
There was plenty to lament on this night. Kelly Olynyk encountered early foul trouble and never got going, Green needed 19 shots for a team-high 17 points and Boston's starters were largely ineffective overall, though Jared Sullinger had his moments, particularly in the third quarter.
For Boston, it has to be disappointing to play so poorly when there should have been ample motivation to build off Wednesday's performance. The Celtics were 0-15 on the road against the Western Conference the past season, and that included getting their doors blown off in Houston. Boston didn't look like a team that had made much progress.
But the Celtics can't linger on the loss. Ultimately, it goes back to what Stevens stressed before the start of the season: The Celtics simply can't get too high or too low this month. Boston has a very challenging schedule that will make it difficult for a young squad to play with consistency. There are going to be peaks and valleys on this roller coaster.
No matter how extreme the highs or lows, Boston has to do a better job of staying level.