INDEPENDENCE, Ohio -- LeBron James is going back to the place where he played the last game of his first stint with the Cleveland Cavaliers. And he couldn't be happier.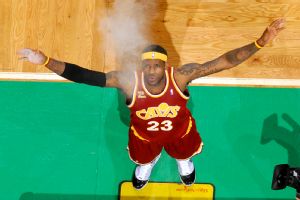 Brian Babineau/NBAE/Getty Images
LeBron James returns to TD Garden in Boston as a member of the Cavaliers on Friday night for the first time since the 2010 Eastern Conference semifinals.James left the Cavaliers for Miami shortly after Cleveland lost to the Boston Celtics in six games in the 2010 Eastern Conference semifinals. James had a triple-double in Game 6 at TD Garden -- putting up 27 points, 19 rebounds and 10 assists -- but he also missed 13 of his 21 shots and had nine turnovers as the Cavs lost by nine.
On his way to the visitors' locker room after the game, James pulled off his Cavs jersey in what became a video that's been played on loop ever since.
He's since exorcised those Boston demons, beating the Celtics in a must-win Game 6 in the 2012 East finals, putting up 45 points, 15 rebounds and five assists on the parquet to propel the Heat to a seven-game series victory and an eventual NBA title over the Oklahoma City Thunder.
With James' second go-round with the Cavaliers just getting under way, he sounds excited about a return trip to Beantown.
"Their fans know the game of basketball, they appreciate the game of basketball, and I love a little adversity," James said after practice Thursday. "They're one of the best at creating adversity, so it should be fun."
The Cavs (3-3) play the Celtics (3-4) on Friday night. James has averaged 30.1 points in 36 career games against Boston, his highest scoring average against any opponent. He knows the Celtics faithful will be ready to greet him in their own unique way.