Boston Celtics rookie guard Marcus Smart will not play in Wednesday's game against the Orlando Magic and the team is hopeful he can try again to return to practice on Thursday.
Smart, who suffered a left Achilles strain in Friday's loss to the New York Knicks, returned to practice on Tuesday, but removed himself early when he didn't feel healthy enough to continue.
Smart missed 10 games last month due to a sprained left ankle and the team has encouraged him to proceed with caution given the Achilles strain.
"[Smart] did some spot shooting and those type of things [at Wednesday's shootaround]," said Celtics coach Brad Stevens. "[The medical staff] said they are going to try [to get him back at practice] again [Thursday]."
On Tuesday, Stevens said: "[Smart] knows his body. And he knows if he feels right, especially when you're talking about an Achilles or a knee or an ankle," said Stevens. "It's a little bit different than an upper-body injury, just because every single movement, you feel it. The directive he was given [Tuesday] was, 'You see how you feel and you decide.' Obviously, he didn't feel great and I don't think it was anything that happened. I think he just didn't feel great and pulled himself out. And that's OK, again, that's the directive he was given."
Smart is averaging 5.9 points, 2.1 rebounds, 1.5 assists, and 0.9 steals over 16.4 minutes per game in 10 appearances.
The Celtics were dressing only 11 players for Wednesday's game. The team is without Smart, James Young (shoulder), Marcus Thornton (calf), and Vitor Faverani (knee).
Young and Thornton were both expected to miss two weeks with recent injuries; Faverani has been out since February and the team is eyeing a return to basketball activities in the new calendar year.
Despite some little bites from the injury bug, Stevens was thankful to have avoided more serious maladies.
"We've got 11 guys and 11 guys have to be ready to play and all play well," said Stevens. "I think that every team is going to go through this at certain times. We haven't gone through it as far as a lot of numbers that much yet. We've certainly missed Marcus the better part of this first 20 games some-odd games, but we've been pretty fortunate, injury-wise, thus far."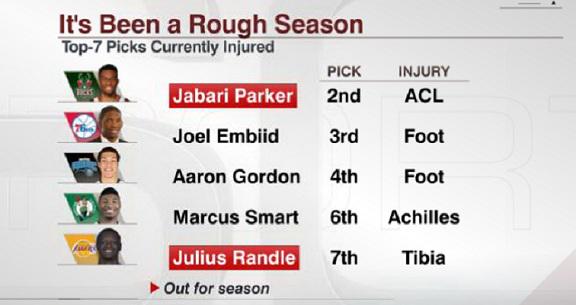 ESPN Stats and Info graphic
It's been a tough year for the league's top picks.On the heels of Milwaukee's Jabari Parker suffering a torn ACL, Stevens downplayed the idea that the young age of this year's rookie class could be contributing to the first-year injuries.
"[Philadelphia's Joel] Embiid was hurt before he got here, so that one doesn't really count as far as being injured in the NBA," said Stevens. "I still think it's more unique circumstances and random than it is age, but there might be a medical study that proves me wrong. I don't know. But I know there's a lot of young guys for a lot of years that have played without injury, and I feel bad for Parker, because that's a hard injury to recover from, but he'll be diligent in his rehab and I'm sure he'll be back as soon as possible."