Recently acquired Tayshaun Prince joined the Boston Celtics on the practice floor Sunday in Santa Monica, Calif., but stressed that all options regarding his future with the team remain on the table.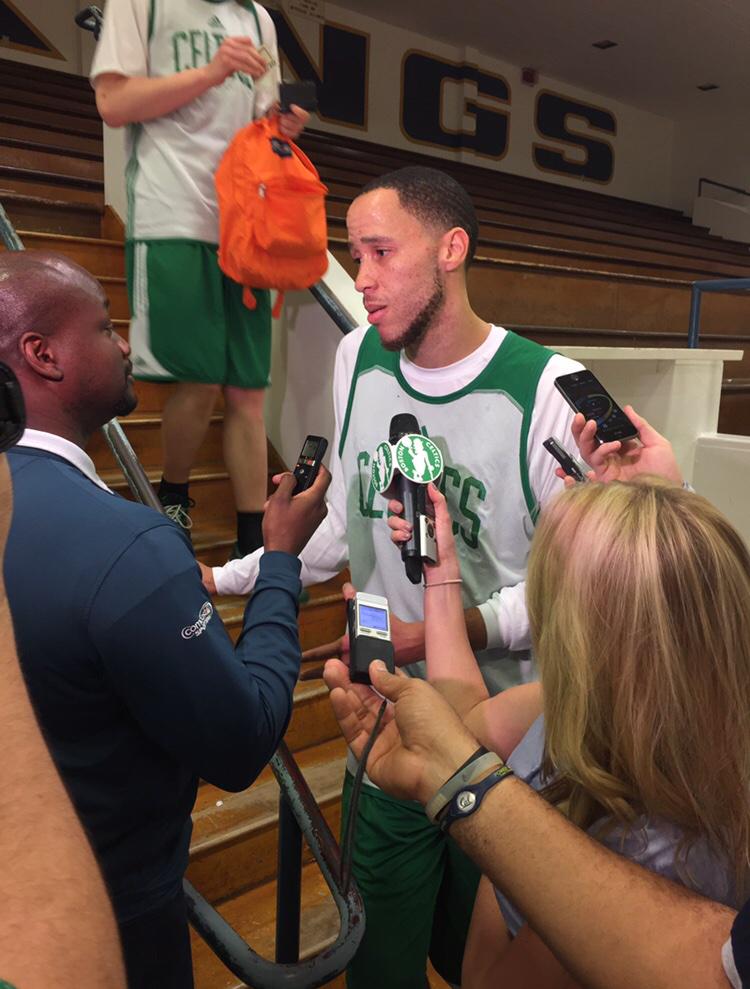 Twitter.com/Celtics
Tayshaun Prince meets the Boston media for the first time.Prince, acquired Monday in a three-team swap that delivered Jeff Green to Memphis, is making $7.7 million in the final year of his contract. With Boston in a rebuilding process and leaning on its younger players, there's no clear-cut role for Prince on this team, and the Celtics are likely to explore possible trade or buyout options before deciding whether to carry him for the remainder of the season.
"All options are on the table right now, whether it's me being here for rest of the year or it's a buyout or whatever the case may be," Prince told reporters after the team's practice at Santa Monica High School. "So all options are on the table right now. We've had some discussions [Sunday]. I know there were reports that there were some discussions going on throughout the course of this week, but there really haven't, because they haven't seen me until today.
"Like I said, all things are on the table right now. But the most important thing is, even though all options are on the table, my job is to be a Boston Celtic at this point in time and help where help is needed. So that's the main thing, and I can't have one foot in and one foot out the door right now -- even though everything's on the table. That would be wrong on my behalf. So we'll see how it plays out."
What can the 34-year-old Prince bring to this team?
"My approach is come in here, provide a spark, provide leadership and, throughout practice, just watching the young guys and what they were doing, just kind of help wherever I'm needed," Prince said. "Who knows what the situation is as far as the first few games, as far as how much I play or how much I don't play. I'm not really too concerned with that. The most important thing that they're looking for out of me is to provide some leadership and some experience and obviously showing them things in practice, the way things can be done and stuff like that. I got an opportunity to see how practices are run a little bit, so I got familiar with it. And me being an experienced guy, I'll pick up their sets and stuff like that and what they're doing. I'll pick those things up right away because, all in all, there's some familiarity with what people run in this league."
Shavlik Randolph, acquired last week in a separate three-team trade, also joined the Celtics for Sunday's practice. The 31-year-old big man adds some depth to the frontcourt, particularly in the event of additional roster moves, and has some familiarity with the organization from a stint here in 2013.
Randolph will wear the No. 42 he had here last time; Prince takes over No. 12.
"It's the first time I've been traded, but fortunately I was able to come back to a team I've been with before, a team that I loved," Randolph said. "I look at it as a positive. I've been here and I'm a little bit familiar with everything already."
Only three players remain from Randolph's first go-round -- Avery Bradley, Jared Sullinger and Brandon Bass. Randolph was waived amid a roster crunch soon after coach Brad Stevens was hired, but said there were no hard feelings.
"It was 100 percent numbers. I knew that," Randolph said. "They had communicated to me all along that they definitely wanted me back. I definitely wanted to be back. But with trade that happened, sending [Kevin Garnett] and Paul [Pierce] to Brooklyn, there were a lot of moving parts that took precedence over dealing with me, and I understood that at the time. But it ended up working out for me. I was able to go to a great organization in Phoenix. But it's funny how things are full circle and how I was able to come back."
Both Prince and Randolph are expected to be active for Monday's matinee against the Los Angeles Clippers as James Young is unlikely to dress while battling the flu. But Stevens said he was unsure how much they would play while getting acclimated.