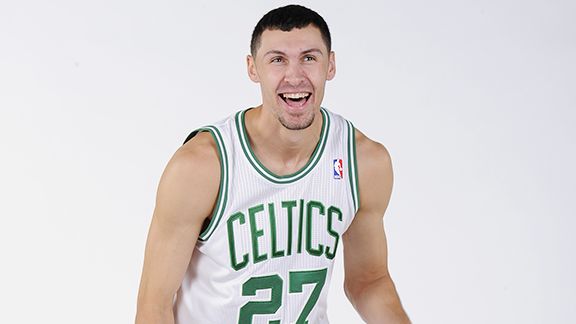 Brian Babineau/NBAE/Getty Images
In early October, Tony Gaffney was in uniform in Boston. Now he's writing from Ankara, Turkey.Tony Gaffney, a Boston-area native and Celtics camp casualty, jokes that he's traded places with former teammate Semih Erden as he spends the year playing in Turkey. He's writing dispatches from abroad for ESPN.com's True Hoop blog. Here's a sample of his first entry:
This overseas thing is beginning to grow on me. While I loved living in Boston and in Los Angeles, there are definitely some things I've seen out here in Ankara, Turkey, that I wouldn't have seen in a million years back in the States.

Three weeks ago, upon arrival, as I'm driving through this unfamiliar territory, I notice that about every mile or so, there is a mall the size of Rhode Island. Tons of shopping outlets and malls, I'm thinking: I could get used to this.

About a week ago, I wandered into one of them. The first thing I see when walking into the doors with a few of my teammates (foreigners as well: Greg Stiemsma from Wisconsin and Sani Becirovic of Slovenia) is a giant chocolate fondue kiosk.

I'm immediately in heaven.

As I approach it, to my immediate right, is another kiosk, with a line that stretched as long as Commerce Avenue in Boston. That line is at the ... wait for it ... corn kiosk.

Nope, no mistype, every 50 feet or so, there is a little spot where you can purchase a cup of corn.
Click HERE to read more.