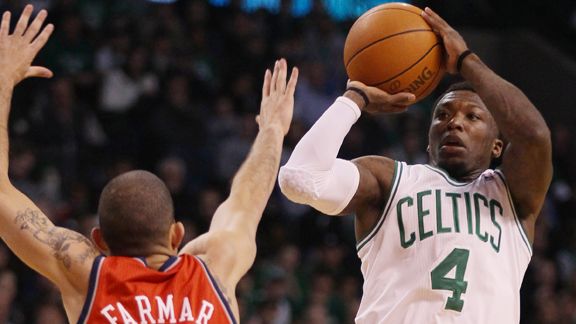 Elsa/Getty Images
Nate Robinson puts up a first-half jumper against the Nets.BOSTON -- First impressions after the Boston Celtics defeated the New Jersey Nets 89-83 Wednesday night at the TD Garden.
HOW THE GAME WAS WON
Shaquille O'Neal produced his second consecutive double-double while pouring in a season-high 25 points on 9-of-10 shooting to go along with 11 rebounds over 32 minutes of action. Paul Pierce (18 points) and Ray Allen (15 points) joined O'Neal in double figures, hitting some big shots in the final minutes to ice the victory over a feisty Nets squad. Devin Harris scored a team-high 20 points for New Jersey, which also saw starters Anthony Morrow (18 points) and Brook Lopez (16 points) reach double figures.
TURNING POINT
The Celtics trailed for nearly all of the middle quarters, but O'Neal's spark pushed the team ahead in the final frame. A pair of Shaq free throws with 9:41 to go tied the game and he followed soon after with a thunderous alley-oop slam off a feed from Allen. A 3-pointer by Allen, coupled with two more freebies from Shaq, pushed the lead to five (72-67) with 7:05 to play and the Green hung on from there, even as the Nets refused to go quietly.
STAT OF THE GAME
The Celtics attempted 23 free throws, 13 of which came from O'Neal, who made a whopping (at least for him) seven of them (53.8 percent) including some clutch four-quarter freebies to help Boston pull away (and then hang on).
UNSUNG HERO
Marquis Daniels got ushered into the role of backup point guard after Delonte West left the game with a broken right wrist late in the second quarter and Daniels produced four points, four assists, and three rebounds over 27 minutes while providing a steadying presence on the second unit.
WHAT IT MEANS
Playing without Rajon Rondo for the third consecutive game, the Celtics looked sleepy early on and West's departure really tested their resolve as it was apparent from the time he hit the floor that the injury was serious. The Celtics managed to claw ahead in the fourth quarter, then hit big shots down the stretch for a feel-good win heading into the Thanksgiving holiday.