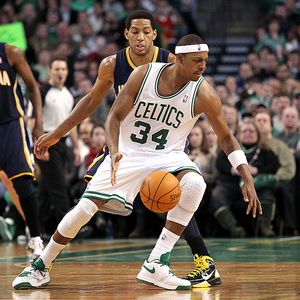 Mark L. Baer/US Presswire
Paul Pierce earned Eastern Conference Player of the Week.Fresh off his triple-double performance in Sunday's win over the Indiana Pacers, Boston's Paul Pierce has been named the Eastern Conference Player of the Week after averaging 21.7 points, 8.7 assists, 8.3 rebounds, and 2.3 steals per game in a week the Celtics went 3-0 to extend their winning streak to a league-best 13 games.
Pierce's week included a winning 14-foot jumper over Amare Stoudemire in the final second of Wednesday's win in New York and culminated with back-to-back double-digit assist totals as the Celtics defeated the Hawks and Pacers without All-Star point guard Rajon Rondo. Here's a recap of Pierce's week, courtesy of the NBA:
Paul Pierce, Boston Celtics
* Dec. 15 @ New York: Posted 32 points, 10 rebounds and four assists in a 118-116 win over the Knicks.
* Dec. 16 vs. Atlanta: Scored 15 points to go along with 10 assists and five rebounds in a 102-90 win over the Hawks.
* Dec. 19 vs. Indiana: Recorded 18 points, 12 assists, 10 rebounds and four steals in a 99-88 win over the Pacers.
Pierce is the second Celtics player to earn the honor this season. Rajon Rondo won the award for his lofty assist totals in the first week of the regular season.