Rapid reaction after the New Jersey Nets defeated the Boston Celtics 88-79 Monday night at the Prudential Center in Newark, N.J.:
The rundown: Rondo slump? | Back-to-backs | Baby's night | Murphy's return to N.J.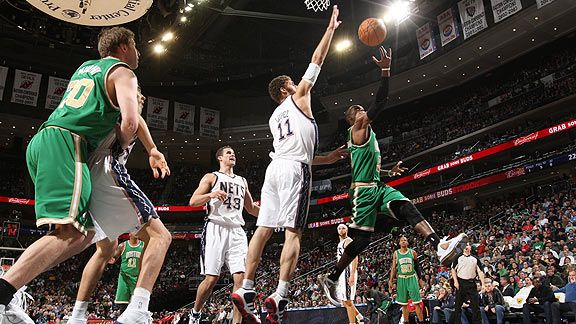 Nathaniel S. Butler/NBAE/Getty Images
Rajon Rondo simply hasn't been himself recently.Celtics coach Doc Rivers continues to contend that there's nothing wrong with All-Star point guard Rajon Rondo. The statistics suggest otherwise.
Rondo's struggles over the past five games may have bottomed out Monday as he produced 1-for-10 shooting with two points and nine assists over 32 minutes. Some of that might have been a result of Rondo rolling his right ankle in the third quarter (he got retaped and returned before the quarter's end), but Rondo was already 0-for-6 with four turnovers in a scoreless first half.
The more troubling aspect is that Rondo's struggles came in a matchup with one of the league's other elite point guards in New Jersey's new centerpiece, Deron Williams. This is the sort of head-to-head battle that typically brings out the best in Rondo. Instead, he labored like we've rarely seen this season, and this in the first head-to-head battle since Williams set up shop in the Atlantic Division.
Over his last five games, Rondo is averaging a mere 7 points and 8 assists over 34.2 minutes per game. Those are modest stats for a player averaging 10.7 points and 11.8 assists over 37.7 minutes per game this season. Even still, Rivers contends Rondo is simply battling through the rigors of March.
"I don't know if he's slumping. He's not playing great right now, but I don't think he's slumping or anything," said Rivers, who told reporters in New Jersey that Rondo's ankle was fine. "He's just going through a stretch. It's a long season. He's human the last time I checked, and he's going to go through stretches just like Paul [Pierce] and Ray [Allen] and Kevin [Garnett]. They've all gone through stretches."
With less than four minutes to play and the Celtics having rallied within two, Rondo committed an ill-timed three-shot foul on Anthony Morrow that hindered Boston's comeback. It's the sort of mental miscue you don't expect from Rondo at that stage of the game. The Celtics pulled back within two with three minutes to play, but New Jersey scored the game's final seven points, highlighted by a 28-foot dagger of a 3-pointer by Williams, capping a 16-point, nine-assist night.
--STOP ME IF YOU'VE HEARD THIS BEFORE--
The Celtics did just about all they could to put themselves in position to be successful on the second night of a back-to-back on the road, coming off a breezy, good-feelings win over the Milwaukee Bucks on Sunday night at TD Garden. But it wasn't enough to get over that hump.
Boston fell to 2-8 this season on the second night of a back-to-back on the road and has lost its last six games under that scenario (also falling in Detroit, Chicago, Washington, Phoenix and Charlotte).
"It doesn't bother me unless they're going to start having back-to-backs in the playoffs," Rivers told reporters in New Jersey. "I'm not that concerned by it. It bothers me that we're not mentally tougher because, to me, all back-to-backs are is a mental toughness thing and we've struggled all year. If we could take the back-to-backs out, we'd have the best record in the NBA, but we can't, and where it doesn't bother me is, again, you don't have those in the playoffs. You have rest and so that's a good thing. But [they] still are losses and you're losing ground by losing games."
Forget surging Chicago, the back-to-backs finishing on the road might be the biggest roadblock in Boston's quest for a No. 1 seed. The Celtics play four more games under this scenario this season (at New Orleans, Indiana, Atlanta and Washington) and can ill afford to endure four losses if they're jockeying the Bulls (and Heat?) for position over the final month of play.
--OH, BABY: DAVIS ALMOST CARRIES TEAM DESPITE AILING KNEE--
Asked what he expected out of Glen Davis when Boston's top reserve returned to the lineup following a four-game absence on Sunday, Rivers said he simply wanted the extra big body and didn't even care if he got "bad-playing Baby."
On Monday in New Jersey, the Celtics desperately needed good-playing Baby, who almost carried the Green to victory despite still getting back into the flow of things.
Davis scored 16 points while launching a team-high 16 shots, adding a team-high 14 rebounds over 32:39. Davis produced 10 of his points after intermission, including six in the final quarter as he tried valiantly to keep Boston in the game.
Davis hit a 19-foot jumper with 3:09 to go to pull Boston within two, but that was the last field goal of the game for Boston. Davis missed both a layup in traffic and a mid-range jumper as part of those late-game offensive struggles, but he remains willing to take those big-moment shots (and showed a familiar fearlessness while firing away Monday). Rivers leaned on Davis in crunch time, even as Baby works his way back from a 10-day layoff.
--MURPHY RETURNS TO JERSEY, REFLECTS ON NEW OPPORTUNITY--
Playing against the team that relegated him to NBA purgatory, Troy Murphy chipped in five rebounds (three on the offensive glass) over nine scoreless minutes Monday. He did not attempt a shot.
Murphy appeared in 18 games (four starts) with New Jersey before spending nearly two months banished from the Nets' youth-focused rotation and finally getting his buyout following a deadline deal that shipped him to Golden State. Now, in Boston, he's got a chance to be a part of a playoff team for the first time in his career.
"Troy was put in a tough situation here," Nets coach Avery Johnson said before Monday's game. "Things didn't work out. But hey, what more can you ask for? You go from a situation where we're not on that level yet and you go to the favorite to come out of the East. I think it'll be great for him."
Hop HERE to read more on Murphy and the Nets from ESPNNewYork.com.