On the heels of the Celtics' four-game sweep of the Knicks in an Eastern Conference quarterfinal series, we examine specific areas of Boston's postseason play and how it might affect the team moving forward. In the third installment of Series Takeaways, we break down Boston's rebounding efforts: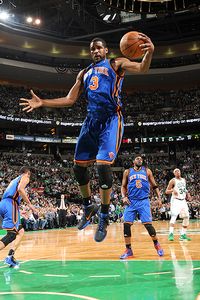 Brian Babineau/NBAE/Getty
The Celtics controlled the glass against the Knicks in three of the four games in Round 1.During the regular season, the Celtics were an above-average defensive rebounding team. They finished the 82-game slate with a defensive rebound rate of 74.6 percent, according to HoopData, good for ninth overall in the NBA. While certainly not an elite rebounding team, the Celtics, at least, did not give up offensive rebounds at an alarming rate.
In their four-game sweep of the New York Knicks in the first round of the playoffs, though, the Celtics were not as adept at cleaning the defensive glass, and it almost sunk them in the first two games of the series. According to HoopData, the Knicks finished the regular season ranked 24th in offensive rebound rate (24.2), but they significantly upped that figure in Games 1 and 2. In Game 1, the Knicks grabbed 13 offensive rebounds and finished with an offensive rebound rate of 31.0 -- a figure that would have led the league in the regular season. In Game 2, New York ripped off a whopping 20 offensive rebounds, finishing with an offensive rebound rate of 41.7.
Not surprisingly, the Knicks scored off those extra possessions, registering 10 second-chance points in Game 1 and 24 second-chance points in Game 2 -- an area that helped New York combat the absences of both Chauncey Billups and Amare Stoudemire (limited by a bad back).
The Celtics understood they needed to do a better job on the boards as the series shifted to New York, and they made good on their word. According to Basketball-Reference, the Celtics' defensive rebound rate in Game 1 was just 69 percent, and in Game 2, it was a miserable 58.3. But in Games 3 and 4, the Celtics rebounded, literally and figuratively. They posted a defensive rebound rate of 71 in Game 3 and a more impressive 77.2 in Game 4. (Accordingly, the Knicks' offensive rebound rate was significantly lower in both games compared to the opening two games in Boston, ultimately bottoming out at 22.8 in Game 4, although they did still manage to score 18 second-chance points).
"[Rebounding is] huge for us," said Celtics captain Paul Pierce after Game 4. "We haven't been a great rebounding team all year long, but when we do rebound and we play defense the way we play, we're a tough team to beat.
Rebounding will be an important point of emphasis for the Celtics for the remainder of the playoffs, and it will have to be a total team effort on the glass until (and even when) Shaquille O'Neal returns. Besides Kevin Garnett and, occasionally Rajon Rondo, the Celtics don't have many credible rebounding threats. The respective regular-season defensive rebound rates of Glen Davis, Nenad Krstic, Jeff Green, and Jermaine O'Neal were all below league average for their positions, and Paul Pierce will be expending a hefty amount of energy scoring points and trying to defend the opponent's best perimeter player.
Things won't get any easier for the Celtics in this department moving forward. It's looking like the Miami Heat will advance to the second round to face Boston, and while it might be a below average offensive rebounding team, it's still better than New York (Miami finished the regular season ranked 19th in offensive rebound rate, according to HoopData).
If the Celtics and Heat do meet, it will be absolutely critical for Boston to take care of the defensive glass and not allow Miami extra looks at the basket. Dwyane Wade, LeBron James and Co. will be difficult enough to deal with on one possession, never mind two or three in a row. If the C's can force Miami to be a one-and-done team and take that extra pressure off of their defense, they'll have a much better chance of advancing to the Eastern Conference finals.
Greg Payne is a student intern for ESPNBoston.com