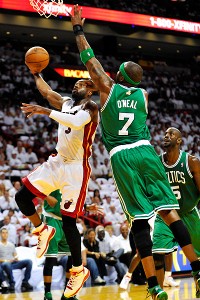 Steve Mitchell/US Presswire
If Jermaine O'Neal leaves Boston, KG will have to step into the 5 spot.Even with Jermaine O'Neal's future up in the air amidst trade rumors, Celtics coach Doc Rivers isn't sweating his team's lack of a pure center:
Doc, you do need another center, don't you?

That was the question posed to Celtics coach Doc Rivers on Saturday given Boston's growing surplus at the power forward spot. The Celtics currently boast only one true, established center on their roster in Jermaine O'Neal, and he had just gotten done acknowledging rumors that he might be on his way out of town in a deal to bring David West -- yes, another power forward -- to Boston.

So the Celtics most certainly would need a legitimate big man, no?

"We do, we don't," said an indifferent Rivers. "If we don't have one, I'm not that upset by it. I'll always take one, so if you can find one for me, please help out. I just think if we have enough 4s that can play both [big-man spots], and if we have enough fouls, we can get away with it."

Less than 24 hours after acknowledging that he told Celtics president of basketball operations Danny Ainge to simply stockpile talent over position-specific bodies, Rivers essentially suggested the Celtics are confident they can counteract a center-free lineup with skill, athleticism, and insane depth at the power forward spot.
Hop HERE to read the full story.