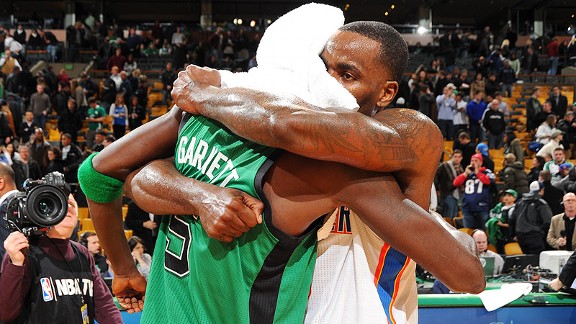 Brian Babineau/NBAE/Getty Images
Kevin Garnett and Kendrick Perkins share an embrace Monday at TD Garden.BOSTON -- Kendrick Perkins endured a modest night in his first game against his former team, chipping in 7 points, 5 rebounds, and 1 block over 28 minutes while helping the Thunder topple the Celtics, 97-88, Monday night at TD Garden.
But there's one blemish in his box score that really rubs Perkins the wrong way: A single turnover. It came after Perkins was whistled for an offensive foul in the second quarter for lowering his shoulder into old friend Kevin Garnett while trying to create some space in the lane.
And while he's hardly a stranger to offensive fouls (the moving screen is more his speed), Perkins couldn't help but lament the whistle.
"Probably the first charge of [Garnett's] career," he sighed.
"I told him, 'Oh man, you know you don't take charges.' And he was like, 'Finally! I got one. I finally got one.' And I'm thinking, 'Man, he got one on me.'"
For all his defensive talents, Garnett has rarely even attempted to draw charges during his five seasons in Boston. Perkins even shunned his trademark scowl when he realized what had occurred, simply smirking instead, as his third foul sent him to the bench for the rest of the half.