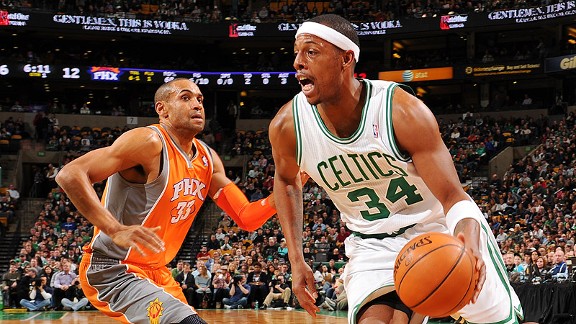 Brian Babineau/NBAE/Getty Images
Paul Pierce looks to drive on Grant Hill and the Suns.BOSTON -- Rapid reaction after Phoenix Suns defeated the Boston Celtics 79-71 Friday night at TD Garden.


HOW THE GAME WAS WON
The Rajon Rondo-less Celtics looked woeful at times on offense, shooting just 40.5 percent from the floor overall (30 of 74). And it wasn't the fault of Avery Bradley, the second-year guard drawing his first NBA start, as he chipped in 10 points, 4 rebounds, 3 steals and an assist over 30 quality minutes. The offense simply couldn't get much of a rhythm without Rondo and -- after rallying ahead late in the third quarter -- the team let it all slip away with a sloppy finish to the third frame. Ray Allen scored a team-high 14 points on 4-of-8 shooting for Boston, which did put five players in double figures. Paul Pierce added 12 points, 6 assists, 3 rebounds, 2 steals, and 2 blocks over 38 minutes, but it wasn't enough. Marcin Gortat exploded out of the gates and tossed in a game-high 24 points for Phoenix, while Steve Nash chipped in 11 points, 9 assists, and 5 rebounds.
TURNING POINT
The Celtics came out of halftime trailing by 11, but actually rallied ahead late in the third frame. E'Twaun Moore hit a jumper to tie the game before Mickael Pietrus buried a 3-pointer for a 53-50 lead with 3:46 to go. Boston played a spectacularly poor final minute of the frame, watching the Suns get two layups and a pair of free throws to carry a 60-55 lead into the fourth quarter.
SOMEONE STOP GORTAT!
At the first stoppage of the game, some 7½ minutes in, Gortat had more points (10) than the Celtics (8) and the Suns had an early eight-point cushion. Gortat displayed an array of left-handed moves, including a couple pretty hook shots before moving further out to showcase his range. The big man finished the first quarter with as many field goals (7 of 11, 14 points) as Boston (7 of 19, 15 points).
LOOSE BALLS
The Celtics shot a mere nine free throws (nine!?) With the offense struggling, they did little to get easy points at the charity stripe... Boston also got out-rebounded, 44-32... How much did they miss Rondo? Boston had only two fastbreak points (though the Suns only had six)... That said, the Celtics couldn't capitalize on 21 Phoenix turnovers (giving the ball up 19 times themselves)... The Suns also blocked eight shots (though Greg Stiemsma's chase-down on Ronnie Price was a rare Boston highlight).
WHAT IT MEANS
The Celtics have now lost six of their last seven games. The tiniest of silver linings: A trip to Washington looms Sunday, a team that Boston has scored two of its five victories against. This was a chance to build some momentum, but the Celtics fumbled away a golden opportunity. This is a game they should have won, even without Rajon Rondo. Early holes continue to plague Boston, which is expending an awful lot of energy just fighting back.