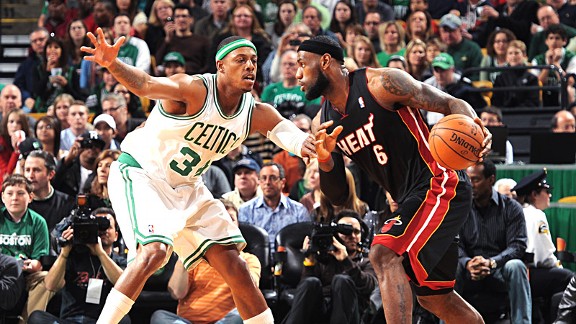 Brian Babineau/NBAE/Getty Images
Paul Pierce vs. LeBron James as part of Sunday's Celtics-Heat showdown at TD Garden.BOSTON -- Rapid reaction after the Boston Celtics defeated the Miami Heat 91-72 Sunday afternoon at TD Garden:


HOW THE GAME WAS WON
Another national game, another triple-double for Rajon Rondo, who registered 16 points, 14 assists and 11 rebounds over 36 minutes. Rondo has now messed around 18 times during his career (14 of which have come on national TV). Paul Pierce added a game-high 23 points, while Brandon Bass produced a double-double (16 points, 10 rebounds). LeBron James matched Pierce with 23 points, but Miami's offense really struggled as evidenced by Chris Bosh settling for 4 points on 2-of-11 shooting.
TURNING POINT
Two minutes into the second half, this was still a one-possession game, but the Celtics absolutely tore the hinges off the doors over the next 10 minutes. Boston closed out the third quarter on a 29-8 run fueled by eight assists by Rondo. The Celtics connected on 14 of 23 shots in the frame (60.9 percent) with balanced contributions, including Avery Bradley (8 points) and Pierce (7). Bass aided the run with six rebounds, while Boston committed just two turnovers in the quarter.
BOLD PLAY OF THE GAME
Bradley sent Dwyane Wade sprawling with a monster block late in the first half (video HERE). Wade tried to cut baseline -- something Bradley's done well lately -- but the second-year guard pursued and swatted the layup attempt, sending Wade sliding across the floor in the aftermath. The only trouble for Boston: Shane Battier grabbed the loose ball and canned a 3-pointer to make it 40-38 with 3:25 to go in the first half.
NATIONAL GAME = ENGAGED RONDO
Not that Rondo hasn't been otherworldly lately, but a national TV game against the rival Heat certainly brought out the best in him early on. Over the first eight minutes, Rondo piled up 10 points (six in a row off a trio of layups), 3 rebounds and 3 assists while staking Boston to a 21-10 advantage. Rondo kept his foot on the accelerator, getting assist-happy in the third quarter, and has now produced double-digit assists in his last 13 games.
RAY WHO? BRADLEY CONTINUES TO THRIVE
Ray Allen missed his sixth consecutive game with lingering soreness in his right ankle, but the Celtics continue to thrive in large part due to the development of Bradley. Beyond his highlight block on Wade and keying the third-quarter offense, Bradley did a tremendous job defensively on Wade, who settled for 15 points (on 6-of-17 shooting). Bradley finished with 13 points (on 5-of-10 shooting) over 36 minutes. Boston is 10-1 without Allen this season.
WHAT IT MEANS
The Celtics didn't just win their fifth straight, they produced perhaps their most inspiring win of the season, absolutely throttling one of the Eastern Conference's top teams. Boston eliminated the turnovers that plagued them in the first meeting (16 turnovers for only 11 points), cranked up the defensive intensity (the Heat finished 31 of 89 shooting for 34.8 percent), and pretty much led from start to finish (fans had to wait for the final buzzer to dance with Gino). The Celtics' grueling April slate continues with a visit from San Antonio on Wednesday, but they get back-to-back days off and can maybe even sneak in a rare practice.