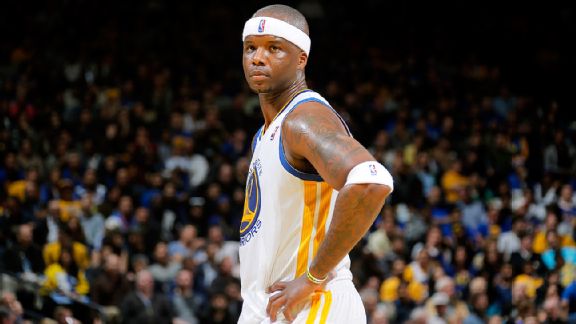 Rocky Widner/NBAE/Getty Images
Jermaine O'Neal has rejuvenated his career with Golden State.Doc Rivers alternated between big compliments and little jabs about Jermaine O'Neal. Just moments before Game 2 of the Los Angeles Clippers–Golden State Warriors first-round matchup, Rivers considered recent Boston history.
"I don't know if you remember the series the year before we signed J.O. -- he was with Miami and we played them in the playoffs," Rivers said. "He went oh-fer in the series. Literally, I don't think he made a basket. He was struggling with his knees when we got him. [Initially] he wanted to do what we asked him to do, [but] then toward the end, he wanted to score more, obviously. That's human nature. Then I guess he went to Germany with Kobe, and [now] he's feeling a lot better.
"He's been amazing [with the Warriors]. He's played great," Rivers continued. "I thought he was probably one of the, if not the, most important players in Game 1."
Only a short while later, O'Neal and Rivers received technical fouls for arguing with one another in the second quarter. "This league is about trying to smell where the weakness is," O'Neal said. "I don't care if it's the scorekeeper. There's going to be scenarios where you're trying to find an edge and you're trying to get yourself going. Yes, I played for [Doc] and I know him personally. But it's just one of those things where he was intense and I was intense and things were said. You move on."
They no longer bothered moving the ice machine. Jermaine O'Neal always needed it. It was anchored in the middle of his living room, beside the couch, like another piece of furniture. O'Neal sat solemnly, sullenly, for hours, with his leg propped up on the machine. He had been an NBA player nearly half of his life, from teen prodigy to team star, a pillar of the community and an infamous league villain. He had arrived in Boston four years earlier to provide interior presence and restore the Celtics to their recent glory. Instead, his career had appeared to end ingloriously, with a whimper, under the low hum of that machine. O'Neal always seemed to be between surgeries, the trainer's table, and doctor consultations. Maybe it was time to call it a career.
"Those two years [in Boston] were very difficult for me, because not only did I feel like I was wearing down physically, I was wearing down mentally," O'Neal said. "That was the first time in my life I felt myself starting to break away a little bit."