A couple of noteworthy morning headlines with thoughts and analysis:
Krstic's deal with CSKA Moscow now official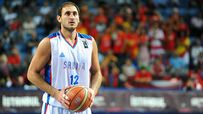 Garrett W. Ellwood/NBAE/Getty
Goodbye, Nenad Krstic.According to Nenad Krstic's overseas representatives, Invictus Sports Group, his two-year deal with CSKA Moscow has officially been inked (even though he's still technically under contract with the Celtics until month's end). From a press release from the company:
It's official! The captain of the national team of Serbia, Nenad Krstic, signed a two-year contract with CSKA Moscow, until the end of the 2012-2013 season. After seven years in the NBA -- with the New Jersey Nets, Oklahoma City Thunder and Boston Celtics, averaging 10.0 points, 5.4 rebounds in 25.2 minutes in 419 regular-[season] games, and 10.4 points, 5.4 rebounds in 25.2 minutes in playoff games -- the center decided to come back to Europe to compete at the highest level to win the Euroleague.
* Forsberg's thoughts: Reports indicated this was coming earlier this month, so it's not a total surprise. The interesting part is that a representative at Invictus' offices told us Wednesday that there's no clause in the contract that allows for early termination based on the NBA lockout (and that person also didn't believe there's an NBA release after the first year of the deal). Now, contracts are meant to be broken, but, on the surface, that would essentially wipe out any thoughts of Krstic returning to the Celtics at any point during the 2011-12 season. He was set to be an unrestricted free agent, but Boston holds limited rights to him and could have re-signed him this offseason at a reasonable salary bump (contingent, of course, on the new collective bargaining agreement).
L.A. Daily News: C's interested in moving up for Vucevic?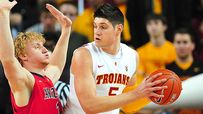 Gary A. Vasquez/US Presswire
Hello, Nikola Vucevic?Even as USC's Nikola Vucevic climbs up the draft board, the Celtics are noted as one team with interest in trading into position to acquire him, sources told the Los Angeles Daily News:
NBA personnel said this week Vucevic will probably be drafted somewhere between the No. 9 and No. 17 picks, which makes it seem silly there were doubts he would turn pro a few months ago.

"He's moved up drastically during his workouts," said an NBA general manager who did not wish to be identified. "A lot of teams like him now."

The Knicks are believed to be highly interested, along with the Houston Rockets. The Boston Celtics are even interested in trading up in order to select Vucevic, according to sources.
* Forsberg's take: The Celtics brought Vucevic in for a workout and he's clearly an intriguing player given his size and range. If the Celtics are convinced they might not be able to find an impact big man at No. 25 (or beyond), it stands to reason they'd be interested in moving up. But what's the price? With the protected pick they acquired from Oklahoma City (via the Los Angeles Clippers) in the Jeff Green/Krstic trade, Boston potentially has two first-round picks next year it could be willing to dangle for the right player.
(h/t on Vucevic: CelticsBlog)