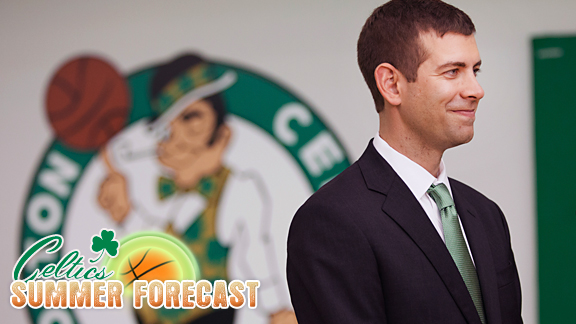 Julie Cordeiro/NBAE/Getty Images
The Brad Stevens era launches with the start of training camp in late September.Each weekday for a three-week span, our summer panel of prognosticators -- a motley crew featuring our friends in the Celtics blogging community -- will join forces to tell you how the 2013-14 season will play out for Boston. We'll gaze into our crystal balls and attempt to answer all your questions before this season's team even hits the floor together for the first time.
Today's Celtics Summer Forecast topic: What is the most intriguing story line at camp?
SUMMER FORECAST 2013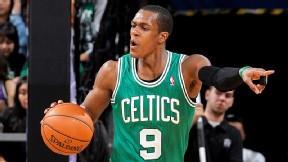 For three weeks in August, we'll break up the summer doldrums by trying to predict exactly how the 2013-14 season will play out for the Boston Celtics. A rundown and recap of the series:
Training camp is still a month away, but the 2013-14 season is slowly ramping up. Players are trickling into the team's training facility in Waltham for informal workouts and the hype machine (yes, even for a team in transition) ought to be spinning by the middle of September in advance of camp.
We asked our prognosticators to give us their take on some of the more endearing story lines as camp approaches. Not surprisingly, most are interested in how 36-year-old first-year head coach Brad Stevens will put his stamp on the franchise, while, on the court, much of the interest lies in the backcourt as Boston is thin on ball-handlers if Rajon Rondo is not ready to start the season, and there's a surplus of shooting guards.
What am I most interested in? There's an awful lot of areas that intrigue me about this new-look team. A few that ought to be at the top of the watch list when camp arrives:
• Stevens in the spotlight: After being hired in early July, Stevens stressed that he would utilize the three-month ramp to his first NBA training camp to absorb everything he could about his players and would enter camp ready to maximize their potential. It will be fascinating to see how veteran players -- even on a very young roster -- respond to his early sessions and how he starts this process of implementing his system.
• Rondo Watch: Rehabbing point guard Rondo has managed to keep a low profile this summer and we'll get a better idea of his return timeline around camp. His teammates (past and present) have all seemingly pointed to a potential December return, but it's unclear if that's speculation or inside info. Whether Rondo is ready or not, his ability to be the leader of a young team will be under the microscope.
• Position battles: We've said it before, but go ahead and name the starting 5. No easy task, right? For the first time in a long time, jobs are wide open, especially at overstocked positions like shooting guard and power forward. But Boston has to find a balance between building for the future, and showcasing some players that might make quality trade assets if they can reestablish their value. I want to see how exactly Stevens and Celtics president of basketball operations Danny Ainge balance all of that.
Read on to see what jumps out to our panel.
---
Kevin O'Connor, CelticsBlog (Stevens' philosophies)
After Brad Stevens was hired the Boston Celtics, I wrote an in-depth article outlining his coaching philosophy. More than anything else, Stevens values preparation over actual results. He believes that the results take care of themselves if you work hard in practice, so I look forward to seeing how he integrates his philosophy, which runs counter to Doc Rivers' philosophy. If you remember, Doc preached that Miami was the only team the Celtics had to get through, and he even put a blank banner in the practice facility as motivation for where title No. 18 would be displayed. I look forward to seeing if Stevens reversing a lot of these concepts and if it benefits this young roster in training camp.
---
John Karalis, Red's Army (Stevens the coach)
What's this Brad Stevens guy about? Here's this wunderkind from college walking into the Celtics looking like he's 24 years old and trying to follow in Doc Rivers' footsteps. He's pretty much said and done all of the right things so far, and he seems to have assembled a very good staff. But more than anything, I'm looking to see what this guy has, how it translates on the court, and if he can build the relationships he says are so important to him.
---
Mike Dyer, Celtics Life (Who emerges as leader?)
The most intriguing training camp storyline for me is seeing who steps up and tries to lead now that Paul Pierce and Kevin Garnett are in Brooklyn, and Doc Rivers is in Los Angeles. Of course, Brad Stevens will certainly put his own imprint on camp, but what players try to take over the role of leaders? Rajon Rondo is the obvious choice, but he is coming back from injury and there are still some doubts about whether he is the type of guy who can lead a team. What about Jeff Green, who has never had to take on a leadership role during his time in the NBA? Jared Sullinger seems like the type of guy who has the combination of leadership -- both vocal and by example -- but considering he is only 21 years old that may not be a fit. As hard as it will be to replace Pierce and KG production-wise, replacing them as leaders will be just as tough. I'm excited to see who steps up and tries to take that baton.
---
Jared Weiss, CLNS Radio (Health of Sullinger/Rondo)
Sullinger showed a lot of promise and potential to be the starting power forward right out the gate last season. He says he will be ready for training camp, but will he be game ready? That's hard to imagine, considering how difficult it is to regain conditioning after spinal surgery. While Kris Humphries and Brandon Bass will likely be the starting bigs entering camp, Sullinger can push his way into the starting lineup if he gets into game shape. With Rondo, the question is whether he is ready to play full-time, or will he have a minutes cap coming into the season? Seeing how much run he gets at training camp will be a strong indicator going into the preseason, where he will likely share a lot of time with MarShon Brooks and Phil Pressey at the point (if he even plays).
---
Mark Vandeusen, Celtics Life (Wallace/Humphries potential)
What if Kris Humphries and Gerald Wallace can actually play? Everybody assumes they are just contracts the Celtics took on in order to acquire all those first-round draft picks from Brooklyn (and that's probably true). But Wallace was a very good NBA player not that long ago, and Humphries can, without a doubt, be a solid big man/rebounder when he works hard. If the two of them act and perform like they want to be here it will take just about everyone by surprise.
---
Blasts from our bench
• Ryan DeGama (Who starts at 2 guard?): There are five candidates for this position and no clear favorite after down years for almost everyone in competition. Assuming the entire batch of Keith Bogans, Avery Bradley, Courtney Lee, MarShon Brooks and Jordan Crawford make it to October, it's reasonable to assume at least one or two of them don't break camp as Celtics.
• Jon Duke, Celtics Stuff Live (Olynyk in focus): I want to see how many reps rookie Kelly Olynyk can earn away from veterans like Kris Humphries, Brandon Bass, and Gerald Wallace. If Kelly Olynyk can wrestle that time away early in the season, it may not pay off in wins and losses, but it will make this team exponentially more fun to watch.
• Bill Sy, CelticsBlog (How do new faces fit in?): I want to see how the former Nets fit in. There's still a lot of basketball left in Kris Humphries, Gerald Wallace, and Keith Bogans, but they all know they're renting and not buying in Boston. With the team obviously in rebuild mode, and Wallace's and Humphries' contracts more valuable at this point than what they can bring to the court, it'll be interesting to see how Stevens utilizes them. They'll need to be showcased -- especially Wallace -- if Danny Ainge is going to get another GM interested in their services, though they'd make nice additions to a team making a run at a championship. MarShon Brooks could be an X-factor of the team. In my opinion, he's a great candidate for a sixth-man role. Even though he looks like a throw-in in the trade, don't be surprised if he carves out some playing time with this young squad. He can score off the bench and play both off guard and small forward. He'll need to prove that he can utilize his athleticism and length on defense, but if he can get gritty, look out.
• Mike Saver, Celtics Life (Team chemistry): It may not the most interesting to most, but to me the most intriguing camp storyline is going to be where the humor comes from. In the past we've had a very funny Celtics group. Everything from Shaquille O'Neal running around in Nate Robinson's shoes, to Rondo running around with a camera in Turkey. We've seen some hilarious moments in recent Celtics training camps. This team certainly won't have that same chemistry, but will it have any? It's a very weird year. Two legends gone, new coach, new faces, almost anyone could be traded at any point. I'm curious to see how drastically different the vibe is with this team from year's past.
• Tom Westerholm, CelticsHub (Can Pressey handle point without Rondo?): The starting point guard position is lowkey as interesting as the starting center question, assuming Rajon Rondo isn't back for the start of the year. Will the Celtics trust the duties to an undrafted 5-10 point guard whose only professional experience is an admittedly solid performance in summer league? Will they play Courtney Lee or Avery Bradley out of position? Pressey may turn out to be the most sensible option. Bradley struggled badly at point guard last year, and continuing to play him out of position will only further hinder his development.
• Eric Blaisdell, Celtics Life (Minutes at the 2): This team is stacked with shooting guards and it will be interesting to see who Brad Stevens starts and how he divvies up the minutes for his platoon of guards. Avery Bradley seems like the most obvious choice to start, but MarShon Brooks has real talent and needs to play to show what he's got, either in green or as an asset to trade later. Courtney Lee didn't have the best year last season, but he still has lots of talent and most of his woes could be chalked up to having to shoulder some of the point guard duties and needing to take on more responsibility once Rajon Rondo went down. And then there is Keith Bogans, who probably won't see much court time, but is getting paid around $5 million this season, so it would be nice to see what that money gets you.
• Matt Rury, CLNS Radio (Who quarterbacks without Rondo?): Who leads the way with Rondo out? Is Phil Pressey the back-up (or starter?) Does Avery Bradley take the ball at point guard? Will Courtney Lee step up his ball handling? I want to see what coach Brad Stevens does without his superstar point guard.
• Tim MacLean, Celtics Spot (Rondo/Stevens relationship): One of the story lines I'm most interested in at training camp will be one that follows the budding relationship of Rajon Rondo and Brad Stevens. As we know, this is the first time in his seven-year career that Rondo will be under the tutelage of someone not named Doc Rivers. However, that might not be a bad thing given the willingness to learn that Stevens has displayed since his hiring. Plus, Rondo is the type of guy that has supreme confidence in his knowledge of the game and he's not afraid to challenge his coach. Those characteristics seem better suited under Stevens, a guy who needs some help as he acclimates to coaching the NBA game, rather than under Rivers, a veteran coach with a championship pedigree. Unfortunately, there's a fine line between aiding your coach during his transition from one level to the next, and thinking he's a complete bonehead. Rondo's choice of either the former or the latter is imperative to the team's success in the upcoming season.
---
Your Turn: We hope you join the conversation. Sound off in the comments with what story line intrigues you most at training camp. Hop HERE to read the full Summer Forecast series.
---
(Chris Forsberg can be reached at espnforsberg@gmail.com or on Twitter @ESPNForsberg. Hop HERE to submit a question for his Celtics Mailbag.)