OAKDALE, Conn. -- When Adam Jones first arrived here at the St. Thomas More School, he bent over backwards to call home.
No, seriously.
Twisting, turning, one ear toward the wall, on one leg -- the boys' basketball forward would do just about anything to get a signal on his cell phone. There was one spot — near the window, in his dorm -- where a single bar could poke its way through the forests encasing the rural Eastern Connecticut campus.
(Thanks, T-Mobile.)
So on the rare occasion his call made it to Orlando, Fla., and Mom's voice broke through, Jones did something out of his nature: He asked for help. He pleaded for something new. He did what most teenagers do.
That new iPhone is nice, isn't it?
His new toy, replete with service, doesn't leave his side too often now -- aside from when he's studying or playing basketball, which are essentially his only two hobbies these days.
But while those apps are nice and having all that music is convenient, it's not why he asked. Calling home is important to Jones. Being able to phone Kris Rivers (that's "Mom"), tell her about his day, and hear her say, "Come home," that may mean more to Jones than anything else.
It changed his life more than two years ago. It most likely saved his life, too.
"Sitting here now, the fact that I can call home and say, 'Hey, I get out of school this time,' and she'll say, 'I'll get you a plane ticket to come home,' that's the biggest thing. To come home. It feels good to hear, 'When are you coming home? When can you come home and be with the family?'
"I thank God every day for it."
How could he not call?
* * *
Jones doesn't plan on leaving New England anytime soon, either. A star on multiple state championship teams in Florida, his wiry 6-foot-8, 195-pound frame, paint presence, and deft passing for his size earned him a scholarship offer from rising MAAC contender Fairfield University.
"He brings a lot of intangibles," Fairfield coach Ed Cooley said. "He's developing offensively, but we liked his overall basketball IQ and his willingness to get better."
Jones is at St. Thomas More to do just that. He's working to add muscle, improve his shot from 15 feet and in, and even more importantly, prepare himself academically. St. Thomas More coach Jere Quinn describes him as the ultimate teammate. His teammate, top prospect Andre Drummond, calls him a super hero.
"It's like Batman and Robin, man," said Drummond, a hulking 6-foot-11 prospect with the quickness reserved for guards. "I'm just his little sidekick."
And Jones is happy. He's studious, and a Dean's List addition. He has a proud family, headed by his legal guardians Glenn "Doc" Rivers -- the coach of the Boston Celtics -- and his wife, Kris. She's the woman who opened the door to a life he couldn't imagine, or at the very least, one Jones only dreamt of when sleeping on a porch or wishing for a hot meal.
By the spring of 2008, the only things going right in Jones' life were passes and shots. As a sophomore, he was a starting forward on Orlando Christian Prep's Class 1A state championship team, and by that time, a regular face on the AAU circuit.
It helped distract him from a deteriorating home life. Jones had been living with his uncle, Anthony Hamilton, in Ocoee, Fla., since the fifth grade because his mother -- while someone Jones said was loving -- didn't have the financial means to support him. But by the time Jones enrolled in high school, Hamilton's health was failing, keeping him from work and food from the table.
So Jones adapted. He stayed home on the weekends, and avoided nights at the movies with friends because he couldn't afford it. Often times alone, he fixed his regular meal of "toast sandwiches and water." If he stay disciplined, he'd save up lunch money for days at a time so he could grab a burger at a fast food joint. At 14 and 15 years old, he did whatever he could to get around.
"For instance, one morning in middle school, we had practice at 8 a.m.," Jones said. "And my uncle was already at work and I had no other way. So I had to ride a bike six or seven miles. I had to leave at like 6 in the morning just to get there on time. Things like that."
But at one point it became too hard. Hamilton needed a kidney transplant, and the costs of raising a teenage boy and maintaining a home and his health became too much. Jones' mother had moved to Georgia, and several times, Hamilton tried to have the conversation with him, Jones remembers, but it was easier to avoid the elephant in the room. Then the room became too small.
"One night," Jones said, "he called me into his room, and he was just like, 'I'm sick. I'm going to be out of work for a couple months, and I'm going to have to move. I'm going to have to get this kidney transplant. I love you, and you know I'd do anything for you and right now, I really don't have anywhere else for you to go. I barely have anywhere for me to go, let alone you. Is there anywhere you can go?'
"And me, of course, trying to be a brave kid," Jones said. "I'm like, 'Don't worry about it. I'll be fine. I can go to my friend's house. I already talked to them,' knowing I hadn't talked to anybody, just so I can keep his spirits up.
"Then I'd go to my room and cry. I had nowhere else to go."
* * *
He had somewhere. Since the fifth grade, Jones has been close friends with Austin Rivers, the son of the then-Orlando Magic coach, Doc, and now the top rated high school senior in the country. Rivers played for the Orlando Dream Team, Jones for the Future, two competing AAU teams whose rivalry resembled a hammer and a nail.
"They would always just happen to win," Jones said.
Eventually, Jones joined the winning side, and to a certain extent, the Rivers family. He'd spent every Thanksgiving and Christmas with them since sixth grade, and by middle school, made their house his summer home. "As soon as school got out, I'd go every there," Jones said, "and the day before school starts, I'd go back home."
Back then, Jones didn't even have a clue who Doc Rivers was.
"He was always Mr. Rivers," Jones said. "But when we were about 14 years old, we were at a tournament and he came into the gym, and everybody was just crowding around him. I was like, 'Austin, why is everybody crowding around your dad? Is he celebrity or something?' Austin was like, 'I don't know.' Later, I heard kids on the team talking, that he is the coach of the Magic. I was like, 'Oh, he is? That's nice.'"
Through that time, as things became harder at home and the Rivers family became more aware of it, Kris told Jones that if he ever needed anything, to call. Still, as he sat in his room crying that night, he poured through his other options. Even as he was rendered nearly homeless in the time after -- forced to sleep on a porch in a certain span -- he felt he didn't want to impose on a family that had already given him so much.
"I debated for hours," Jones said. "But at the end of the day, I was a 15-year-old kid. I couldn't do anything. I don't have a job, I don't have a car, I don't have a license, so I couldn't get around. I couldn't buy a house myself" -- Jones laughed -- "because I didn't have any money. So I was like, 'I have to do this.'
"And I made a phone call."
The Rivers family wondered what took him so long.
"He was already there," Doc Rivers said with a laugh following a recent Celtics practice. "Half his stuff was in his bedroom [at our home] anyway. It was easy."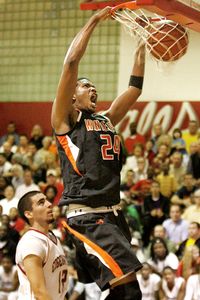 Stephen M. Dowell, Orlando Sentinel
Basketball has been an outlet for Jones from the hardships he has endured.
After a family conference — Austin, and his brother, Spencer, two of the four Rivers children still living at home, didn't think twice about it — they welcomed Jones in. That summer, he was living full-time in Orlando, and after receiving consent from Jones' family, Doc and Kristen officially became his legal guardians that August.
It was an incredible act by the Rivers family, but not altogether surprising. Even now, Doc said, they have another kid they've met through AAU that "basically lives with us."
"We wanted to be a family for [Jones]," Doc said, "but we wanted to try to do whatever we could to maintain his other family as well. … That's what we believe in. The way I look at it, the more kids at our house, at least we know where they're at."
Jones, more than anything, finally felt comfortable. When school started, he could finally focus. Far too often before his mind would drift, worrying about his uncle, his mother, how he'd get home that day, how'd he get to school the next. Most often, how'd he eat.
Jones had joined Austin at Winter Park High School, a way of reducing travel for the family with Spencer already attending Lake Highland Prep. And that winter, Jones planned to try out for Winter Park's basketball team, already a state power behind Austin.
"I just had to worry about going to school, getting an education and playing basketball," Jones said.
It was perfect. Some coaches thought too perfect.
* * *
Without a hardship waiver, the Florida High School Athletic Association does not allow transfer students to play sports if they move to a household associated with a team they want to join.
Jones' situation was the definition of hardship. But while playing basketball one day after school that fall, the Winter Park basketball coach called Jones into his office and explained to the junior he was ineligible to participate. Several coaches had contacted to FHSAA asking it to investigate Jones' transfer, and until meeting with an appeals board, he couldn't play.
"That just broke me down," Jones said.
"Obviously they didn't know me, and they didn't know our family," Doc Rivers said. "But it was coaches who were competitive and thought it gave Winter Park a competitive edge. And it probably did. It helped Winter Park, there's no doubt about that. They went out and won state (in Jones' senior year). But in the end, it helped Adam far more than it helped Winter Park."
That didn't stop the debate. Cypress Creek coach Terry Howard told the Orlando Sentinel in an Oct. 1, 2008 story that he understood the move gave Jones "a sound family environment, which is great.
"But playing for Winter Park, that doesn't smell real good to me," he said, according to the report. "Wouldn't we all like to go out and get a 6-foot-7 kid who can play? From a competition point of view, I don't know if it's fair."
(For the record, Howard said he wasn't among the coaches to request the investigation, according to the newspaper.)
So on Oct. 8, 2008, Doc skipped a Celtics exhibition game to join Jones and his wife for the hearing in Ocala, Fla., where six board members were to decide Jones' fate. In a 20-minute meeting, Jones explained the path he took to the Rivers home. All six voted to restore his eligibility in.
Jones couldn't stop smiling. Kris couldn't stop crying.
"I shed a few tears, a few," Jones said, laughing. "It was a great moment."
* * *
It opened the door to the life Jones is living now. In the following two years at Winter Park, Jones reached the state semifinals and won a state championship. His grades improved, his GPA nearing a 3.0, and schools came calling.
Fairfield was one of a slew of mid-majors to seek his services. He loved the Stags' coaching staff, and connected immediately with Cooley, who, too, was a product of a single-parent home who eventually was taken in by another family.
The situation was different: Cooley was 11 years old at times. Those who "changed his life" were a janitor and a crossing guard. But they, too, were like the Rivers.
"What they had was a lot of love," Cooley said.
"But as someone who's gone through a similar situation, I feel when he [Jones] plays basketball, it gives him an opportunity to let loose and be part of the norm," Cooley continued. "I don't think he grew up part of the norm. The norm for him was trying to eat, trying to sleep, trying to find a way to cope with the tough ways of growing up. That may have attracted me to him, having a lot of things in common."
The whole experience has naturally molded Jones. He's mature for a 19-year-old kid — "beyond his years," Cooley said. He's grateful and introspective. It's given him perspective most future Division-I basketball players can't grasp. "I felt I wasn't ready for college last year," Jones said of his decision to attend prep school, one made largely based on academics. "If I was in college right now, I feel I'd struggle."
Honesty, too, is a strength. St. Thomas More has mandatory two-hour study halls every day. Jones flashes a genuine smile when he talks about them.
"He's not a kid who's looking for sympathy. He's not a kid looking for handouts," said St. Thomas More's Quinn, a veteran prep coach who has helped an array of players from former North Carolina star Ed Cota to West Virginia standout and NBA rookie Devin Ebanks.
"To us, he [Jones] has been a kid trying to find his own way through this maze of education and athletics that he's going to be involved in for the next five years."
He'll have his family around every corner. Jones said his uncle is doing "great," since his transplant and is now living in Orlando. His mother lives in Florida now, too, and they talk almost daily, as she remains a constant in his life despite the physical separation they've endured during his childhood.
And of course, there are the Rivers. Austin has committed to Duke, and Doc is only a short drive away for most of the year in Boston. He and Jones talk basketball often, and Doc always encourages him stay aggressive, stay hungry.
Not a problem, Jones says.
"I think about it all the time," Jones said of his past. "It motivates me to a better person every day. And in the future when I have kids and I'm busy in my profession, I want what I went through to make me stronger and to never have my family have to go through that their entire lives. It drives me every day. If I had let it get to me and put me down, I don't know where I'd be right now."
Kris would remind him he's only a phone call away.
Matt Stout can be reached at mattpstout@gmail.com