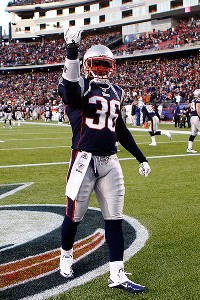 Jim Rogash/Getty Images
James Sanders is back on the practice field for New England.FOXBOROUGH, Mass. -- The Patriots have had some moving parts at safety over the last two weeks, most recently adopting a three-man rotation with Patrick Chung, Brandon Meriweather and Sergio Brown.
Now seven-year veteran James Sanders enters the mix.
Sanders, who missed the first two preseason games, returned to practice earlier this week from an undisclosed injury. On Thursday, he spoke with reporters as a group for the first time since his return.
As the most experienced safety on the roster, his presence is viewed as a key because of his knowledge of the defense and ability to settle things down on the back end of the field. Communication among safeties has been a bit up and down through training camp.
Sanders talked Thursday about making up for lost time.
"I've missed a lot, but the thing that's helped me, I've been in the system for a while. Mentally, I know a lot of the defense and plays. I'm just trying to go out there and get my football legs underneath me," he said. "I still have a ways to go.
"I'm just looking forward to the opportunity to be out there with the guys, to play a game. I haven't had the opportunity to play, so I'm excited, ready to go."