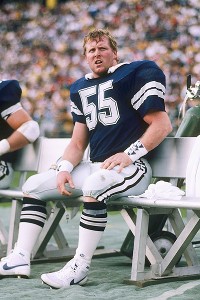 Al Messerschmidt/Getty Images
Steve DeOssie with the Cowboys.FOXBOROUGH, Mass. -- Patriots coach Bill Belichick credited Steve DeOssie as an NFL game-changer when it comes to long snapping, which was one of the more interesting nuggets to come out of Belichick's news conference at Gillette Stadium.
The topic came up as the Patriots are in transition at the position, signing veteran James Dearth to replace Matt Katula.
Belichick was asked when the position changed, with teams focusing on a specialized snapper. He pointed to DeOssie's time with the Cowboys in the early to mid 1980s.
"I think the guy who really changed the game was DeOssie," Belichick said. "When Dallas had him, they went to the spread punt formation. He was able to snap and block. Prior to that, most teams kept their ends tight at least against rushing looks. When they brought 10 guys up to rush, they would bring them in tight and Dallas got to really the spread punt and the center snapped and blocked, which up to that point was very unusual. Some teams tried to do it even from closed formations. He was able to do it and once people saw him able to do it then they felt like it could be done, which I'm not sure that collectively coaches felt that way.
"I'd say up until that point, it was usually nine against 10. You only had nine blockers, the center wasn't responsible for a man, so you had nine blockers against a 10-man rush. Once they split the ends out, then that cleared it up for the punt team because you only had to block eight instead of 10 and if your center could get one -- when they start looping and twisting and getting out there wide and everything, it's not that easy. It became more of a premium to where if you could get a snapper to snap the ball accurately and block then it certainly takes a lot of pressure off your punt protection and it helps your punt coverage.
"That was a big change in the game and that was in the mid '80s. But I'd say by the '90s, then most teams went with a pure long snapper. Even the teams that had them before that, like when Steve was with Dallas and later with the Giants, they just weren't doing the things that he and then his successors did. In a lot of respects, Steve really changed, in my opinion, the punting game in the National Football League and ultimately in college as well. He was the first one that really allowed teams to do that.
"People copied it and then other snappers came along, and guys like the Todd Christensen's of the world who were regular players and good snappers were ultimately replaced by the 'specialists'. Of course, as the rosters expanded, then that made it easier to be able to afford to carry a snapper – and also returners, all the specialists.
"When I came into the league in the mid-70's there were very few specialists – a lot of kickers or punters or returners and snappers also played other positions. Progressively through the years, the kickers and the punters, they started to have their own positions and then snappers and now in a lot of cases returners, that's all those guys do is return. Some of them play other positions but snappers, kickers and punters now are pretty much their own exclusive club."