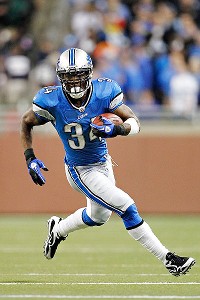 Leon Halip/Getty Images
Kevin Smith at work for the Lions.FOXBOROUGH, Mass. -- The Patriots worked out running back Kevin Smith on Tuesday, reports Aaron Wilson of Scout.com and the Carroll County Times.
The 24-year old Smith was a third-round pick of the Lions in 2008, where he rushed for 976 yards and eight touchdowns as a rookie. His 2009 season was cut short by a knee injury, one that also kept him out of the first three games last season. Smith went on to play in six games last season before being placed on injured reserve with a thumb injury on Nov. 21.
Smith was not tendered a qualifying offer as a restricted free agent this offseason, making him an unrestricted free agent.
While the workout is likely just the case of the Patriots keeping their emergency lists fresh, it may not be a positive sign for rookie running back Stevan Ridley, who has missed the last two weeks of practice. The Patriots had five running backs in uniform for Tuesday's practice: veterans Sammy Morris, BenJarvus Green-Ellis, and Danny Woodhead, as well as rookies Shane Vereen and Richard Medlin.