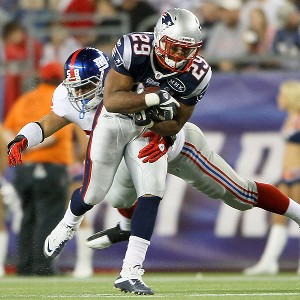 Elsa/Getty Images
Shane Vereen carries the ball in Thursday's exhibition finale against the Giants.FOXBOROUGH, Mass. -- The result certainly wasn't what he was hoping for as Giants defensive tackle Jimmy Kennedy and linebacker Spencer Paysinger dropped him for a 1-yard loss on his first professional carry. But for Patriots rookie running back Shane Vereen, just being on the field Thursday night was all that truly mattered.
Sidelined for much of the preseason with a hamstring injury suffered in only his second practice of training camp, Vereen suited up in New England's preseason finale at Gillette Stadium and carried a team-high 11 times for 34 yards, while catching a pass for 8 yards.
Overall, Vereen participated in 23 snaps (including penalties), 18 of which came in the second half. It was an up-and-down performance, but the rookie wasn't overly concerned with the statbook.
"The main thing I want to do is be there for my team and help them out in any way possible," said Vereen. "I wasn't able to do that [before], but I was able to get out there [Thursday] a little bit."
One of New England's two second-round picks, Vereen entered for a handful of snaps with the second unit in the first half Thursday, getting dropped for that 1-yard loss on his first carry. On the first play of the second half, he got flagged for a chop block and, later in the half, he would get dropped for a 3-yard loss on a 4th-and-1 attempt.
But it wasn't all bad. Vereen recovered a fumble by quarterback Brian Hoyer, followed with a nice 14-yard run, and made a terrific 8-yard, back-shoulder grab of a Hoyer lob later in the third frame. Most importantly, Vereen said he felt good conditioning wise and didn't worry about the hamstring that kept him out of the first three preseason games.
"I just played the game, I didn't want to think about it," said Vereen. "I just wanted to enjoy being out there."
And it might have been simply feeling contact again on his first pro carry that actually highlighted his night.
"That was the big thing tonight, being able to bang a little bit, it's been so long since the last hit I had," said Vereen. "It was kinda a relief when I finally did it.... Every football player likes contact a little bit, and I had gone so long without it, it felt good to get hit."