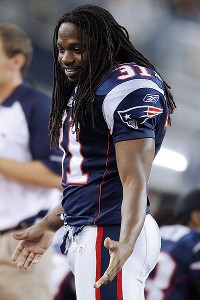 Elsa/Getty Images
The Patriots informed Brandon Meriweather he will be released.
Patriots safety Brandon Meriweather has told teammates that he believes he will be released today, if not traded, sources say. Meriweather has been in contact with coach Bill Belichick today, as his time with the Patriots could be nearing an end.
ESPNBoston.com can confirm that Meriweather has been told he will be released today, barring a late change, which was initially reported by Pro Football Talk.
The status of the 2007 first-round pick is one the biggest stories surrounding the Patriots today as NFL teams must trim rosters to 53 players.
Meriweather didn't start in the preseason finale, playing only in the second half.
The Patriots have Patrick Chung (3rd year), Sergio Brown (2nd year), Josh Barrett (4th year) and James Ihedigbo (5th year) atop the depth chart when taking Meriweather out of the mix.