Quick-hit thoughts around the NFL and with the Patriots: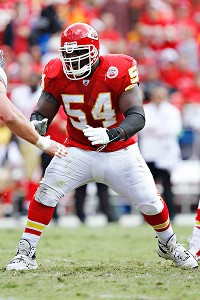 Joe Robbins/Getty Images
Former Chief Brian Waters visited Foxborough Saturday.1. If the Patriots don't agree to terms with a veteran right guard by the time players return for practice Monday, I'll be surprised. Former Kansas City Chief Brian Waters, who was in town Saturday, is a leading candidate. A backup plan could be Quinn Ojinnaka, who was with the Patriots in 2010 and was released by the Rams. I've considered a possible holdup that vested veterans' salaries are guaranteed for the full season if they play in Week 1 (nice refresher here from Pro Football Talk), but think the team's need is such that it makes sense to take the plunge now.
2. The Patriots don't have fifth-, sixth- and seventh-round draft picks next year (see this draft-pick re-set), but it means little. As we saw this year, the team waived its fifth-rounder (TE Lee Smith), sixth-rounder (DE Markell Carter) and seventh-rounder (CB Malcolm Williams). The value of those picks isn't what it once was to the team, especially considering they have multiple picks in the first and second rounds in 2012. That's why I look back and give myself a failing grade for this piece at this time last year; late-round picks can be good for flexibility on draft-day, but I think it's time to stop overrating their importance.
3. In releasing safety Brandon Meriweather, the only thing the Patriots have to show for the 2007 draft on the current roster is receiver Wes Welker. He was their best "pick" that year, the club trading second- and seventh-round picks for him. Otherwise, it was a complete wash. Bill Belichick didn't think highly of the overall quality of that draft class, although there were some gems to be had. The Chargers, for example, nailed it with safety Eric Weddle (second round, 37th overall). Meriweather was the 24th overall pick that year.
4. The Patriots' drafts from 2006-2008 have produced poor results. Only kicker Stephen Gostkowski (4th round, 2006), linebacker Jerod Mayo (1st round, 2008) and Matthew Slater (5th round, 2008) remain of players who were selected by the team in that stretch of three years. One could also add rookie free agents BenJarvus Green-Ellis (2008) and Gary Guyton (2008) for a more thorough accounting, but still, it's eye-opening. It's a credit to the Patriots that they haven't been derailed by that tough stretch.
5. The Lions were devastated to lose rookie running back Mikel Leshoure to a season-ending injury early in training camp and are considering possible additions at the position. Connecting the dots, veteran Chester Taylor might have just fallen into their laps, with his knowledge and background of the NFC North adding to his value there. Along those lines, Lions at Buccaneers is one of my favorite Week 1 games of the season, third in line behind Saints at Packers, and Steelers at Ravens.
6. While on the subject of running backs, what heartfelt emotion from Fred Taylor at his Jaguars retirement news conference on Friday. Pure class. Taylor talked about regretting that he wasn't a better leader while a Jaguar and got choked up. I think leadership was one of the biggest things Taylor learned in his disappointing two years with the Patriots, as he watched closely how Tom Brady and some other top guys in the locker room conducted themselves. The Patriots had big plans for Taylor, but injuries derailed them.
7. From the can-we-have-that-one-back department: With the Patriots now on their third snapper in less than two years, think they wish they extended themselves more to keep Lonie Paxton as a free agent in 2009? I do. That has to be an area of concern for the team this year, and the expectation from here is that the team will try to groom a youngster on the practice squad, such as Andy Schulze (Iowa) and/or Kyle Nelson (New Mexico State).
8. Congratulations, Mark Herzlich, on making the New York Giants roster. What an inspirational story after all you've been through, and then having every NFL team pass on you in the draft.
9. Scanning every team's roster moves Saturday, the name that stood out more than any another was Rams receiver Donnie Avery, who was released. He was productive in his first two NFL seasons before missing last year with a torn ACL, suffered in the third preseason game at New England. Avery was the first receiver taken in the 2008 draft, and unless his recovery from knee surgery has robbed him of his speed, he seems like a player who should find a new home quickly.
10. I think one of the smartest things Bill Belichick does when constructing his roster is using the physically unable to perform list and non-football injury list as added depth. Teams can only keep 53 players on the initial roster, but there's "bonus" depth for teams willing to pay the salaries of players on PUP and NFI who could be available at Week 7 at the earliest. By my count, no team had as many players (4) as the Patriots in that area this year.
11. The dynamic between the press and NFL head coaches can be strained, but these two stories show a different side of things: 1) Lions coach Jim Schwartz on the late Tom Kowalski; 2) Jaguars coach Jack Del Rio's kind gesture to Allen Wilson of the Buffalo News. Reading both stories also made me think of the late Dan Pires of the New Bedford (Mass.) Standard Times, who brought a lot to the Patriots' beat, both in scoops, smiles and laughs. I recall Bill Belichick attended his funeral.