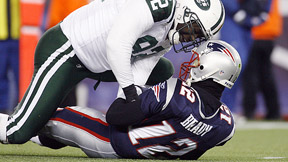 Stew Milne/US Presswire
Shaun Ellis and Tom Brady are both 34 years old.The composition of the Patriots' 53-man roster trends older when stacked up against the rest of the NFL.
Through Sunday, the team had an average age of 27.1 years old, according to the roster database kept by ESPN.com NFC West reporter Mike Sando (see his blog here). That figure ranks the Patriots the ninth oldest team in the NFL.
Take out specialists Stephen Gostkowski (kicker, 6th year), Zoltan Mesko (punter, 2nd year) and Danny Aiken (snapper, rookie), and compare the roster to others without specialists, and the Patriots become the fourth oldest team in the NFL.
This is one of the areas that is always a challenge to strike a balance. Take one of the Patriots' most recent signings as an example.
Veteran guard Brian Waters (34) should help the Patriots in 2011 and perhaps 2012, but to make room for him on the roster, the Patriots let go of developmental tackle Steve Maneri (23).
A team has to be careful of making too many of those exchanges, always balancing the short-term against the long-term.
The Steelers, with an average age of 27.7, are the league's oldest team (including specialists), according to Sando's database. The Jets, at 27.2, rank seventh.