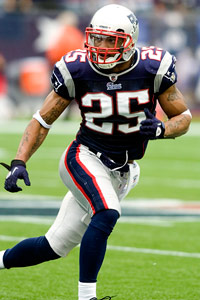 Tom Croke/Icon SMI
Patrick Chung at work in the defensive secondary for the Patriots.Given the turnover at the safety position last week, the roles and responsibilities for those that made the Patriots roster has been a topic in the spotlight this week. During a conference call with the media Tuesday, coach Bill Belichick noted the classification between strong and free safeties has dissipated over the past decade, pointing to the Patriots shifting to more of a hybrid approach since they had Eugene Wilson and Rodney Harrison together in the defensive backfield starting in 2003.
"Offenses have done a much better job of making the strong safety play free safety and making the free safety play strong safety, and they don't let defensive players get comfortable where they want to play," said Belichick. "They make them play where they don't want to play. That kind of made the defenses transition away from [strict designation of strong and free safety responsibilities]...
"The short answer is I think that in our system we have always taught our safeties both positions. If they're on the strong side of the formation or on the weak side of the formation, to learn how to play of those because inevitably there are going to be times when the offenses are going to do that and force you to do that and then sometimes we, by game plan, adjust that from week-to-week on what specifically we want them to do. Sometimes we can control who is the strong safety and who is the weak safety but a lot of times we can't so they really need to learn both responsibilities for when it gets to that point, which like I said, inevitably it does."
Belichick suggested that the safeties on the Patriots' roster entering the 2011 season are capable of assuming both roles, sticking with what's been taught to the team since Harrison and Wilson were together.
"I think that's the way it's been the last [eight] years or so," said Belichick. "From when it was Rodney and Eugene. Even though Rodney was more of a strong safety, and Eugene more of a free safety, both of those players could play both positions, to a degree. Ever since then, again, for the reasons I just talked about, you try to have players on the team with a degree of versatility because offenses force that. Is it perfect? I don't know about that. Do I think all of our safeties have a degree of flexibility to do that? Yeah, I do."