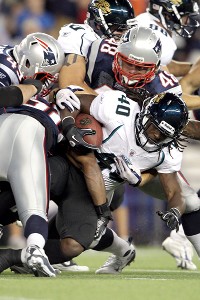 Elsa/Getty Images
Jeff Tarpinian makes a tackle during the preseason.The fact that the Patriots kept rookie linebacker Jeff Tarpinian on the 53-man roster is evidence enough they like his potential and director of player personnel Nick Caserio offered high praise for the undrafted free agent during a conference call Tuesday.
"We like what we saw from Jeff in college and we like what we saw from him on the practice field," said Caserio. "He's a player we want to continue working with. And really, the reality is any player that's in our program, whether they're on the roster or whether they're on the practice squad -- they're in the program because we feel that's a player we want to work with. So that's why Jeff is here and that's why a lot of other players are here as well."
Sidelined for much of training camp due to injury, Tarpinian projected as a long shot to stick on the active roster. In fact, the practice squad (or even injured reserve) seemed like a more likely destinations, but even as the Patriots made tough roster decisions at other positions, Tarpinian earned his spot.
While at Iowa, Tarpinian shined on special teams, another reason he's likely been deemed so valuable in New England.
"He's a smart guy; Tough, instinctive, runs well," said Caserio. "He was around the football quite a bit in college. He has some attributes that are positives. We certainly would have liked to see him stay on the field a little bit more, but that's some of the things we liked."
Tarpinian is merely the latest undrafted free agent to earn a spot on the Patriots roster, following in the footsteps of Dane Fletcher a year before. Caserio pointed out that the Patriots' roster is filled with undrafted players including BenJarvus Green-Ellis, Wes Welker, Kyle Arrington, Brian Hoyer, and Leigh Bodden.
"There are a lot of players that are in that situation even on other teams that are not drafted," said Caserio. "But in the end, regardless of where they come from -- drafted, undrafted -- every player is given the same chance and the same opportunity. What that player does is completely up to them. They're evaluated just like everybody else on a day-to-day performance and there are multiple example... whether it's Benny, Welker, Arrington, Hoyer -- Leigh Bodden wasn't drafted. So there are a lot players that, for whatever reason, they're not drafted. Is there a reason behind that? I can't tell you what that is. But in the end, all the players come in, everybody is given the same chance, and sometimes there are players that make the most of their opportunities and sometimes maybe others don't.
"I would just say that it's not only applicable to the Patriots, but you could look at a lot of other teams throughout the league and there are a number of other players -- even look at the Packers, the team that won the Super Bowl and Frank Zombo, starting outside linebacker, wasn't drafted. It happens all around the league and it's a tribute to the players and their performance and it's a credit to the coaches for getting the player prepared and giving them the opportunity and then the player goes out and performs. So I can't give you a direct, definitive answer, but I'd say there are certain qualities that those players possess that enable them to be successful and be productive.