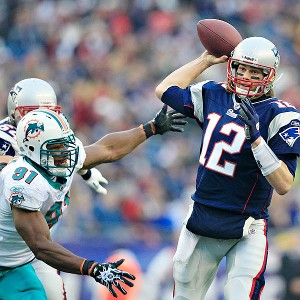 AP Photo/Charles Krupa
Cameron Wake puts pressure on Tom Brady.The Patriots were off Tuesday, but coach Bill Belichick, offensive coordinator Bill O'Brien, and director of player personnel Nick Caserio held conference calls with the media, which included plenty of chatter on New England's Week 1 opponent: The Miami Dolphins.
"It's always tough to go on the road, in this division, and play down there at this time of year," said Belichick. "It looks like Miami has played well in their preseason games. They have a lot of weapons on offense, they're a big physical defensive team that has good speed and athleticism with their linebackers and defensive backs. [They are] much improved in the kicking game from where they were last year. It will be a big challenge for us. We have a lot of work to do to get ready for a team that has quite a bit of volume with their scheme. Offensively and defensively, they do a lot of different things that you have to prepare for and that will be challenging as well."
Much of the chatter surrounded facing the unknown in the first week of the season, particularly given the changes Miami made (most notably a new offensive coordinator in Brian Daboll and the offseason addition of running back Reggie Bush).
"We can go back and look at all the things they did last year and some of those may apply," said Belichick. "With Coach [Tony] Sparano -- and I'm sure he had a lot of input into things -- but with [offensive coordinator] Brian Daboll there now, he has some new ideas. How much they'll retain from last year, how much they'll put in new, how many new things they have with a player like Reggie that they haven't shown -- that's a big question mark, too. No question, from a preparation standpoint there are a lot of possibilities and we know they won't be able to do all of them -- we just don't which ones they'll do or which ones they'll feature. From a game plan standpoint, that's difficult. You kind of have to be careful, if you have too many things for something they don't even do then you wind up wasting a lot of time on that. If you have not enough for something they do a lot of, you could be caught short. That could be a problem too. It's definitely from a preparation stand-point, it's a little bit of a guessing game going into this opening game. We just haven't seen them run their best stuff under gotta-have-it conditions yet."
While the Dolphins struggled offensively last season, the defense was actually very good, ranking sixth in the league in total yards allowed and third in first downs allowed. The Patriots aren't expecting any drop-off there.
"There are a lot of things that stand out to me from their defense," said O'Brien. "They're a very multiple defense. They mix it up, [they] mix up calls, mix up looks –- tough defense. [They're] one of the top defenses in the league. Their secondary is big, fast, play a lot of different coverages. I think their linebackers obviously are basically the same as they were last year except for [Kevin] Burnett who is a very athletic [and] active guy. Obviously, Cameron Wake is a guy there that is [a] 3-4 outside linebacker and also a sub-rusher and an excellent player. Their defensive line is big and stout, and a good defensive line. So, it's definitely a challenge for us."
Given New England's trouble with pressure against the Lions, Wake is a player in the spotlight on the defensive side of the ball (and don't forget that Jason Taylor is back in Miami).
"They do a great job with [Wake]," said O'Brien. "Coach [Mike] Nolan does a great job with him. As they do with a lot of their players on defense -- he'll line up in a lot of spots. He could be outside linebacker on one snap and the next snap he could be inside rusher, he could be a defensive end in their nickel package, so they do a good job of moving him around, so it will be tough to get a beat on where he's lining up.
Miami also boasts Jared Odrick on the defensive line and last year's first-round pick appears healthy as the new season nears.
"Odrick only played the one game last year, so he was limited, so really you couldn't evaluate too much," said Caserio. "He's played quite a bit here in the preseason. They've played a lot of people up front and he's done a nice job. He's a big guy, he's strong, he's fairly athletic for his size [and] he's been fairly disruptive rushing the passer. He might not have sacks from a statistical standpoint, but he's been disruptive when he's been in the game, so we would anticipate him playing Monday night. And I would anticipate that he would be a factor for them throughout the course of the season if he can stay healthy."