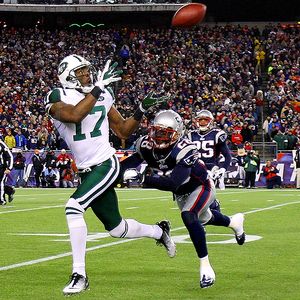 Elsa/Getty Images
Darius Butler vs. the Jets.
Much like when we examined the 2010 stats of safety Brandon Meriweather after his release on Saturday, last year's advanced numbers for cornerback Darius Butler suggest a pronounced drop-off in his sophomore season.
The Patriots released Butler, a second-round pick (41st overall) in the 2009 draft, on Tuesday, the latest overhaul to a secondary that clearly didn't meet expectations last year.
Coming off a solid rookie campaign, the 2010 season started positively for Butler. He put together a strong training camp and was inserted into a starting role when Leigh Bodden went on injured reserve before the start of the year. But in Week 1, the Cincinnati Bengals blitzed Butler, throwing at him a whopping 12 times in the season-opener, according to target stats logged by Pro Football Focus. The Bengals completed 10 of those tosses for 133 yards and a touchdown.
A week later, the Jets completed 5 of 6 passes in his direction for 74 yards and another score. By Week 3, Butler wasn't just yanked from the starting lineup, he played a mere four defensive snaps that game and his playing time barely recovered (he did log one additional start later in the season, but ultimately played just 41.9 percent of New England's total defensive snaps last season).
Here's a glimpse at the statistical decline with PFF numbers:
2009: 69 targets, 39 receptions, 475 yards, 107 YAC, 2 TD, 3 INT, 69.4 QB rating
2010: 49 targets, 30 receptions, 390 yards, 112 YAC, 3 TD, 0 INT, 106.7 QB rating
As a means of comparison, here's a glimpse at last year's numbers for rookie cornerback Devin McCourty, who earned a Pro Bowl nod for his first-year efforts, and Kyle Arrington, who took over Butler's starting job:
McCourty: 104 targets, 58 receptions, 614 yards, 174 YAC, 5 TD, 7 INT, 61.1 QB rating
Arrington: 75 targets, 49 receptions, 742 yards, 195 YAC, 5 TD, 1 INT, 114.4 QB rating
Based on PFF numbers, Arrington struggled just as mightily as Butler, but the difference might have been that Arrington kept showing up on special teams, adding to his overall value. Arrington was also an undrafted free agent and didn't have the same lofty expectations as Butler.
It's worth noting that PFF numbers graded Butler as the team's second best pass coverage player. In fact, Butler graded out as the 18th best pass coverage corner in the league among cornerbacks that played at least 25 percent of their team's snaps, according to PFF's grading system. Alas, four coverage penalties, as well as a lack of support in run defense, hurt Butler's overall grade (he ranked 43rd overall there).
As we noted with Meriweather, stats are not everything when it comes to judging corners and this is merely one set of data to examine. But in the end, it's clear that Butlers' confidence dipped after early season struggles and it might never have recovered. As evidenced by the Tuesday's release, the same can likely be said for his coaches' confidence in him.